Jam & Custard Tart
---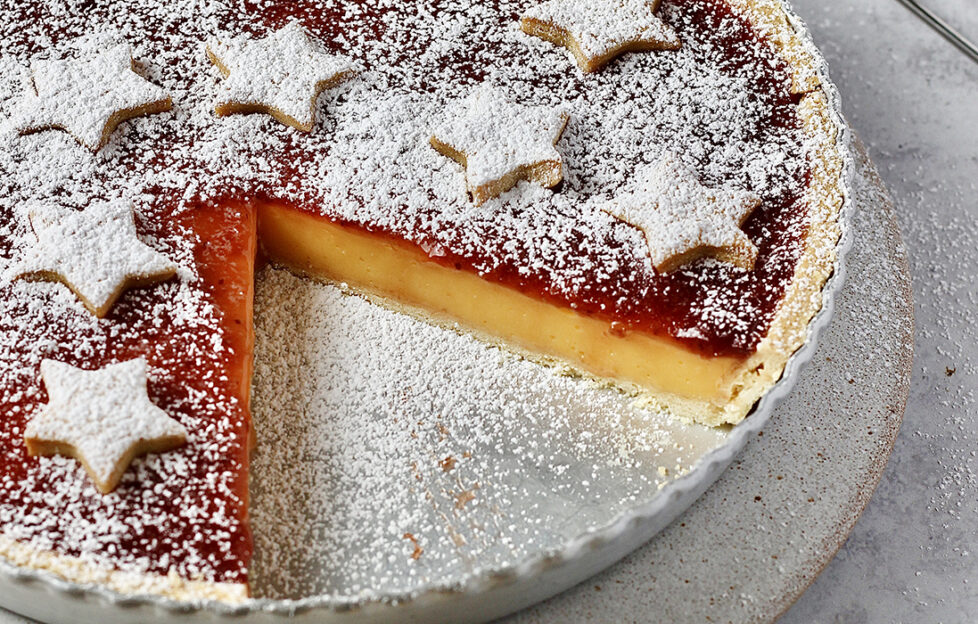 Gloriously traditional flavours in a stunning, easy-to-make tart – perfect for any coronation celebration!
Preparation Time: 30min
Cooking Time: 45min 
Makes: 1 x 23cm/9in tart  
Preheat the oven to 180°C (fan).

In a large mixing bowl, rub together the flour, 3tbsp sugar and butter until a crumb consistency is achieved. Add in the cold water and bring together to form a dough.

 

Tip the dough out onto a lightly floured work surface and cut off a third. Set it to one side.

 

Roll the dough out, big enough to line your tart tin. Drape it over the tin, folding and pushing the pastry into the corners. Leave any excess to hang over the edge. Prick the base all over with a knife.

 

Roll out the remaining third of dough. Cut out some stars, placing them on a lined baking tray.

 

Bake the tart pastry and stars for 20-25min until lightly golden. The stars may not need so long.

 

For the custard filling: Whisk together the custard powder with 40g sugar and a splash of milk to form a paste. When there are no lumps, add the remaining milk. Place over a medium heat and continue whisking until you have a nice, thick custard. Pour it immediately into the tart case and spread evenly. Once cooled to room temperature, place in the fridge to cool completely.
When the custard is cool and set firm, spread Bonne Maman Strawberry Jam over the top. Pop back into the oven for 15-20min until the jam just begins to bubble. This will set the jam.

Allow the tart to cool slightly before placing the pastry stars on top, dusting with icing sugar and serving.

 
Recipe from the Easy Peasy Baking campaign in partnership with Bonne Maman. You can find more Easy Peasy Baking recipes and information on the campaign over on the Fab Flour website, https://fabflour.co.uk/easy-peasy-baking/ or on social: @fab_flour on Instagram or @fabflour on Facebook and Twitter. 
The King has chosen quiche and potato salad for the coronation party menu. Check out our recipes here!
Find more fantastic, simple recipes for a street party or buffet in the latest bumper issue of My Weekly! Subscribe to save pounds on the shop price.