Prep Your Garden For A Coronation Celebration
---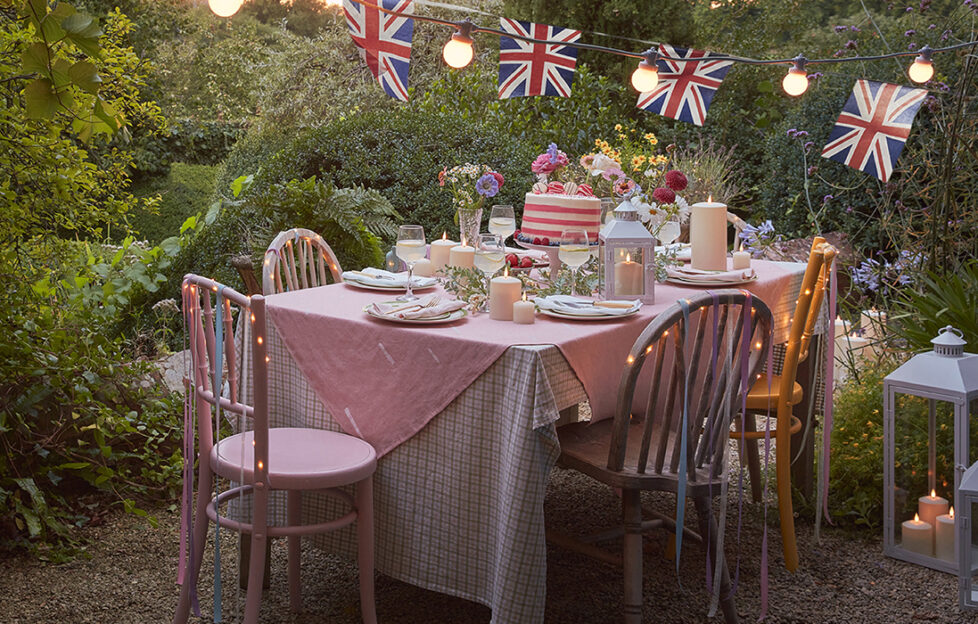 Pro Connect 5m 10 Warm White Connectable Festoon Lights, £49.99; Perth Large White Garden Lantern with 3 TruGlow® Candles, £79.99; Perth White Garden Lantern with TruGlow® Candle, £24.99; TruGlow® Waterproof Outdoor Candle Trio, £29.99; 50 Warm White LED Micro Battery Outdoor Fairy Lights, £7.99; all lights4fun.co.uk. Pic: Oliver Perrot.
King Charles III's coronation is fast approaching, and with another bank holiday on the Monday after the big day, many people are looking forward to celebrations in honour of the new monarch.
With Charles set to officially become the nation's new King on Saturday May 6, monarchy-mad Britons have been planning street parties, big lunches, BBQs and more to mark his accession. May usually sees the start of warmer weather, and the long-term forecast suggests it's set to be a sizzler.
We caught up with the garden specialists and Royal Warrant holders at Hayter to find out exactly how to get your garden prepared for the ultimate coronation party.
Do I need a permit to throw a coronation party?
The permissions you'll need will depend on the nature of the party you've got in mind, as well as how many people you're hoping will attend.
If you're thinking a garden party with your friends and neighbours, then you're good to go. There's no need to apply for any kind of special dispensation.
If you're looking to throw a street party in your cul-de-sac, then road closure may be necessary. In this case you'd have to apply for a temporary Traffic Regulation Order (TRO) from your local council's website.
For a larger-scale bash, then you might need to apply for a Temporary Events licence for loud music. Plus an alcohol sale licence if you're running something bigger than a small neighbourhood party!
With the coronation only days away, you're best off opting for a smaller-scale bash, in case you don't get the paperwork approved in time.
Add a pop of colour with your plants
Freshly-bedded plants and flowers are a great way to add a pop of colour to your garden ahead of accommodating your guests this bank holiday weekend. Not only this, but the right flowers will keep your garden looking fun and fresh all summer long, while encouraging eco-systems of bees to thrive.
Try planting lavender for a pop of purple and a lovely scent, or potentillas or sweet peas for an exciting shade of pink. Your flowers can also be a great way to show off your national pride. Red geraniums, white salvias and blue Ageratum are commonly used together to create a Union Jack-themed flower arrangement.
Planting in baskets or containers adds versatility, so you can place the best blooms at your front door or beside seating.
Save money on seating
It's important that you have some nice seating available for your guests. If you're handy and have a little DIY experience, you can save on  costs by building outdoor seating out of pallet wood.
There are plenty of videos available on YouTube with tips and tricks on how to create garden furniture with reclaimed pallet wood. Just make sure you're following all the proper health and safety precautions – and remove any splinters and old nails from your pallet wood! You wouldn't want any of your guests getting a nasty surprise.
Striping your lawn
There are few more British activities than striping your lawn. It's one way to add a little extra charm and class to your home for the holiday weekend. If you're an experienced mower, why not try creating a themed Union Jack pattern? Or even tartan, in honour of Charles's fondness for Scotland?
Today's rear-roller mowers make striped lawnmowing easier than ever!
Bring on the décor
Your guests want to bring in the Coronation in style, so it's worth investing in themed décor! Check out party shops for bunting, dishes and tablecloths to celebrate the big day. Also look for lighting options if you're planning to carry on the party into the evening.
You can even get fun Coronation-themed party games like "Pin the Crown on King Charles."
We'd always recommend having a few fun activities for the kids, too – with a few felt-tip pens and paper, you can encourage them to create their own décor for the party, like posters, bunting and more!
Bakewell tart, anyone?…
Why not celebrate Britain's big day with some quintessentially British party food? You can't go wrong with coronation chicken, or an afternoon tea selection with scones and jam.
How about finger sandwiches, Scotch eggs, or a cheeseboard? Some good food is certain to put a smile on your guests' faces.
Fancy making your own rhubarb fizz, some Coronation pasties and more? Find recipes here!
Watching the big moments
Of course, you'll want to set up a viewing area for your guests to actually watch the day's celebrations. If you've got a projector handy or can borrow one from a local school or a friend, it's a great way to add a little extra excitement.
Here are the expected times for some of the day's most exciting moments – but remember, these are just guides. Be careful not to miss anything!
10.20am: The King's Procession. Charles and Camilla will lead a procession from Buckingham Palace to Westminster, where the ceremony will take place.
11am: Coronation Ceremony. A solemn, religious service at Westminster Abbey involving the Oath, the Anointing and music specially commissioned by the new King.
1pm: Coronation Procession. The King and Queen Consort will return to Buckingham Abbey in time for the Red Arrows' Flyover.
2.30-3pm: Red Arrows Flyover. Enjoy the spectacle and the reactions of the royal party on the palace balcony.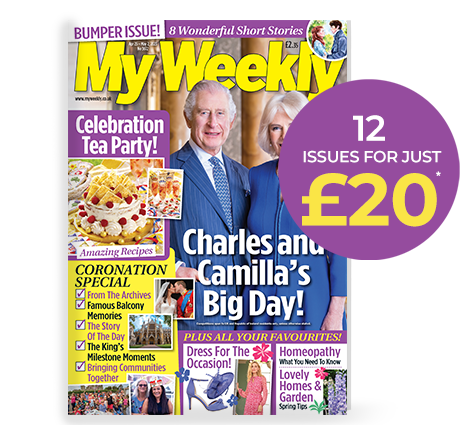 Post or email photos of your coronation celebrations to the address in My Weekly magazine, and you could win £25! Find a new issue in newsagents and supermarkets every Tuesday.