C J Cooke On Her New Gothic Novel
---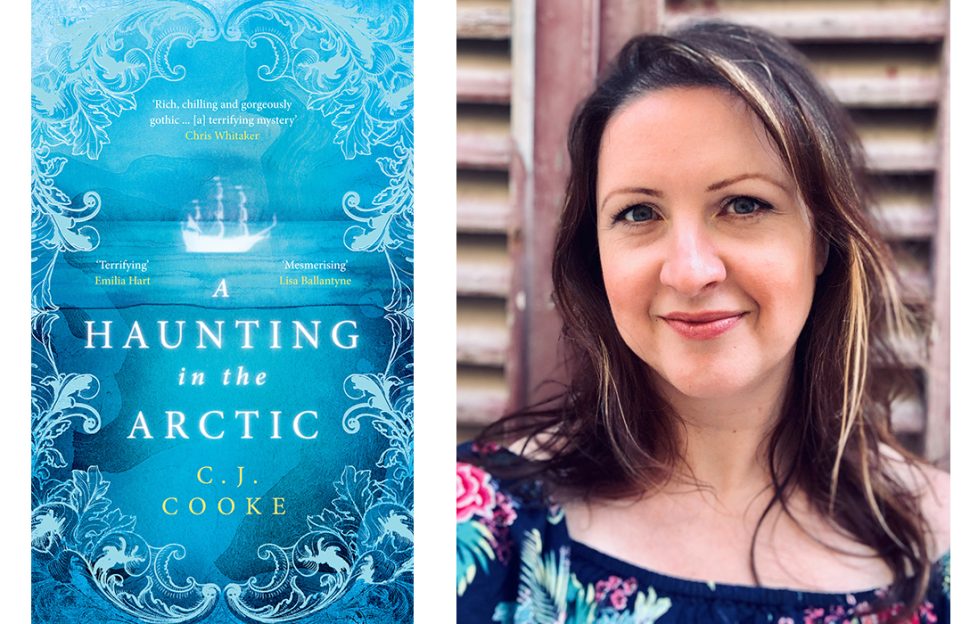 Author C J Cooke with her new book
We catch up with writer C J Cooke as she talks about her career, her meticulous research and her latest novel, A Haunting in the Arctic
Can you tell us about A Haunting in the Arctic?
A Haunting the Arctic is a Gothic ghost story with two narratives. The 1901 story commences in Dundee with the launch of the Ormen, a whaling ship bound for the Arctic. Aboard the ship is a crew of whalers, all men, and a woman, who is being held captive. The 2023 story features Dom, who is in a remote part of Iceland exploring the wreck of the Ormen, which is said to be haunted. It's a story about revenge, loss, loneliness, redemption and selkies.
---
How did you get in to writing as a career?
I've written since I was a child and began my career as a poet. I won a few awards for writing, which encouraged me to keep going – there have been many, many moments in my career when I've wanted to quit writing, because for every success a writer must endure scores of rejections. It can be devastating! But each time I seriously thought about quitting, something good would happen – an award or an acceptance, just enough to convince me to keep going a while longer. I published my first poetry collection with a small press, and after graduating with a PhD in film and literature I published several textbooks with academic presses. But in 2008 I had an idea for something that turned out to be a novel, and that's when I began my career as a novelist.
---
What books and authors are your inspirations?
I had a love for Sylvia Plath in my teens that really launched me into writing poetry. I was into films in a big way – I had planned to go to film school, but I was a council estate kid and couldn't afford the fees. I wrote a film script when I was sixteen and devoured any film scripts I could get hold of. These days, writers such as Octavia E. Butler, Sharon Olds, Maggie O'Farrell, Emma Donoghue and S.A. Cosby set the bar so high for me that I'm inspired to try harder with each book. It's envy that drives me not to quit these days, not acceptances!
---
Where did the original spark for A Haunting in the Arctic come from?
I have an obsession with abandoned structures, which I find to be so full of stories. Unlike museums, which curate the past and present a cleaned-up (and sometimes inaccurate) narrative, abandoned structures are more mysterious and raw. They require us to do some archaeological and forensic work to decipher the stories they contain.
I started off thinking I would set this book in an old, abandoned house, perhaps with trees growing through the windows and through the rooms. But then I thought a shipwreck would be cooler. Fundamentally, I have to be sure I choose a setting that intrigues me, because I'm going to be spending so much time there (mentally, though I do visit my settings where possible). The shipwreck was too good an idea for me to pass up, and once I had that setting in mind I knew I wanted to tell the story of the ship when it was at sea.
---
Can you explain a little about the book's links with Scotland?
Dundee was a major setting for the whaling industry, which forms the basis of the 1901 story. The more research I did into the ship's story, the more I knew it had to come from Dundee. The main characters in both the 2023 and 1901 stories are from Dundee, so we know there is a link between them.
And when I was in the very early stages of writing, someone posted a newspaper article from the 1880s on Twitter about a time when a polar bear broke out of its cage on a whaling vessel, having been captured and brought back from the Arctic. This story was fantastic, and I knew I had to use it.
---
What did the research process look like for this book, given the way it covers different time periods and places?
I always swear that my next book is going to involve less research, but that has yet to happen! This one required a ton of research, which was both fascinating and exhausting. I am a taskmaster when it comes to ensuring that the world of the story is authentic, which invariably leads to loads of research!
For A Haunting in the Arctic, I knew I wanted to set the wreck in Iceland, and when I discovered that there actually is a wreck of an old whaling vessel there, I knew I had to go. I applied for some funding from Creative Scotland and was lucky to get it, so I headed off in June 2023 and travelled up to the Westfjords, about seventy miles from the Arctic Circle.
Finding the wreck was an incredible experience. It is a grounded whaling ship from about 1912, and I spent time researching its construction and how whaling was carried out. I read books (countless books!) on whaling and folklore, interviewed experts and visited the Tall Ship Glenlee at the Riverside Museum in Glasgow. I also watched a lot of urban exploring footage. Just like the explorers who stay on the shipwreck, urban explorers now use head cameras and social media to share their explorations. It's a fascinating community, and I think they share a lot in common with novelists! I could have spent years researching it.
---
You've written a lot about different parts of the world and explored folklore from various places. What is it that draws you to this sort of thing?
I think I am naturally curious – all writers are – and I develop weird fixations with each book. I don't know what guides the fixations. For The Ghost Woods I became obsessed with fungi, for The Nesting it was architecture and Norway, and for the book I'm currently writing, it's the history of Orkney. I have no idea why, it just happens!
---
How do you manage to create such spine-tinging and chilling situations?
I think it is really all down to atmosphere, setting, and tension. I love setting my stories in wild and hostile settings, because I know it will really impact on how the story lands for the reader.
---
What is your favourite experience you've ever had while writing or researching?
My absolute favourite writing day of all time was back in 2019. I had gone to Ålesund in Norway for a week to write The Nesting, and I went on a boat trip to Geirangerfjord. When we stopped, there was a chocolate factory (which was also a little café and shop), and I sat there for the afternoon writing with a hot chocolate, by a window overlooking a magical fjord. It was incredible.
---
What do you think it is about Gothic and scary books that resonates so much with readers?
I think we want to read to be scared. Perhaps there is something quite soothing, in a way, to experience fear in a controlled way? And to relate to stories that involve terror. Life is terrifying, as well as beautiful, I find.
---
What would you like readers to take away from A Haunting in the Arctic?
I think the story is about hauntings of various kinds. We are all haunted in one way or another, but I think being haunted by something can also make you a stronger, more empathetic person. I suppose I want readers to relate to the characters, who face tremendously traumatic events and manage to overcome them.
A Haunting in the Arctic is published by HarperCollins on Oct 12, HB, £16.99, and available from Amazon.
---
Find brilliant, lively, relatable fiction in every issue of My Weekly magazine, along with lots more feelgood content. Subscribe to save money on the shop price!