Autumnal Apple Cake
---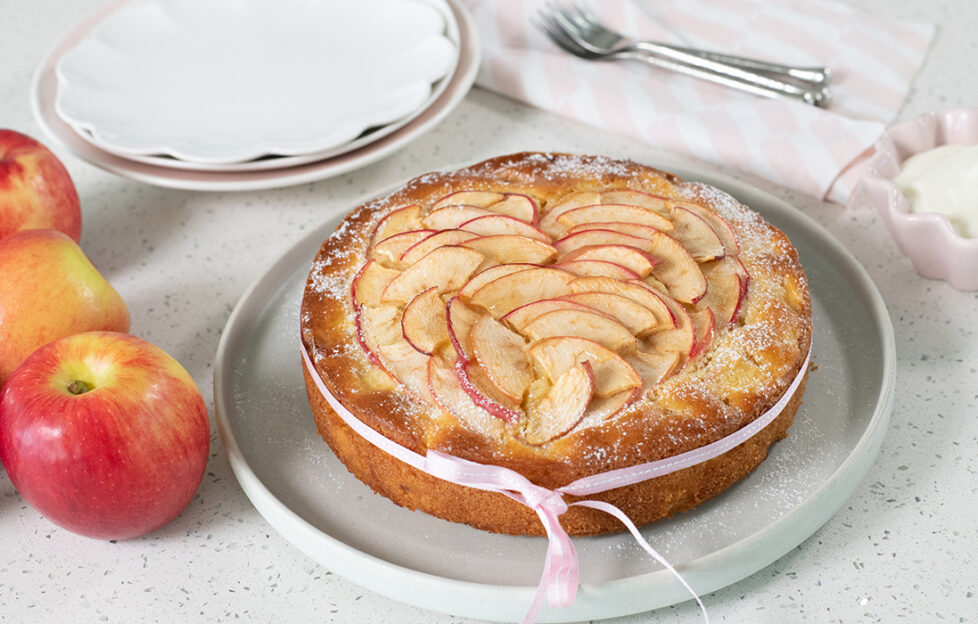 Make the most of fresh, seasonal fruit with this moist and delicious cake recipe from Jazz Apples. Serve with yoghurt or cream to make a mouthwatering dessert.
Preparation time: 10min
Cooking time:45-60min
Serves: 10-12
Preheat oven to 180°C, Gas Mark 4 and lightly grease and line a 20cm springform cake tin with baking paper.
Core and slice the JAZZ™ apples into fine slivers and set aside.
In a medium bowl, beat the eggs with a whisk until foamy. Add sugar and whisk to blend, then add vanilla essence.
Combine the flour, baking powder and salt and mix. Combine the flour and butter with the egg mixture stirring to create a smooth batter.
Use a rubber spatula to fold ¾ of the apples into the batter (reserve the extra for the heart shaped topping).
Pour the apple batter into the prepared cake tin and smooth the top. Arrange the remaining apple slices on the top of the cake batter to create a heart shape.
Bake for 45-60min until the cake is golden brown and a knife comes out clean from the centre.
Optional: You can add a little sprinkle of cinnamon sugar over the apples before cooking, or dust with icing sugar before serving.
---
Find more enticing, easy recipes in every issue of My Weekly magazine. Often healthy, always delicious! Find us in newsagents and supermarkets or subscribe for a great money saving offer!