Christmas Fiction: Jo Thomas
---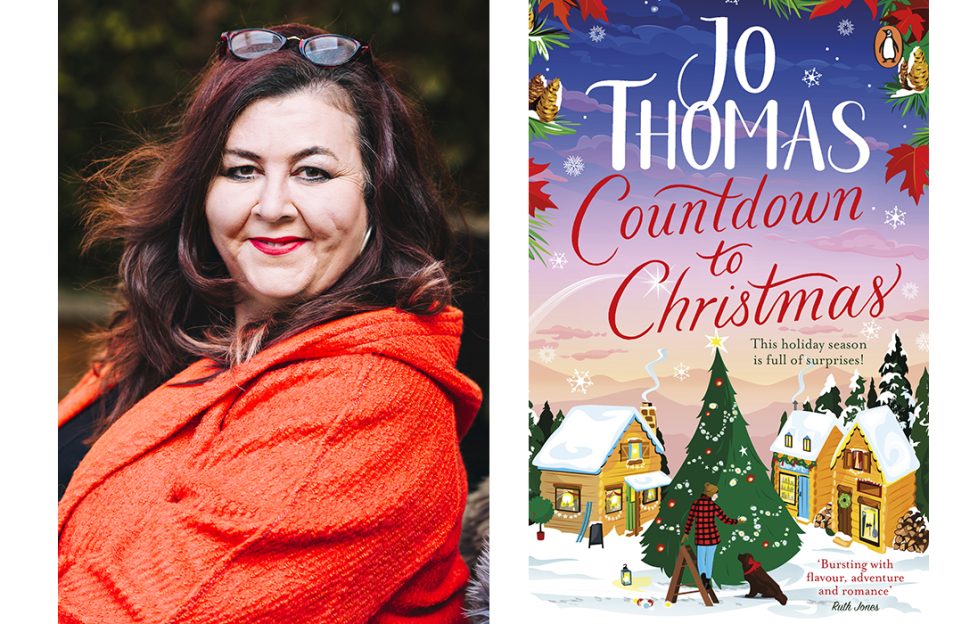 Bestselling author Jo Thomas
We're asking a few of your favourite fiction authors to tell us about their latest books, out in the run-up to Christmas. We're kicking off the series with the wonderful Jo Thomas, as she takes us on a snowy adventure to Canada…
Can you tell our readers about your latest book?
Countdown to Christmas is the story of Chloe who can't wait for Christmas… to be over! Her son Ruben is staying with his dad and Chloe is planning to ignore the holidays altogether. Her only festive touch is her son's advent calendar, to help count down the days till he's home again.
But a surprise call changes everything. Chloe might be the unexpected owner of some land in Canada! Surely it's a scam. Or could it be just the escape she needs right now? Ruben's latest note in the advent calendar tells her to "say yes!"
In a flash, Chloe's new countdown to Christmas involves a log cabin in the middle of a snowy forest, a community that's worried for its future, a gruff lumberjack who gives her butterflies and a lot of pancakes with maple syrup.
Why do you enjoy writing about the festive season?
There are so many wonderful ingredients that add to a festive book. It's a time of holidays, happiness and celebrating family. It's about remembering people who are no longer with us. It's a time to think about the ones we love and those we have lost. Elements like snow add a wonderful backdrop to festive books. I love the peace that a snow day can bring, like someone's pressed pause on daily life. A time to hunker down. And then, of course, there are the lights that add to that feeling of cosiness. The smell of Christmas trees has to be one of my favourite smells ever! And the food. The smell of simmering stock early in the morning letting us know a feast is on the way. It's a time of hope and new beginnings which is exactly what I want from a festive novel.
Why do you think readers enjoy reading Christmas-themed novels so much?
I think for the same reason people love Christmas. It's about family, love, decorating the house and spending time with loved ones. A time to remember who and what is important to us. People can generally relate to the characters in a Christmas book. Either someone trying to avoid Christmas or who is stranded away from family at Christmas, or is spending it with people they don't want to or didn't expect to. We tend to know someone who feels this way. Like it or not, Christmas comes round every year, whether we want to hide from it or embrace it.
What inspired you to first start writing about Christmas?
I love the change of seasons as summer slips into autumn. I first wrote about the autumn in The Chestnut Tree, an e-book novella. I love the cosiness when the leaves start to fall and the fires are lit. But I had always wanted to write about big snow, and decided on Swedish Lapland for my first winter book. Writer Katie Fforde and I went on an amazing research trip there, travelling out on snowmobiles, racing reindeer and traversing the forests on husky-pulled sleds. But really, what I love is Christmas itself – for the lights, the tree, the music and the people we gather around the table. And that's where all my stories start: at the table. Christmas seemed like the perfect time of year for me to be writing about, so I wrote Finding Love at the Christmas Market, all about gingerbread, lights, and gluhwein in Germany. I loved visiting there!
What books or authors (Christmas or non-Christmassy) are some of your influences?
I love books by Maeve Binchy and A Winter Solstice by Rosamunde Pilcher has a wonderful Christmas day in it. It's That Time of Year by Roisin Meaney is a lovely Christmas book too. I'm a huge fan of Jackie Collins and Jilly Cooper, and Fiona Walker who writes wonderful countryside, horsey romps! I read everything written by Katie Fforde, Jill Mansell and Carole Matthews – and if you're looking for a lovely Christmas book, I can highly recommend Milly Johnson's I Wish It Could Be Christmas Every Day.
If you're writing about Christmas during the spring or summer months, is there anything in particular you do to get into the spirit?
Luckily, my office is very cool. I've been able to do my edits on Countdown to Christmas in the relative coolness of there, while summer has carried on outside. But it's lovely to be able to write in the season you're setting the book in. However, a Christmas carol or some fairy lights or candles can always help with the mood.
When the world is particularly tough, do you think there's more of a need for these kinds of novels?
Absolutely. These books are about escapism. I want readers to be able to relate to the characters and go on the journey with them. And most of all I want them to feel happy and hopeful at the end.
How do Christmas novels fit in with the rest of the literary world – what is their place and how do you think they can maintain it?
There is definitely a place for Christmas books. A place for people to enjoy the Christmas spirit at any time of year – and readers want more of them. Look at the rise in Christmas films, Hallmark's Christmas channel and even Hallmark's Christmas in July. People want to be able to tap into that Christmas spirit all year round now, not just at Christmas.
What do you take away from writing festive stories?
I love writing festive stories. I love the setting, the feel good factor and the new beginnings they create for characters.
Countdown to Christmas by Jo Thomas is out now (Penguin, PB, £8.99) and available from Amazon.
---
Enjoy brilliant, original short stories every week in the pages of My Weekly – out every Tuesday!