Annie's Apple Day
---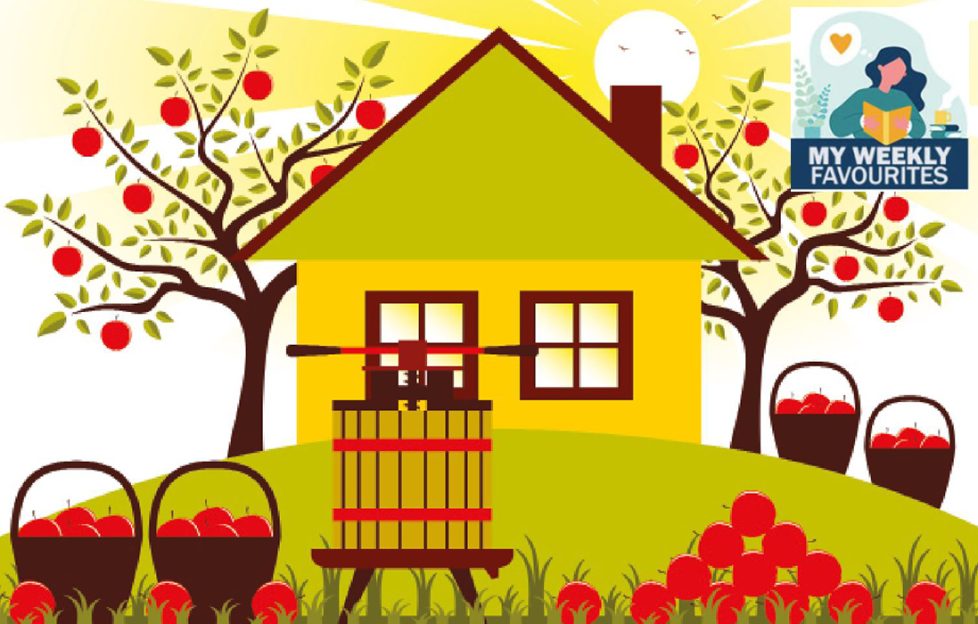 Illustration: Shutterstock
WRITTEN BY VIVIEN BROWN
She'd not long moved in, but everything she needed to take part in the village festival was at her fingertips…
If there was one thing Annie Carlton was proud of – apart from her granddaughters, of course – it was her apples. Not that she could take the credit for them, really.
There had been a small orchard thriving at the bottom of her garden for decades before she arrived in the village.
It was the sight of those beautiful trees bending under the weight of the last of the season's luscious red fruit that had made Annie fall in love with Russet Cottage the first time she saw it.
Never mind that the whole place needed decorating; or that the rest of the garden was overrun with weeds; or that there were slates missing from the roof. All that could be fixed easily enough, given time and hard work, and a bit of professional help when needed. Having just taken early retirement, she had wanted to find somewhere pretty and peaceful, and this was it.
Her city flat sold quickly and, within four months of her first viewing, with the savings she and her late husband Bill had scraped together and the lump sum from her pension to help her, she had made an offer on the cottage and moved in.
---
The trees were bare and snow-covered when she arrived, but she could hardly wait for the next apple crop, when she would be able to pick the fruit fresh from the trees, make pies and crumbles for the freezer, and perhaps even try her hand at some chutney.
She had never had the time when she was working, and her small flat had had no garden, just a balcony and a few pots.
Annie concentrated her efforts over the following weeks on the necessary house maintenance, regularly emailing photos of her progress to her family in Australia. She had plans for all the planting she would do when the weather improved and, once her own room was done, she was going to decorate the two small spare rooms. Lavender for her daughter Jane and assorted pinks with bunk beds for the girls, six-year-old Kirsty and ten-year-old Lauren, ready for when they might one day visit. Oh, she did miss them so!
It was only when the signs started going up in shop windows in the middle of May that Annie found out about the Apple Day fair, held on the village green every year in late October.
"So, what will you be contributing?" Mrs Dawson in the Post Office asked, passing Annie a copy of the local paper and turning to the events page near the back. "See, here's all the information about this year's fair, and a call-out for helpers and stallholders.
"We have produce sales, cookery demonstrations, woodcrafts, apple-bobbing games for the children, as well as people showing their home-grown apples in the competition tent. You can win certificates for the best ones, and cups! It takes months of planning and organising. My Jack's on the committee, and they always need new ideas."
"Oh, I don't know. I'd never heard of Apple Day until now! I must have missed it last year when I came to view the cottage, and the estate agent never mentioned it."
"One of those city types, probably, and not much interested in the old traditions. It happens all over the country, but we're especially famous for our apples around these parts. Your predecessor at Russet Cottage, old Reg Honey, used to make scrumpy, in that shed at the end of your garden. Strong stuff it was too. That all came to an end when he got poorly, but folks still miss the scrumpy, just as they miss old Reg.
"Anyway, I'm sure you'll think of something. Your apples are some of the best around. Always have been. It'd be a shame if you didn't show them off."
When Annie got home, she put the kettle on and sat down with a cuppa as she gazed out at her garden. The blossom was already heavy on the apple trees, promising a good crop to come later in the year.
There would be far too many apples for just one person to eat, no matter how much she piled into the freezer, and Apple Day would be a wonderful opportunity to make some new friends. Perhaps make a little money too, if she could decide on something to sell.
Enough money to send her granddaughters a little treat, or to put towards her plane ticket fund. It had been far too long since she had seen them and, since her daughter's recent divorce, she had endured many a sleepless night worrying about them all so far away and wishing there was more she could do for them.
As she spent the rest of the day slapping paint onto the bedroom walls, and a good bit of it into her hair, she let her mind wander through the possibilities. What could she do that somebody else wouldn't already be doing? There were only so many jars of chutney one fair could support, and hers would be far from expertly made.
She peered at the tumbledown old shed outside. She had been meaning to investigate its contents, in the hope that there might be some old gardening tools left behind, so she could make a proper start on her weeding and planting.
Then she remembered what Mrs Dawson had told her about Reg Honey and the scrumpy he used to make down there, and how folks still missed it.
Could she have a go at something like that? She knew nothing about the equipment she might need, but she had always enjoyed a challenge and it might be fun to try.
Was it legal to make and sell alcohol, though? Just because Reg had done it didn't mean it was all above board.
Well, there was only one way to find out. As soon as she had applied the first coat and was slipping out of her overalls to wait for the paint to dry, she fired up her laptop and started her search.
It was surprising what a delicious drink she had been able to produce using the old wooden press she'd discovered under a cloth at the back of the shed.
Gathering up the apples from the lower branches and those that had fallen to the ground, cutting them up and crushing them, laying them out on the press, then watching the rich juice drip slowly through the muslin into the big tub underneath had been a fascinating experience, the heady smell permeating the walls of the shed as she added just a little yeast to help the fermenting process on its way.
Every now and then she would catch some of the dripping juice in a glass and sit outside, sipping it, enjoying the sweetness as she listened to the bees buzzing among her newly planted flowers. That first small experimental batch of scrumpy had soon been drunk, and now she was making more, with a few tweaks to the very basic recipe, and on a much larger scale.
Of course, it wasn't legal to sell alcoholic drinks made at home. She had soon discovered that she would have to talk to the council, get a licence and have to follow all manner of other regulations if she went ahead. Which was why she had decided not to sell any of it. No, she would give it away! There was no law stopping her from doing that. What better way to meet her new neighbours than to offer them a free drink as they sampled all those apple goodies they would have bought at the fair, hopefully some of them from her?
Oh, she did hope it would be sunny on the day. Rain could ruin everything, and you never could be sure in October.
---
Over the following weeks, Annie saved every empty milk and wine bottle, and dug out every container she could find in the back of the cupboard. On the day of the fair, each of them filled with strong but rather cloudy scrumpy, she piled them into her wheelbarrow, together with several enormous bags of her best apples, picked from the upper branches with the aid of a sturdy ladder, and three tins of home-made apple muffins, and wheeled it all very carefully down the lane towards the green.
"Let me help you with that," exclaimed a tall, grey-haired man, rushing forward just as the barrow started to tip precariously when it hit a tuft of long grass.
He was, probably a similar age to herself, and he had the most infectious smile. "Sean Bailey," he said, introducing himself. "New head teacher up at St Marks School. I don't think we've met."
Annie would have held out her hand but she was too scared to let go of the barrow until Sean had helped her steer it to the waiting stall.
"Annie Carlton. No, I've only lived here since February. This is my first Apple Day."
"Mine too. I arrived in September, for the start of term. I hardly know a soul over the age of eleven! And, before you say it, yes, I've heard all the jokes about an apple for the teacher! Kids have been trying to hand me free apples from the moment I arrived.
"I thought I'd help set up, as I've nothing else to contribute. I'm not much of a gardener and certainly no cook. This looks delicious, by the way. Apple juice, I assume?"
"You could say that. It has a bit more of a kick though." Annie laughed as they lifted each of the containers and a stack of disposable cups onto the empty wooden stall. "It's scrumpy. Would you like to try some? It may not be shop standard, but it's free."
"Well, that would be very welcome, I'm sure. Let me just pop back home and bring us a couple of chairs. I live just over there." He pointed to a small house with a bright red front door, on the other side of the green. "We can take the weight off our feet before the rush."
---
Sean was right about the rush. Before long, the place was teeming with people.
Locals, visitors, men, women and children, swarmed over the green, queuing up for tea and cakes, their shopping bags and baskets bulging with apples, pies and bottles of juice, their chatter and laughter filling the air.
Someone had set up a sound system and various pop and folk tunes rang out. Annie chuckled to herself when The Worzels' song about being a cider drinker came on, and felt herself blush when Sean swept her up and waltzed her round in a little dance in time to the music, before presenting her with a warm apple turnover and a cup of pale-looking fruit tea, which unsurprisingly seemed to taste of apples.
Annie had made a sign and propped it up at the front of her stall.
Free scrumpy. Made locally. Come and try.
And they did come and try, in their droves, many of them saying that her scrumpy was just as good as old Reg's, if not better.
An amateur wine maker from the nearby town bought all her apples, adamant that their reputation was known for miles around and telling her that he now knew exactly where to come when he needed more. It felt good to be keeping up the Russet Cottage tradition, and her pride in her apples shot up even higher as the compliments flooded in.
---
By half past five, as the stall holders all around her started to pack up what was left of their wares, Annie only had one small bottle of scrumpy left.
She had spoken to just about everybody there, bought two huge apple pies she would struggle to eat, met and patted several adorable dogs, promised to join the local book club, received three invitations to tea, and Sean had asked her out for Sunday lunch at the pub the next day. And the sun had shone down on them non-stop!
Annie wandered home in the gathering gloom, with the empty bottles and tins rattling against each other, and the two pies wrapped up in foil lying on top, in the now much lighter wheelbarrow. She stopped to take a little swig from the last bottle of scrumpy, now warm from the sun.
It made her hiccup, and that made her giggle out loud. What a day! Her head was spinning. She wasn't sure if it was from all the activity, the fact that an attractive man had asked her out and she had had the courage to say yes, or the effects of a glass or two too many of her own delicious scrumpy. She had to admit she had been feeling a bit down and lonely lately, being the newcomer in the village and with no family close by. Apple Day had been exactly the tonic she'd been needing.
She found she was almost skipping down the lane. Her afternoon could hardly have been more wonderful. Or so she thought, until a little voice rang out from a few yards up ahead.
"Granny!"
She stopped and looked up, her hands letting go of the barrow, which promptly fell over on its side in the road.
No, it couldn't be! But it was. There was little Kirsty, although she was not quite so little now, running towards her, her arms open wide for a hug, as Jane and Lauren climbed out of a taxi outside Russet Cottage, pulling a pile of cases behind them.
"Surprised?" Jane said, grinning from ear to ear as the taxi departed.
Annie just nodded, her arms wrapped tightly around Kirsty, as Lauren ran up and joined in the hug.
Oh, it's so wonderful to see you all. You didn't tell me you were coming to visit. I've got nothing sorted out for dinner.
"Don't worry. We ate on the plane, and all we really need now is a cup of your famous hot chocolate and a good night's sleep."
"Well, luckily I've got your rooms finished, or you'd be sleeping surrounded by paint pots. Come on in and see the place! And you must have some apple pie at least." She picked up the wheelbarrow and led it to the door. "I've more than enough, and if I eat any more apples myself today, I'll turn into one, I swear! Oh, listen to me gabbling. Now, how long can you stay?"
"As long as you'll have us, or as long as it takes us to find a new house of our own. We're not here on holiday, Mum. There was nothing to keep us in Australia, now that John and I have split up. He's just heard that his job is bringing him back here to England soon anyway, and we've found a buyer for the house out there, so it just made sense for us to come back too. That way, the girls can still see their dad. And see you, of course. We've missed you so much."
She leaned in and planted a kiss on Annie's cheek. "We've come home, Mum. For good."
Annie felt the tears well up as she opened the front door and ushered her family inside. She would have to cancel her lunch with Sean tomorrow, but somehow she knew he would understand. There would always be other days, but she could not imagine they could possibly be any better than this one – her very first Apple Day but definitely not her last.
---
Look out for My Weekly magazine, in newsagents and supermarkets, and enjoy a selection of brand new short stories in every issue! Or click here to subscribe and save pounds on the shop price.