A Helping Hand For Mary's Meals
---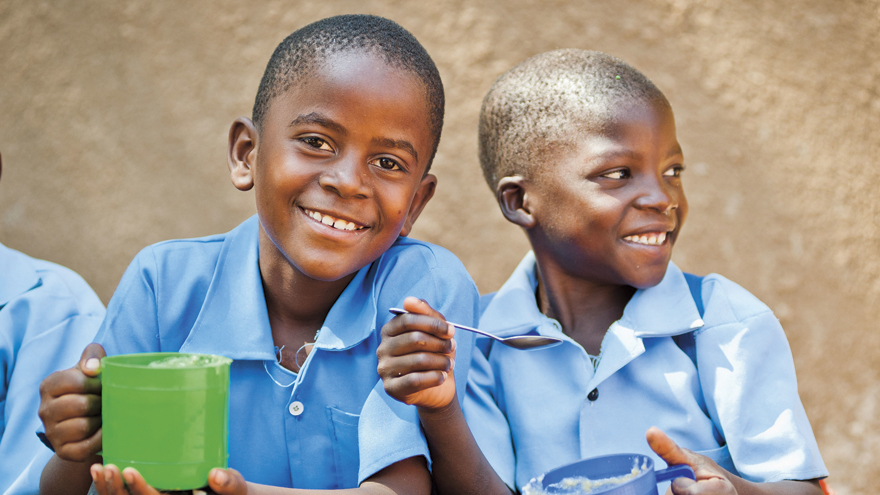 Your money is helping so many children Pic: Chris Watt
Once again we are so proud of My Weekly readers who have demonstrated amazing generosity in supporting our Helping Hand Appeal for Mary's Meals, which this year focused on the children of Zambia, in Africa. You helped raise more than £50,000 for this fantastic charity – the equivalent of feeding more than 8000 children for a year – and this figure will be doubled by the Government!
Our Visit To Zambia
When we visited the country in September last year, we met a number of young people who were facing a daily struggle to survive due to poverty and hunger. The school feeding charity Mary's Meals had recently started serving their nutritious and much-needed porridge, and although they are making inroads by helping thousands of children, there is still much work to do.
As always, you responded to their plight with enormous generosity.
Of all the children we met, none were more desperate than Priscar, who lived in a tiny mud hut in Chipata, Zambia.
At 12, Priscar had the weight of the world on her shoulders. She was the sole carer to her younger brothers and sisters. Her parents had recently separated and left the family home in search of work.
The prospect of an education seemed entirely alien to her. Every day was about survival rather than school. Often there was no food at all, and they had to resort to begging from friends and neighbours if they were to receive any food at all. It was a truly desperate situation for her and her siblings.
When we last met Priscar, that burden was visible right away. Dressed in little more than rags, her eyes had none of the vitality you would expect in a 12-year-old.
Hers was an existence devoid of hope.
What a difference a few months make. Her parents reconciled and returned to the family home, allowing Priscar the chance to go to school, where she is now receiving food from Mary's Meals.
For the first time in as long as she can remember, she now has time – and energy – to play with her friends.
Priscar said, "We depend on the Mary's Meals porridge for breakfast and it keeps us energised up to the evening as we don't get to have lunch at home.
My favourite subject is mathematics and I want to be a teacher so that I can be teaching and helping my father and siblings. Today, I and my siblings have something to look up to, to keep us in school. My hope for the future is for Mary's Meals to continue supporting us through the meals they provide in our school."
Panji Kajani, country representative for Mary's Meals in Zambia, said, "The Mary's Meals school feeding programme in Zambia has been welcomed by all people.
"Every time you meet a teacher, a parent, or a child in the school they will tell you of the enormous impact the programme has on school attendance and on their situation in general – by helping the community deal with the problem of hunger."
A Word From the CEO of Mary's Meals
Magnus MacFarlane-Barrow, CEO and founder of Mary's Meals, said, "We are so grateful to the generous readers of My Weekly for their continued support.
"Each gift was received with heartfelt gratitude, and is now being carefully used to feed more hungry children. Thank you for sharing what you have with children like Priscar, so they can eat, attend school, and build a better future."
Mary's Meals are now feeding more than a million children worldwide every school day. A remarkable achievement – and we at My Weekly are so proud of the part our readers have played.
Sue Ashworth is making a visit to another charity on behalf of My Weekly…