A Chat with Sophie Kinsella
---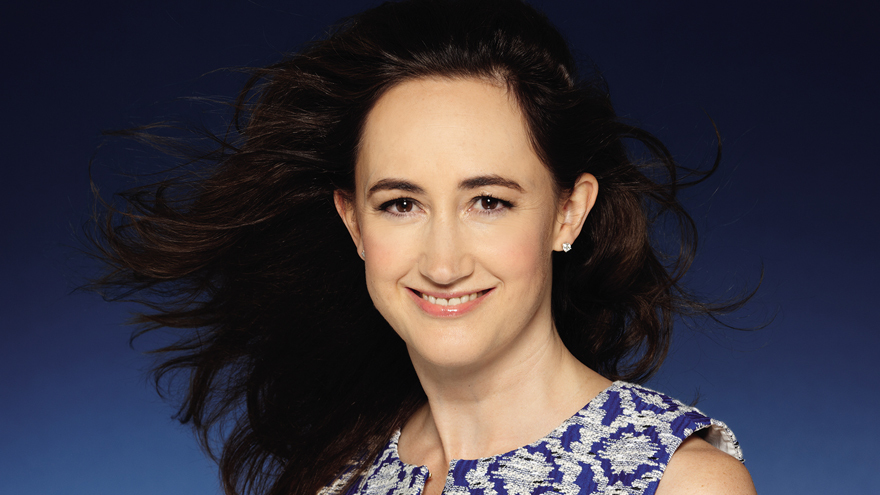 Author Sophie Kinsella Pic: ©John Swannell
As a fan of Sophie Kinsella's shopaholic series, and of the books published under her Madeleine Wickham alter ego, I was looking forward to Finding Audrey, Sophie's first foray into young adult fiction.
The story opens with a bang as 15-year-old Audrey's mum stands at her bedroom window, threatening to send older brother Frank's computer crashing to the ground. It's the only way she can think of addressing his computer games "addiction"! And it's just one thread of this well-crafted story which sees Audrey, crippled by anxiety and unable to leave the house, gradually come to terms with her own challenges while supporting Frank, keeping her mum calm, and soothing the fears of little brother Felix when he thinks he'll never be allowed to play Candy Crush again. And there's the promise of romance for Audrey, too, in the shape of Frank's personable friend and fellow computer addict, Linus. But will his calming influence be enough to help Audrey overcome her fears and step back into the world?
Although this book is aimed at young adults, I'd recommend it to anyone of any age. Anxiety is a problem of our times, and Sophie addresses it in a humorous, but very direct way, giving insight into the way irrational anxiety can take over the rational mind, and leaving us in no doubt that it is a disorder that cannot and shouldn't be dismissed, while never losing the warmth and wit that is a hallmark of her writing.
Keen to find out what inspired this story, I chatted to Sophie about Finding Audrey.
You've enjoyed so much success as Madeleine Wickham and Sophie Kinsella. What made you decide to switch genres and write a young adult title?
Originally, I didn't sit down to switch genres. My writing tends to start with my characters, and with Finding Audrey I thought of Audrey, Frank and their mother Anne first of all. In that way, it was a very similar writing process to writing Becky in the Shopaholic or Samantha in The Undomestic Goddess, where the humour and heart of those characters came first.
Where did you get your inspiration for the plot?
Normally, when I start thinking about plot I start with a what-if. So in the first scene of Finding Audrey I found myself thinking, "What if a mother was so stressed about her son's gaming addiction that she took extreme measures?" What would she do – why, throw his computer out of the window! It all started from there.
Did you base the character of Audrey on anyone in particular?
I think Audrey, like all my heroines, is a culmination of a lot of people. Certainly I looked back to my teenage self and tried to remember what that was like!
Do you relate particularly to any character in the book?
I think I relate to Anne most of all. She worries about her family, making sure she's keeping everyone together and healthy. She's an extreme and comic version of a mother just trying to do what she thinks is best for her family.
Emotionally, were there any aspects of the book you found particularly hard to write?
Audrey's situation is quite upsetting at times, and I do empathise a lot with my heroines when I'm writing, so the darker places of Audrey's story were more difficult to tell.
Do you think anxiety disorder is on the rise in young people?
I don't have any personal knowledge of statistics, but I do see that young people nowadays are more anxious and stressed than I remember being myself. The world is definitely a different place, and one aspect which is certainly different is the proliferation of social media, which can be very stressful.
Will Audrey have her own series?
Hah – truthfully, I don't know! We'll have to see, I've thought of a few ideas, but I don't know if I'm going to pursue one yet.
Any plans for more Shopaholic or Madeleine Wickham titles? Or do you plan to branch out into other genres? Shall we see a murder mystery from you one day?
I'm working on my next Sophie Kinsella title, which is very exciting! I would absolutely love to write a murder mystery, perhaps police procedural, but I think it would be hard for me to hold back the comedy.
What are the highlights of being a successful author?
Definitely meeting my readers, and nothing can beat the buzz of getting a new idea.
Any drawbacks? (eg, touring, writer's block, mad fans!)
I am very lucky and I can never complain! I suppose the only drawback is that I have so many ideas I want to tell and only so much time to write. I get very frustrated!
More fiction news and reviews…