A Cake Fit For A Queen!
---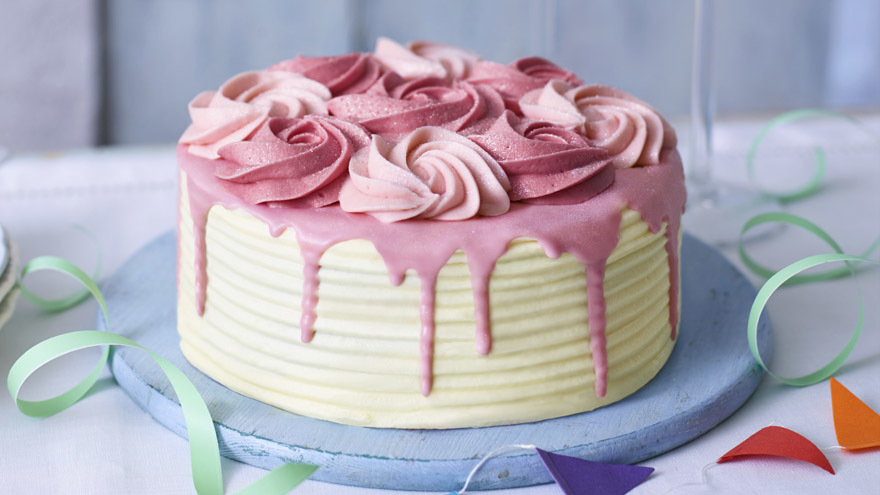 A centrepiece for your celebrations!
Award-winning master pâtissier and celebrity chef Eric Lanlard has teamed up with Tesco finest* to skilfully craft a "Cake Fit for a Queen" to help the nation celebrate the 90th birthday of our longest reigning monarch.
Eric has earned himself an international reputation for outstanding baked creations. His impressive list of clientele includes Her Majesty, The Queen Mother, who commissioned Eric to create a cake to celebrate her 101st birthday as well as the Queen of Pop herself, Madonna.
The "Cake Fit for a Queen" entices cake lovers with three indulgent layers of sensational sponge. Two layers of pink velvet sponge are perfectly paired with a luxurious chocolate sponge centre layer and filled with a raspberry conserve for a delicious taste of summer. The cake has been carefully coated by hand in creamy Tesco finest* Madagascan white chocolate buttercream and crowned with delicate prosecco flavoured buttercream roses. Finally, for the perfect finish, the cake has been given a light sprinkle of edible lustre. Perfect for your street party celebrations, or just to enjoy for your own birthday or anniversary celebrations!
Eric Lanlard says, "Inspired by the Great British tradition of afternoon tea and the summer parties for which Her Majesty is renowned, we've created a cake worthy of the royal seal of approval. We wanted to create a cake full of quintessentially British flavours together with the seasonal tastes of summer to celebrate this very special occasion. It is truly a Cake Fit for a Queen."
Hannah Gunn, Tesco finest* Brand Development Manager, says, "Having worked with Her Majesty, The Queen Mother, and other famous British icons including Elizabeth Hurley and the Beckhams, we knew there was no better partner to embark on this venture with than Eric. Whether it's a birthday, anniversary or afternoon tea, we hope the Cake Fit for a Queen will help customers celebrate in true British style."
Making Your Own Cake? Follow Eric's Tips…
If you'd rather create your own masterpiece, Eric has 10 top tips to decorate cakes perfectly every time:
1 Be Organised
A little bit of preparation goes a long way – it will help you to avoid getting caught off guard and ensure you aren't missing anything. Always start with a clean and clear work surface and make sure you have all your equipment and ingredients lined up ready for action.
2 Chill Out
If you're about to slice a sponge ready to be decorated, place it in the fridge for at least one hour. Chilling the sponge will make it easier to slice and you will get less crumbs than if you cut it when it's super fresh.
3 More Is Less
When using food colouring to colour icing, always use a tooth pick. Adding a small amount of colouring in stages avoids getting the colour wrong. Remember it's easy to add more, but not to take it out!
4 Fifty Shades Of Grey
When baking coloured sponges for cakes such as red velvet or a rainbow cake, make sure the food colouring you use is bake stable. If it isn't, your lovely coloured sponge will turn grey in the oven!
5 Don't Crack Up
When rolling icing on a surface, swap your icing sugar for a light dusting of corn flour… it won't dry out your icing and will give you a much smoother result without cracks.
6 Put On Your Crumb Coat
When icing a cake with frosting or buttercream, start by doing what we call a "crumb coat". This is a rough coating of frosting or buttercream which helps to glue the crumbs together. Place the cake in the fridge for one hour before finishing off without a crumb in sight.
7 Glaze Over It
When making a chocolate ganache to glaze a cake, take extra care mixing your hot cream and chocolate. You will need to mix it gently so the ganache does not curdle. If it does, don't panic, you can save it by folding one tablespoon of cold cream into it. The addition of a bit of glucose syrup into your ganache will help smooth it.
8 Stay In Control
Do not overfill your piping bag when piping icing. Instead it is better to refill frequently as it gives you more control. When refilling, try placing your piping bag into a measuring jug so you have two free hands to do so.
9 Icing On The Cake
To fill and ice a cake with buttercream or frosting, use a turntable or a cake stand to help you spin your cake, making it easier to get all around the edges. A palette knife is the perfect tool for icing. To finish, dip your palette knife into hot water for few seconds to get a super smooth and glossy sheen.
10 Practice Makes Perfect
If you're decorating a cake for a special occasion and want to practice your technique ahead of the big day, purchase a polystyrene dummy from any sugar craft store. This way you can decorate it as many times as you want without wasting any cake, icing, frosting – or even piping!! All you need to do is place a clear sheet of Perspex underneath any design and then follow with your piping bag, and wipe clean and start again until you have perfected the technique.
Try some of our street party recipes…