Your Summer Sun Diet
---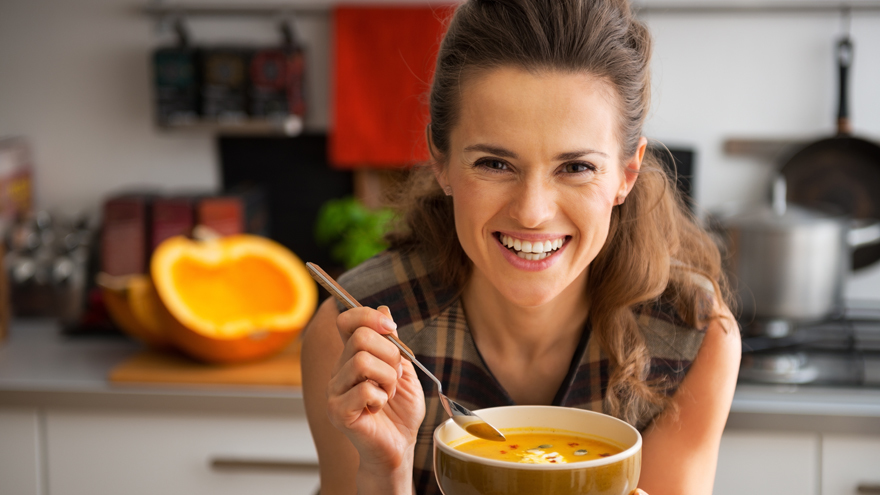 Pic: Rex/Shutterstock
We hope you enjoy this week's magazine feature on healthy eating, extracted from the The Feelgood Plan by Dalton Wong & Kate Faithfull-Williams.
Here are a few tips from the www.SuperfoodUK.com nutritionist on boosting your veggie intake:
It's Easy To Eat More Veg…
Blend it baby!
Soups are a fantastic way of using any odds and ends of vegetables in the fridge, especially those that are starting to look a bit limp and sad! Gently steam all vegetables, add lots of garlic, onions and herbs such as rosemary, caraway and thyme. Then blend in a food mixer or liquidiser. Serve hot or cold.
Roasted and ready
Roasted vegetables are quick and easy: cover in coconut oil, rosemary, thyme and a little salt and cook in the oven till golden brown and a little crispy. You can drizzle on a little olive oil before serving. Have a go with roast peppers, asparagus, mushrooms, fennel, carrots, beetroot, pumpkin, butter nut squash, large tomatoes, aubergine, courgettes and don't forget that onion and garlic are vegetables too. They have a soft sweet taste once roasted and add flavour to any plate.
Give your meal a plus one
With the evening meal you can have a serving of steamed vegetables as well as a raw salad. This is also great if you are trying to cut down on starchy carbohydrates with your evening meal such as pasta, potatoes or rice. Be inventive with salads – add small chopped pieces of broccoli, green beans, sugar snap peas, carrots and beetroot to have alongside different leaves.
Omelettes overboard!
Put as many chopped vegetables in as you please (avoid potatoes) for a colourful, easy dish. Think peppers, tomatoes, broccoli, onions and mushrooms. Omelettes are also great to eat the next day for lunch on the go.
Homemade crisps
If you've got a weakness for the nation's favourite snack, crisps, you can swap them for homemade vegetable crisps. Simply slice parsnip, carrots and beetroots into long pieces and layer them on baking trays. Sprinkle with salt, chilli or pepper and enjoy!
Wrap it up
Instead of bread, use large lettuce leaves to wrap around fish, meat or other fillings (e.g lentils, beans, lamb mince). You can also fill chicory leaves with a vegetables filling or prawn mayonnaise.
Swap your carbs for veg
Try a spiraliser to make courgetti and ditch white rice – it's all about cauliflower rice.
It's all about preparation
Make crudities the evening before to take to work the next day in a plastic container – such as sugar snap peas, carrots, peppers (red, green, yellow), celery, cucumber and courgette. A healthy snack to dip into cottage cheese, nut butters (almond, cashew and hazelnut), guacamole or hummus.
Show me the veg!
Dr Marilyn Glenville, the UK's leading Nutritionist and author of Natural Alternatives to Sugar explains, "Just like you keep sweets out of sight to discourage never-ending snacking, keeping veggies in sight will help you think of them as an option for eating. Fill a fruit bowl at work and keep a bowl on the kitchen counter at home so you'll be more likely to snack on carrot and celery sticks."
Try some of our healthy recipes…