Satisfy Your Winter Cravings With New Gluten Free Crumpets
---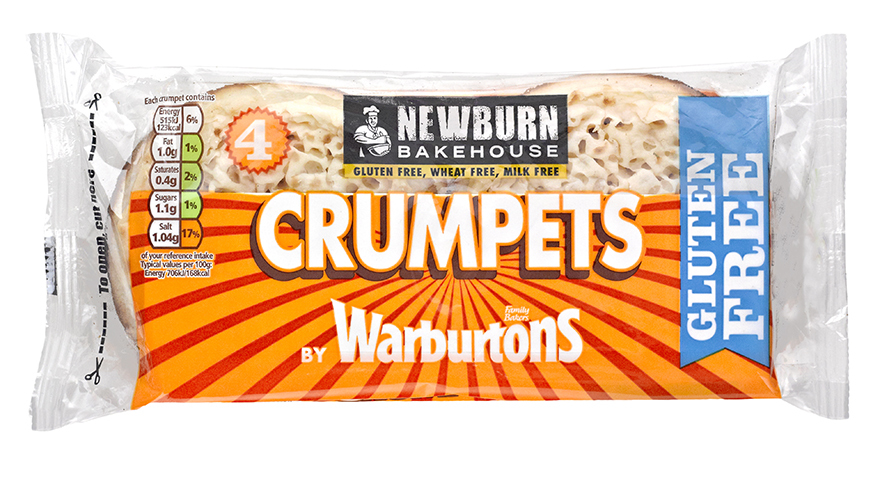 Newburn Bakehouse, the "Free From" brand owned by baking company Warburtons, have developed an exciting new gluten free crumpet so those with coeliac disease, gluten sensitivity or choosing gluten free options can enjoy the traditional British breakfast item. Ideal for winter brunches or for cosy afternoons in front of the television, not only are the all-new crumpets gluten and wheat free, but milk free too.
Gluten free customers can finally enjoy the perfect texture of crumpets and not miss out. The Newburn Bakehouse by Warburtons crumpets, with their soft, fluffy consistency and plenty of holes, are perfect for toasting and soaking up butter and jam for a tasty snack or for breakfast.
With one in 100 Brits living with coeliac disease and 13% of Brits cutting out gluten, Warburtons have listened to customer feedback and created a bakery range for those who need or choose gluten free, wheat free and milk free products. The crumpets will join Newburn Bakehouse by Warburtons' extensive "Free From" range including loaves, hand crafted Artisan boules, rolls, wraps and sandwich thins – so those with coeliac disease, gluten sensitivity or choosing a gluten free diet don't have to miss out.
Chris Hook, Free From Director at Newburn Bakehouse commented on the launch:
At Warburtons, we're well known for our crumpets, so you can be sure that we set the bar high for our Newburn Bakehouse Gluten Free Crumpets. We've put all of our baking experience and Warburtons crumpet know-how into making delicious crumpets that will bring joy to our gluten free customers – a great alternative to toast in the mornings or as a mid-afternoon pick-me-up."
At 121 calories per crumpet and low in saturated fats and sugars, the Newburn Bakehouse by Warburtons crumpets are most popular for breakfast with traditional toppings such as butter, marmalade, honey and jam. Additional serving suggestions include bacon and beans or avocado and sliced tomatoes as part of a bigger breakfast dish.
Their versatility also means they can work for lunch or an afternoon snack topped with bananas, honey and crème fraiche for something sweet, or tomato, pesto and grated cheese for an alternative midday meal.
Dave Mulvey, Head Baker, who has been leading the project to develop the new crumpets, said:
We're really excited to be launching this product into the market. It's been 18 months since we started putting together the recipe and after many hours perfecting the product, we believe we've achieved exactly what we set out to do; to make a gluten free crumpet that lives up to the Warburtons name."
Our glorious Newburn Bakehouse by Warburtons crumpets have been developed and baked by experts in our dedicated gluten, wheat and milk free bakery in Newburn, Newcastle. They are available in "Free From" aisles and online in Morrisons, Ocado, Sainsbury's, Tesco, and Waitrose
For more information visit www.newburnbakehouse.com.
Try our recipe for gluten free lasagne…