Dig For Exercise!
---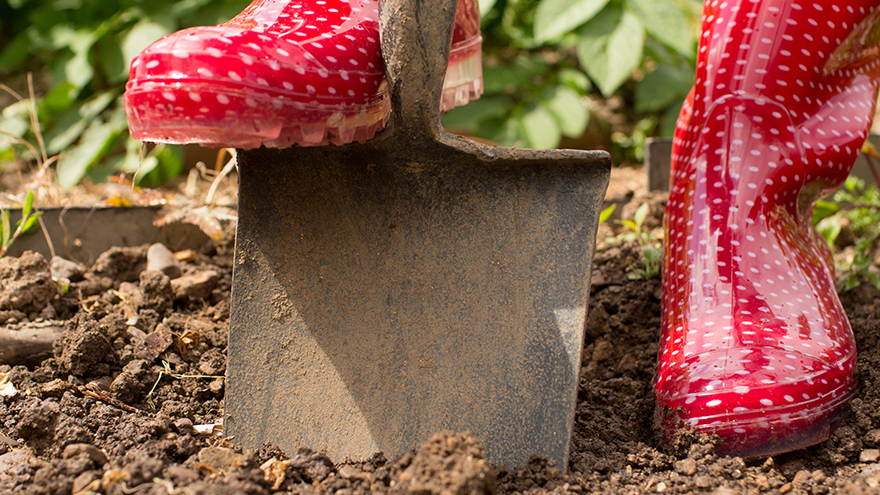 Pic: Shutterstock
As a nation, we are increasingly technology obsessed – and nature deprived – so maybe it's time to look at how digging deep during National Gardening Week (April 10 – 16) can help you lose weight and get fit.
Emma Clarke, nutritionist at calorie experts, Nutracheck, explains more: "An hour of general gardening can burn around 250 calories. Keep moving and turn your gardening into a reasonable intensity workout. Try to keep rests to an 'as-required' minimum and leave your green garden waste bin at the other end of the garden – shuttle back and forth with armfuls of greenery.
"
Mowing the lawn for 30 minutes can burn around 175 calories

. And if your lawn mower doesn't collect the cuttings, that's good news as raking up grass burns around 125 calories for half an hour. Every little helps.
"
Digging is great cardio gardening activity – just 30 minutes can burn around 300 calories

. It will be more if you have heavy clay soil or hard ground. Keep going at a steady pace without a break for maximum calorie burn.
"You can also ditch the weed killer and do it yourself. It's cheaper, produces no chemicals and burns around 80 calories per hour. Weeding can be hard on the knees, so try to use a soft pad to protect yourself from knee-related injuries. Also, try to adjust your body as you move from weed to weed to prevent over-reaching: leaning beyond our centre of gravity creates stressed posture and sore bodies.
"Gardening tends to find those muscles we don't use too often! So, as with any physical exercise, it's important to remember to prepare our bodies before and after. Try gentle stretching or yoga-style moves in preparation for the work ahead.
"And finally, reduce potential suffering and muscle stiffness the next day by having a hot bath or shower once you've finished for circulation and muscle flushing. The good news is that the benefits of an ice bath over a hot bath are fairly minimal, so unless you're an elite athlete, I'd opt for the hot bath!
"We know that exercise is the top choice for many people who want to lose weight; by including gardening, you're getting a good workout which doesn't cost anything and it becomes a regular weekly task during the summer months. Why not wear an activity tracker like Fitbit to count the extra gardening steps? You'll do more than you think!
"However, if your goal is to use extra exercise to help you to lose weight, it's important to remember that nutrition has a much bigger effect than exercise.
"Most of us overestimate how many calories we're burning off during any form of exercise – and it takes a lot more effort to burn calories than to consume them. So it's important to track how many calories you are eating by keeping a food diary – either written or using an App. That way you can see how the exercise you are doing is helping your weight loss efforts".
The NHS recommends an average man needs 2,500 calories a day and a woman around 2,000, depending on age and other factors.
Nutracheck.co.uk is a top rated diet website with a calorie counter and food diary available via an App and website. Super-fast and easy to use, the barcode-scanning App lets you add food to your diary in just 2 clicks. Nutracheck's unique search shows photos of food to make it easy to spot what you ate from over 200,000 products in the UK food database.
If you'd like to shape up for summer . . .