Set Out On A Grown-Up Adventure
---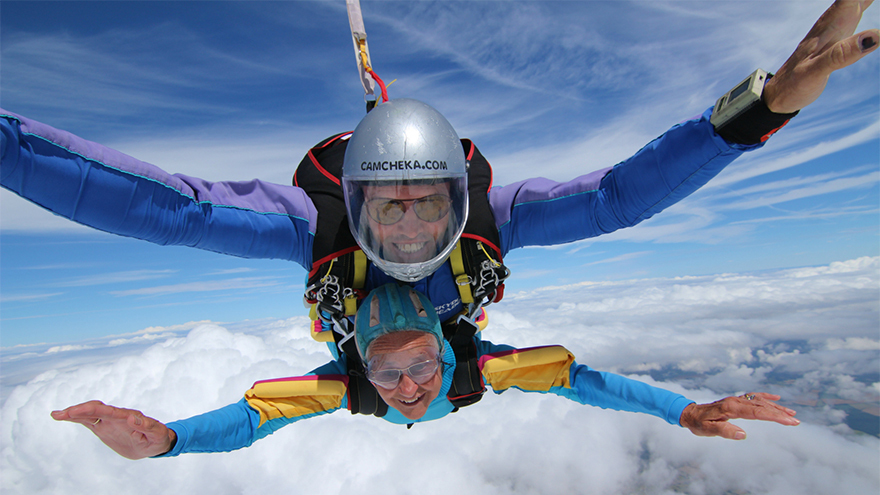 Alma Cater completed a tandem skydive for last year's DofE Challenge at the age of 74!
More than a quarter of us never step outside our comfort zone, new research from youth charity the Duke of Edinburgh's Award (DofE) has found.
This rises to one in three for over-55s. A further 32% of Brits admit they only challenge themselves once a year.
Men are falling behind in the adventure stakes, too, with fewer getting out of their comfort zone monthly and annually compared to British women.
The survey of 2,000 UK adults identified anxiety and a dislike of changing routine as top reasons holding us back from an adventure.
Having a family stops a third of Brits from taking on a challenge, while one in five people acknowledged that there isn't any good reason to prevent them.
Adventure Is Good For You… And Others
When we do undertake a challenge,  half of us say it boosts our confidence. One in five millennials said they were more productive at work thanks to venturing outside their comfort zone.
It seems that the British spirit of helping others could be the secret, however. More than a third of people revealed they'd challenge themselves if it did some good for others.
27% of British adults never step outside their comfort zone
A further 32% admit they only challenge themselves once a year
When we do take a walk on the wild side, 50% say their confidence is boosted
The DofE is better known for helping young people challenge themselves, build skills and transform their lives. Now it's urging people to get a taste of its life-changing benefits and take part in the DofE Challenge or DofE Adventure.
Join The Celebrity Adventurers
Countryfile presenter Julia Bradbury completed a world first last year for her DofE Challenge by sleeping overnight on top of London's O2 Arena. She said, "The benefits of stepping outside your comfort zone shouldn't be ignored and the DofE Challenge provides the perfect opportunity to really push yourself this year.
"You don't have to go it alone, either – grab your friends or family and set yourselves a challenge. You won't regret it!"
 "Going on adventures will force you to have a sense of humour. But above all, adventure can teach you self-confidence, perspective and humility" – Levison Wood, intrepid explorer and DofE alumnus
Following the hugely successful DofE Challenge last year, the charity's latest initiatives are designed to rekindle the nation's appetite for adventure, with the money raised enabling more young people to access the DofE in coming years.
The DofE Challenge encourages people to achieve a personal challenge this year. From learning a new skill to scaling the Three Peaks or completing a sky dive – the opportunities are endless. The DofE Adventure is a pre-planned expedition through the Peak District with overnight base camps. Participants choose to complete a one or two-day experience.
You Can Do More Than You Think!
The DofE's CEO Peter Westgarth said, "The response to last year's DofE Challenge was truly phenomenal, and we're delighted to be able to offer the chance for more people to take on a challenge or adventure this year with the launch of our two new initiatives.
"Being able to push yourself past boundaries is an essential part of personal development. This is something the DofE instills in thousands of young people every year through the DofE Award. We want every person across the UK to love adventure, and realise that there is more in them than they think."
 What Is The Duke Of Edinburgh Award?
The Duke of Edinburgh's Award is the world's leading youth achievement award that develops over 400,000 young people for life and work every year in the UK.
Through achieving their Bronze, Silver and Gold DofE Awards, 14-24-year-olds from all backgrounds and circumstances have the opportunity to grow as young adults. They can gain valuable life experience while developing essential employability skills.
Setting their own challenges, they learn practical skills, improve their fitness and volunteer in their community. They must also plan an adventurous expedition. For Gold, they also spend time away from home with people they've never met, completing a shared activity.
The DofE develops tenacity, commitment and determination, broadening each young person's life and work prospects.
The DofE is run all over the UK under licence by more than 1,200 partners. It's offered in 13,000 DofE centres  including schools and academies, youth clubs, businesses, voluntary organisations and young offender institutions. The scheme is a charity, run and supported by around 50,000 adult volunteers.