Free Your Feet With Summer Sandal Saviours!
---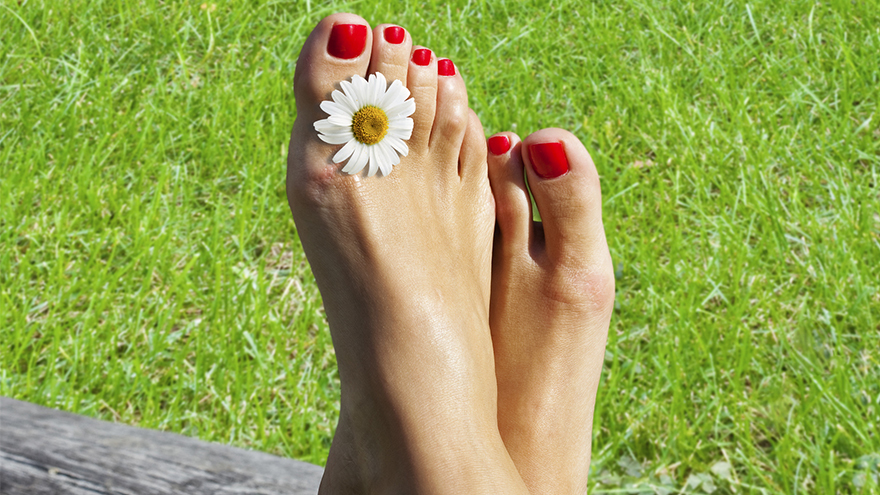 Be confident and put your toes on show!
We've already had a taste of the warmer weather with a few weekend heatwaves, but are you happy to get your feet out at the drop of a sunhat?
If you're dreading dusting off your summer sandals because of the state of your soles, have no fear!  We've gathered some great advice and new products to help get your toes comfortable and in tip-top condition.
Hard Skin Be Gone
Not quite ready to bare your feet yet? Some say that sand is the best natural exfoliator. However if you don't happen to live by the beach, Glycolic Acid may be your solution for dry skin.
Naturally found in sugar cane and grapes, Glycolic Acid is a natural exfoliator and is known for its anti-ageing benefits, making it a favourite among beauty experts.
Try Carnation's Hard Skin Remover Pen (£3.99 for 100+ applications), which softens areas of hard skin by dispensing droplets of the specially formulated liquid containing glycolic acid directly onto the skin. The invisible acid layer breaks down the bonds that hold tough dry skin together, leaving the skin with a healthy glow.
Banish Those Corns
For people who suffer with corns even walking can become painful, especially with ill-fitting shoes. Dave Wain, Carnation Footcare podiatrist, explains, "To remove corns, try Carnation Corn Caps (£2.99 for 10). The unique paste loosens the 'cement' holding the hardened skin together and also loosens the corn's nucleus, to allow for clean removal. The soft felt corn ring relieves pressure and pain while the corn heals."
Stop Those Blisters In Their Tracks
One of the best things about the warmer weather is swapping thick socks and boots for strappy sandals and flip flops. One thing that can wipe that smile off your face, unfortunately, is the blisters they can cause.
Prevent them with your summer handbag essential, Carnation's Anti-Blister stick (£4.15 for 100+ applications). "The Anti-Blister Stick is designed to immediately ease friction and stop blisters from developing. It provides an extra layer to the affected area, enabling you to carry on, pain-free," explains Dave.
Say No To Cracked Skin
Cracked heels are a common problem that stop people from shedding their shoes in the summer. What Skin Needs Cracked Skin Cream (£8.99 for 75ml) is a natural way to hydrate and nourish your skin.
Dr Roger Henderson, a GP with an interest in dermatology says, "If cracked skin is a problem, such as often occurs on the hands and feet, the Cracked Skin cream is designed to help repair dry damaged skin."
No More Stinky Shoes
The warmer weather means that outdoor activities are all the more enjoyable! If you'll be clocking up more miles on your trainers this summer, keep them smelling fresh. Carnation's Shoe Deodoriser Pouches (£6.99 for a pair) use natural moso bamboo charcoal, an excellent absorber of moisture, to help neutralise the smell. They'll keep your running shoes fresh, even after a hot and sweaty summer 5k.