Amusing Story | Love On The Line | Lydia Jones
---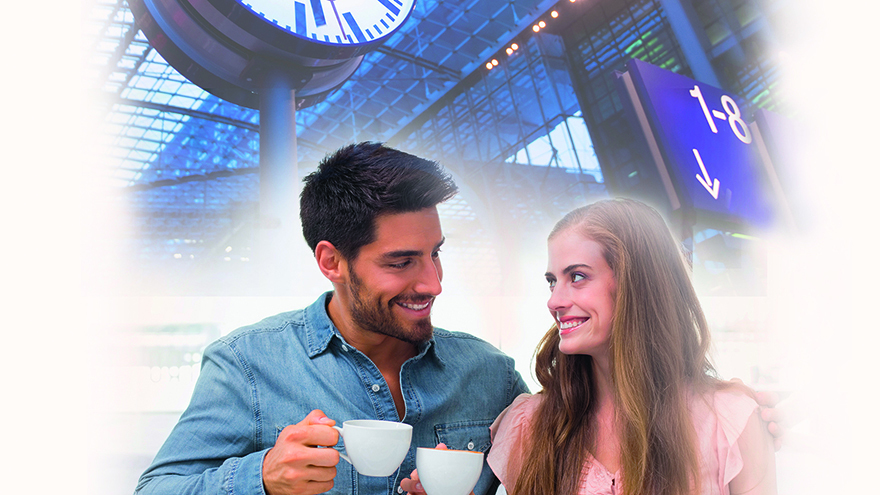 Was he just passing through or could there be a rich, steamy romance brewing? Enjoy Lydia Jones's fun romance from our archives!
14.01 Bristol Temple Meads
Last passengers before shift-end. Bubbles of excitement burst inside my chest. I can't wait to see his face.
"Excuse me, Miss."
I blink back to Planet Platform-Café where I work.
"How good is your cappuccino?"
"I'm told it's the best on this line." I beam at my customer.
"Really?" She peers at me. "Maybe I'll have a mocha."
The queue tuts, checks watches, worries about missing trains.
I grit my teeth. Whatever happens I cannot miss mine.
9.01 Manchester-Piccadilly
The beginning of it all…
I hate commuter trains: harassed, hurrying passengers.
"Ugh!" A florid-faced man spat coffee onto my counter. I gasped.
"Watery – total waste of money."
His squat fingers jabbed words onto Formica as I dabbed.
"I want a refund."
His bulk loomed. I began to wonder whether perhaps he was an escaped mental patient with a coffee problem.
"OK, mate. This one's on me."
A train manager at the back proffered coins; my queue exhaled; so did I.
"Thanks for that," I said when my hero came to the front.
"That's OK. I'm used to weirdos."
He had dark hair and sparkly blue eyes; for a train manager he was young.
I refused payment. "On the house."
"Thanks – and your cappuccino's great – better than onboard."
"Thanks." I felt absurdly proud.
"I'm Tom." He shouldered his bag. "I'm new here. See you again, maybe."
I hoped so.
I waited all week but there was no sign of the soft-voiced young train manager. It was stupid to obsess but there was something about him.
18.10 Birmingham New Street
I can't believe you're working instead of Birmingham clubbing with us." Sharon waved her cup towards our friends.
"Don't tell me you're pining for Disgusting Daniel?"
"Don't be daft."
"Plenty more fish?"
"Water under bridges?" I traded clichés. Once bitten…
The girls had gone and I was closing. My stomach fizzed like the frothy milk machine as I saw him approach.
"Hi. I've been on nights. I'm 18.10 Birmingham but I had to come in for the line's best cappuccino, served with the best smile."
I beam at him. "Earlies next week."
"Me too. See you."
Soon he'd be clipping Sharon's ticket and she wouldn't even know.
13.58 Carlisle
The 10.30 London Euston, 11.16 Crewe and 12.58 Bournemouth all brought snatched, hurried visits from Tom. Then came Carlisle.
"You finish now, don't you?" he said. "How about going somewhere else for coffee?"
Self-conscious without the counter, we sat in the park café.
"As good as my cappuccino?"
I tilted my cup.
"Here – you have some –"
Tom stroked froth from my nose. I giggled. Tension broken, we talked until our cappuccinos went cold and it was time for his train home.
13.46 Glasgow Central
It became a routine of laughter-filled coffee breaks bounded by train times; uncomplicated, commitment-free. Until yesterday's Glasgow.
"Jade, I can't do this. I want more." His hand caressed my cheek. "I want us to spend proper time. Go out together."
My insides fizzed.
He checked his watch. "Got to go. I'm the Liverpool 14.45 tomorrow. If you're not on the train I've got this wrong and I won't bother you again."
14.45 Liverpool Lime Street
My bag bumps against my thighs as I take stairs two at a time.
"The train now standing on Platform Five is the 14.45 to Liverpool Lime Street. Doors close – two minutes."
Lungs bursting, heels clattering. Tom heaves me up.
"You've cut it fine, Miss. Got a ticket?"
"Don't worry," I pant. "The train manager is a close personal friend."
Then he kisses me and I think perhaps twice bitten might not be bad.
For romantic, tender, fun and thrilling stories, get My Weekly, on sale every Tuesday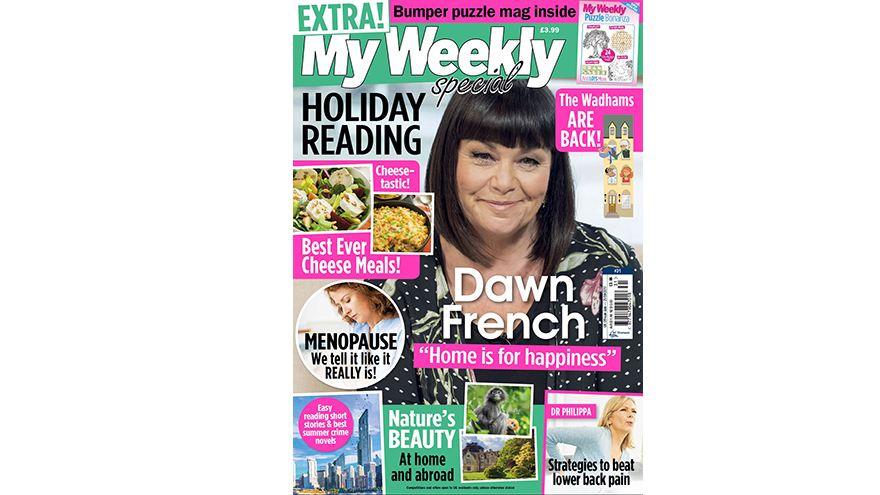 Don't miss this month's Special, on sale Thursday, August 15, and a chance to catch up Life and the Wadhams
More lovely online stories to read for free