Sue Moorcroft | The Little Village Christmas
---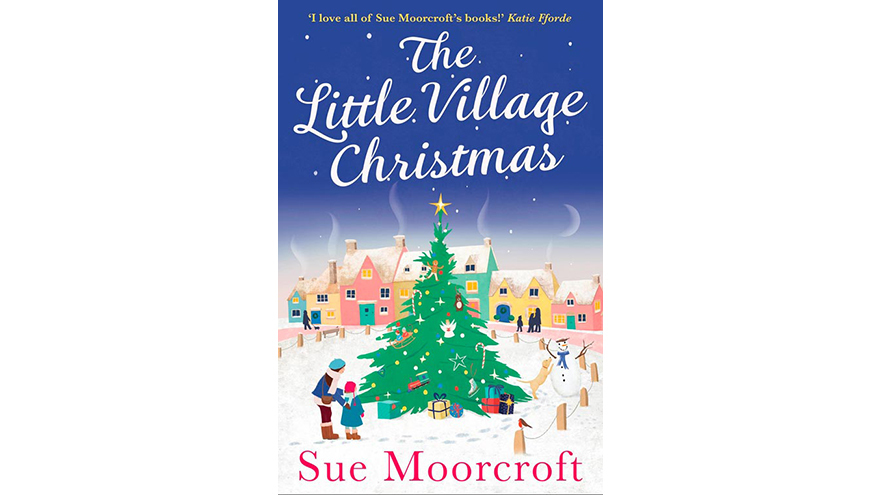 Enjoy  a dash of seasonal romance in Sue Moorcroft's lovely new Christmas novel, set in the world of Middledip
reviewed by Karen Byrom
I'm just back from a quick trip to London, where Christmas lights are already flashing and giant bunches of mistletoe hang in Covent Garden, just waiting for lovers to appear.
So I'm already in festive mood for reviewing our next Christmas novel – The Little Village Christmas by Sue Moorcroft (Avon PB, £7.99).
Sue takes us back to our favourite village, Middledip, where interior decorator Alexia Kennedy has a project. She is committed to turning an old pub into a community cafe. All the villagers have set to, lending their skills and raising money for the refit.
Then disaster strikes when two conmen Alexia has unwittingly employed make off with the pub's fixtures and fittings, not to mention the money.
It's a blow for the village and for Alexia's reputation. She needs to regain everyone's trust by continuing to put heart and soul into the project, despite all obstacles.
Fortunately she has the backing of Gabe, owner of the pub building, and of Ben  Hardaker, Gabe's nephew.
He's new to the village, and immediately drawn to Alexia. But a brief fling does not lead to a long-term relationship. He is still smarting from a previous betrayal, and she has big plans beyond the village.
But both are determined to rebuild the community cafe and find ways to work together, bonding over plastering, painting, the care of a very cute baby owl with a damaged wing, and uncle Gabe's serious illness.
Of course, the big questions are: Can the cafe open in time for Christmas? And will Ben and Alexia find more lasting romance?
One challenge after another
The Little Village Christmas has such a great plot! Just as you think Alexia has solved one challenge, another one appears. It's not just the cafe she has to work on but her relationships with her friend, Jodie, "frenemy" Carola and, of course, Ben.
Then there's Ben. His background is so intriguing! Why is his brother in prison? What did his ex-wife do to make him so bitter? Why can he barely speak to his parents?
Sue Moorcroft is wonderfully skilled at exploring relationships between characters and resolving issues where nothing is black and white, letting readers get to know and love even minor characters in the story.
But of course it's Alexia and Ben we most care for, and as Christmas draws near, and the date of for the opening of the Community cafe looms ever closer, we're holding our breath for them both.
Read a two part Sue Moorcroft story here
Don't miss our December 2 issue, on sale November 28, and another exclusive story from Sue!
More Christmas Book Reviews