Go Mediterranean!
---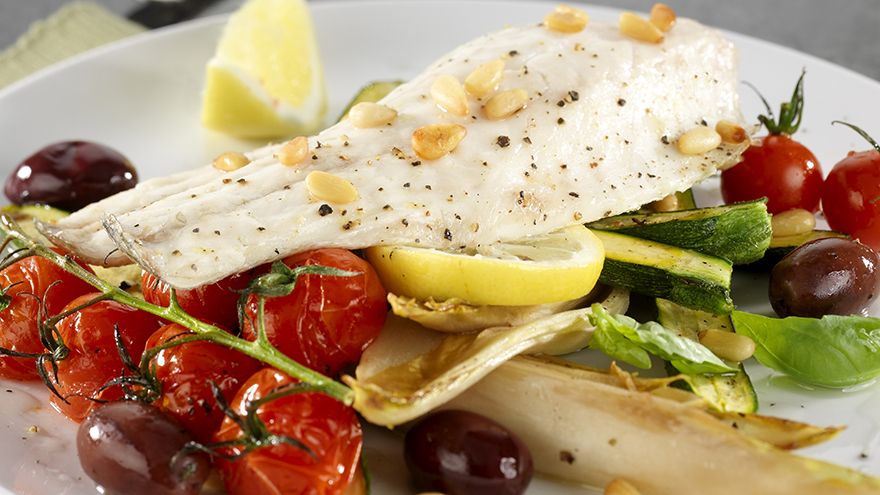 The Mediterranean diet is abundant with tasty, wholesome food, packed full of nutrients and colour.  Registered Nutritionist, Claire Baseley, shares her five tips on how to bring a taste of the Med into your own kitchen.
The Mediterranean diet is packed with vegetables and fruit, along with fish. Olive oil is a staple in cooking and on salad, whereas meat is eaten in smaller quantities. Overall, it's a diet rich in vitamins, minerals and fibre, low in saturated fat and added sugar, but with no compromise to taste. In addition, eating a Mediterranean-style diet if you are vegetarian or flexitarian is very easy, as you can use pulses as a low fat, high protein and fibre alternative to meat. Try lentils in a Bolognese or chickpeas with roasted veg in a lasagne.
If you're looking for free from substitutes, Napolina Red Lentil Penne and Green Pea Fusilli are tasty, gluten free substitutes for wheat pasta.  They are made from 100% pea or lentil flour, both providing a source of protein and fibre, as well as being one of your five a day.
Italian cooking is a great way to incorporate more vegetables and pulses into your diet, which helps you towards your five a day. Add a rainbow of vegetables to your pasta sauces, from roasted peppers and courgettes to grated carrot and diced squash. Don't forget, pulses are versatile, count as one of your five a day and they are great sources of protein and fibre too.  Try to cover half your plate in vegetables, fruit or salad at each meal.
Wholegrain cereals provide a source of fibre and B vitamins and form the basis of a Mediterranean diet, often coming from the staples, bread and pasta. It's a great idea to incorporate a varied range of wholegrains into your diet from whole wheat pasta and brown rice, to oats, rye and barley.  If you or your family aren't keen on the taste of wholegrain pasta, why not look for half and half varieties, so that you can still reap the benefits of eating wholegrains?  Aim for a fist sized amount of wholegrains with each meal.
Olive oil is a Mediterranean staple.  Extra virgin olive oil is delicious drizzled on salads, on vegetables or in hummus and tapenades.  Standard olive oil is good for light frying and roasting.  Be mindful of how much oil you use – a tablespoon on salad per person is enough.  Heat oil in a roasting tin before coating your vegetables or potatoes as it will help it to go further and you'll use less.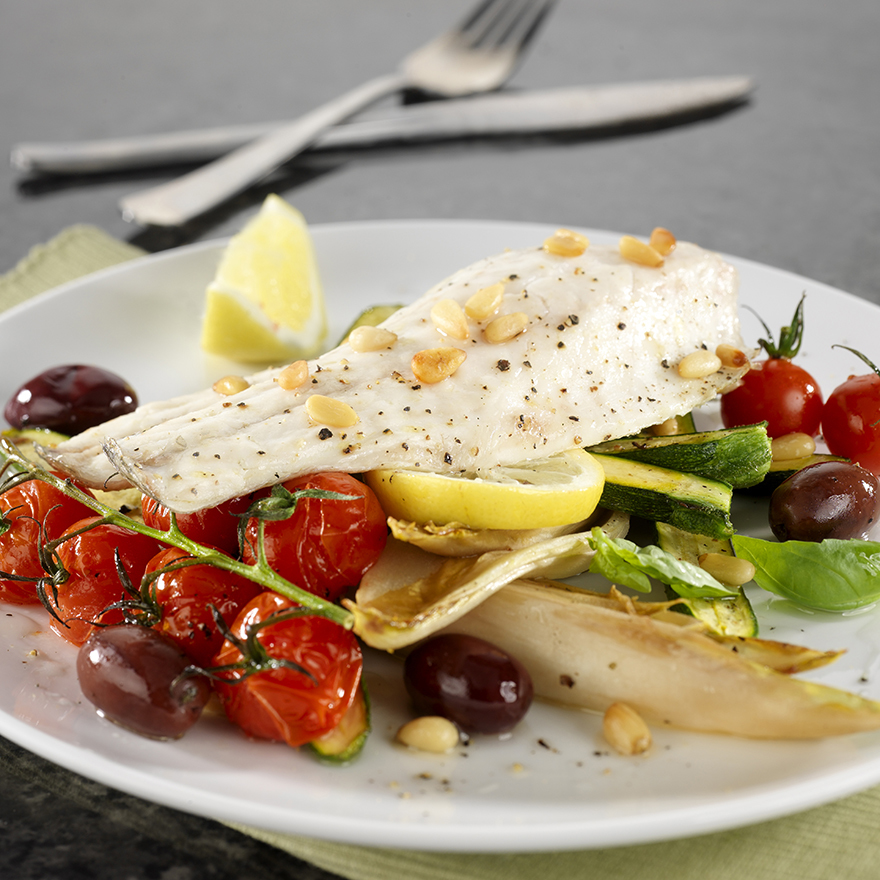 ROAST SEA BASS WITH BABY COURGETTES
This well balanced fish dish uses Napolina light in colour olive oil as a delicate compliment to the sea bass. Featuring the delicious flavour of courgettes, tomatoes and olives, the dish is finished with pine nuts for extra texture and a mildly nutty finish.
SERVES 2
20 MINUTES
INGREDIENTS
2 fresh sea bass fillets
10 baby courgettes, cut in half lengthways
2 or 3 bunches of cherry tomatoes on the vine
Handful of Napolina Black Olives
2 tablespoons pine nuts
2 cloves of garlic, sliced
Napolina Light in Colour Olive Oil
½ lemon
1 teaspoon thyme leaves
1 teaspoon caster sugar
Salt
Black pepper
METHOD
Preheat the oven to 190°c / 170°c Fan / Gas Mark 5.
Place the courgettes, garlic & thyme onto a roasting tray, add a drizzle of light in colour olive oil and then (with your hands) work the olive oil into the courgettes and spread into an even layer across the tray.
Add the cherry tomatoes, give those a little drizzle of olive oil, then season with a little salt and pepper and finally sprinkle over the caster sugar.
Roast in the oven for 15 minutes.
During this time, wash the sea bass fillets and pat dry on some kitchen roll.
Rub a little olive oil onto the fish and season with salt and pepper.
Once the courgettes are cooked, take the tray out of the oven and lay the sea bass over the vegetables – skin side down – with a slice of lemon and a scattering of olives and pine nuts.
Place the tray back into the oven for 5-6 minutes and then serve.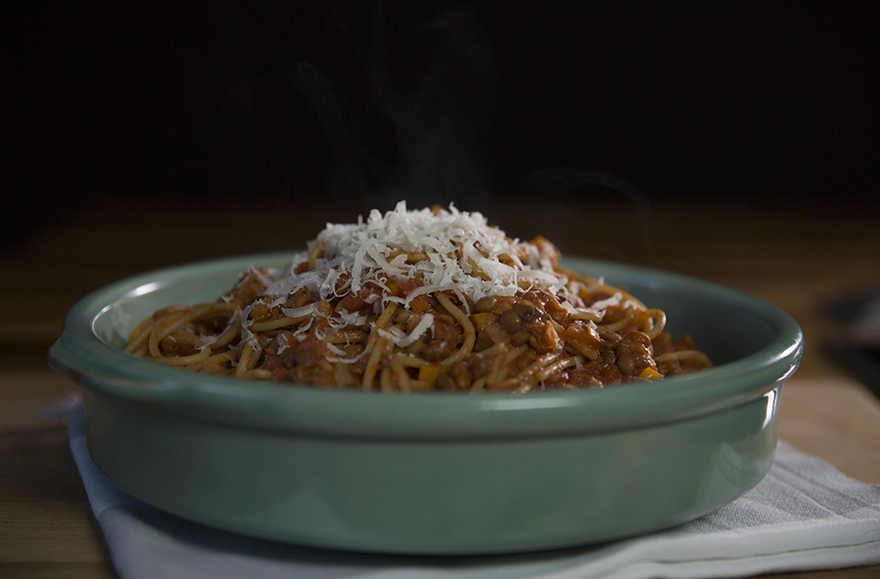 LENTIL BOLOGNESE
A vegetarian spin on the traditional Bolognese sauce recipe, this dish uses delicately textured Lentils full of protein and fibre. Lentils are naturally low in fat, sugar and salt and count towards one of your 5 fruit and vegetables per day. Pair with Napolina 50%/50% pasta for extra "hidden" whole wheat. A perfect combination.
SERVES 4
50 MINUTES
INGREDIENTS
2 x tablespoons Napolina Olive Oil
2 x onions, chopped
2 x carrots, finely diced
2 x celery sticks, finely diced
3 x garlic cloves, finely chopped
2 x 400g cans of Lentils
2 x 400g cans of Napolina Chopped Tomatoes
4 x tablespoons Napolina Double Concentrate Tomato Purée
1 bay leaf
500g Napolina 50%/50% Spaghetti
Parmesan cheese or vegetarian hard cheese, to serve
Salt
Black pepper
METHOD
Heat 2 tablespoons of oil in a large frying pan.
Chop the onions, garlic, carrots and celery sticks. Add to the pan.
Cook gently for 5 to 10 minutes until the vegetables have softened.
Stir in the lentils, chopped tomatoes, purée and bay leaf and bring to a simmer.
Simmer gently for 20 minutes stirring occasionally.
After 10 minutes, bring a large pan of water to the boil and season with salt. Add 500g spaghetti and boil for 10 minutes until al dente.
Season the Bolognese sauce with salt and pepper and remove the bay leaf.
Drain the pasta and add to the sauce, tossing until all of the pasta is coated.
Serve with the grated Parmesan cheese or vegetarian hard cheese.