Neil Ansell | The Last Wilderness | A Love Letter To Scotland
---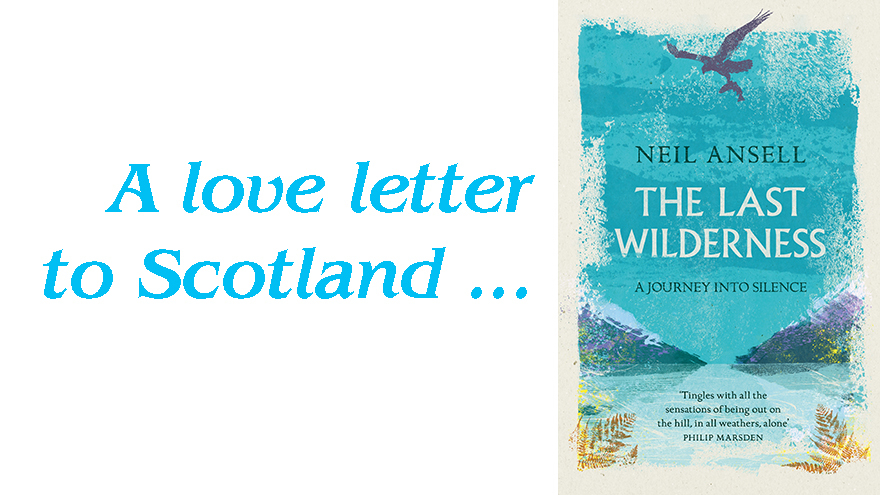 The Last Wilderness by Neil  Ansell
Tinder Press HB £16.99
(out February 8)
Reviewed by Karen Byrom
It's not often I review a non-fiction book here – I'm a fiction fan and love a good story with a subplot involving plenty of twists and turns.
But having recently visited Arisaig, Mallaig and the small isles of Rum, Eigg and Muck, I was drawn to this Scottish west coast travelogue.
How glad I am I abandoned my fiction books for a day or two! Twists and turns there are a-plenty here in The Last Wilderness, as former TV presenter Neil Ansell takes us on a journey over the west coast of Scotland with diversions through the South Downs, Sweden, the Andes, Africa and even New Zealand.
We meet otters, water vole and seals
Though his primary aim is to describe a series of visits to Scotland's west coast, the nature of a ramble is to wander off the path, and Neil Ansell does it beautifully, using his experience of the sighting of flora and fauna in other, more exotic lands to contrast with and highlight the beauty of the "Rough Bounds", as this area of Scotland is called.
Neil Ansell confesses himself to prefer his own company on his wilderness walks but generously invites the reader along in such a way that we really feel we are beside him on his journeys. With Neil, we tramp through woods, fields and hills; we wander by lochs, streams and rivers; we meet otters, water voles and seals, deer and wildcats, pipits and wheatears and buzzards. We look up at magnificent Scots pine and down at frondy fern. We hitch-hike the roads and swim in cold water.
And all the time he shares with us the sights, sounds and smells of this wonderful part of our island.
A deep love of the natural world
Yet, The Last Wilderness is more than just a travelogue or nature trail – Neil is also telling the story of his deep love of the natural world, and his profound sadness that, due to gradual hearing loss, he is losing the sounds of nature. As he says when he spots, but doesn't hear the meadow pipit, "One by one I am losing my birds". He then recalls hearing nightingales in Sweden and wonders if he would ever again be "overcome by the torrent of song"?
Thankfully for us, he never feels sorry for himself. Instead he is grateful that losing his hearing has given him the compensation of a heightened sense of sight and made him an even keener observer of nature.
Having read this book, how I wish I could go back to Arisaig and the Small Isles. How much I missed, but how glad I am to experience it now with this wonderful writer.
As the friend who recommended this book to me said, "The Last Wilderness is a love letter to Scotland."
More online book reviews