Top Authors Share Their Favourite Books
---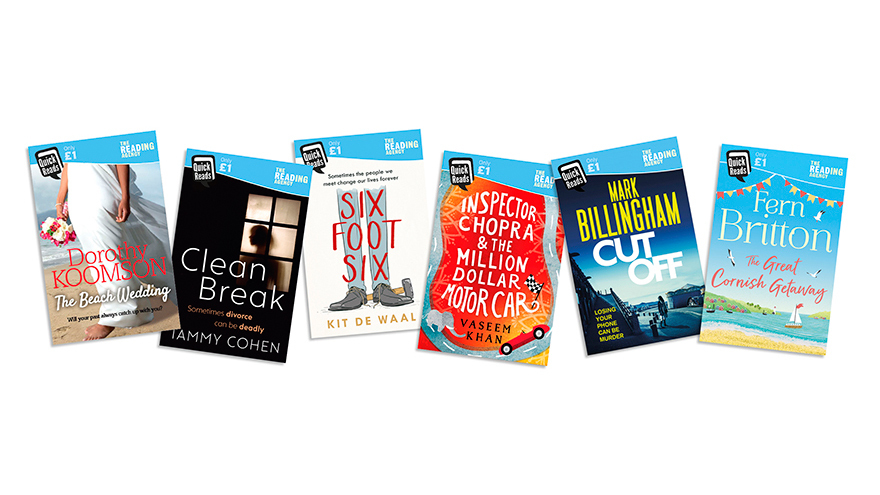 This year's Quick Read Authors reveal the story that first inspired their love of reading…
Six enticing Quick Reads titles from well-loved authors will be released by The Reading Agency on February 1, 2018. The selection of titles by bestselling writers span the globe. From Mumbai to Ghana, from Cornwall to inner cities, the stories explore a wide range of themes including friendship, secrets and lies, marriage and even the horror that losing your phone can bring.
Now in its 12th year, the Quick Reads programme has distributed over 4.8 million books and introduced hundreds of thousands of new readers each year to the joys and benefits of reading. Shorter, easier to read and accessible – they're ideal fiction for less confident adult readers.
Mark Billingham, 2018 Quick Reads author, says, "Reading a book is stepping into another world," while Fern Britton adds, "Finding books was my greatest joy. The Quick Reads initiative is enormously important and offers great stories for anyone."
So just what books inspired these top authors to embark on a writing career? Scroll on to find out, then enter our giveaway for the chance to win all six books in the series.
Dorothy Koomson (Quick Read: The Beach Wedding) is the bestselling author of 12 novels including The Ice-Cream Girls, My Best Friends' Girl and most recently The Friend.
One of my favourite books as a child was Fantastic Mr Fox by Ronald Dahl. I love it simply because my older brother used to read it to my sister and me. It reminds me of my childhood and the closeness I shared with my family.
Fern Britton (Quick Read: The Great Cornish Getaway) The former presenter of This Morning, Fern is now a Sunday Times bestselling author
I have always loved reading. My sister is almost 9 years older than me so when I was about 5 she was around 14 and busy with teenage things. I would get into bed with my teddy Johnson (still with me) and devour the Noddy stories. Enid Blyton was so maligned in the 70s and 80s. Pure snobbism. My four children grew up on all her stories from The Magic Faraway Tree to The Twins at St Clare's via Cherry Tree Farm.
Vaseem Khan (Quick Read: Inspector Chopra and the Million Dollar Motor Car) Bestseller Khan writes the Baby Ganesh Agency detective series.
I read Watership Down by Richard Adams as a kid and was hooked on the story of Hazel, Fiver, Bigwig and the other rabbits, who are forced to leave their warren and travel across the English countryside to find a new home. On their epic journey they encounter every conceivable danger. A great adventure!
Kit de Waal (Quick Read: Six Foot Six) is the author of international best-seller My Name Is Leon.
I loved To Kill A Mockingbird by Harper Lee because it's simply told from a child's perspective. A classic.
Mark Billingham (Quick Read: Cut Off) has sold five million copies of his novels and has twice won the Theakston's Old Peculiar Award for Crime Novel of the Year.
The Adventures Of Sherlock Holmes by Sir Arthur Conan Doyle was read to us in class by an eccentric maths teacher and sparked a lifelong interest in detective fiction.
Tammy Cohen (Quick Read: Clean Break) Her acclaimed novels include The Mistress's Revenge, The War of the Wives and Someone Else's Wedding.
Who couldn't love Little Women by Louisa M Alcott, a heart-warming story of a close-knit family of American sisters. At school we'd fight over which March girl we wanted to be – saintly Beth, kind Meg, tomboy Jo or the high spirited, vain Amy. Of course everyone wanted to be Jo, but secretly I was convinced my claim to her was the strongest as I too dreamed of being a writer (though I'd never have admitted that to anyone).
Quick Reads Giveaway
Quick Reads are brilliant and accessible short books published by bestselling authors for busy people and less confident readers. The 2018 Quick Reads are published on February 1, 2018 and are available from libraries and all good bookshops. Please visit The Reading Agency for more information.
For a chance to win all six in the set by these top authors, pop over to our giveaway now.