Stay Beautiful All Summer
---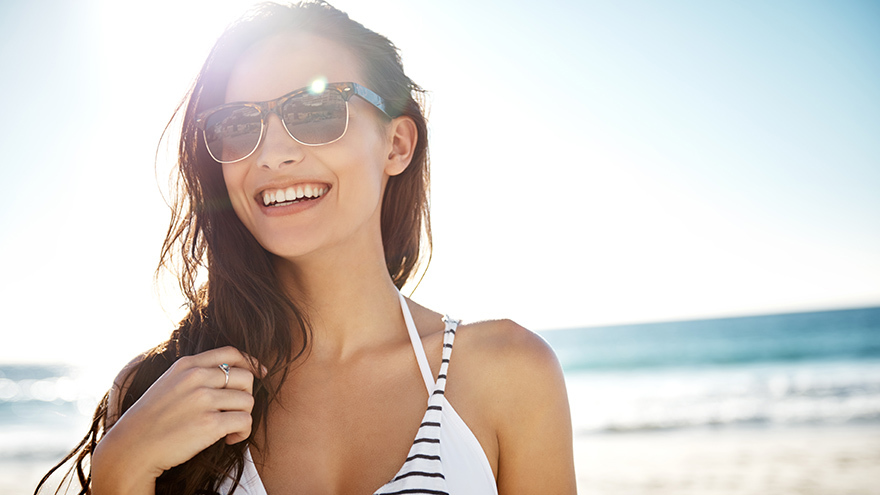 pic Shapecharge for iStock
Dermatologist Dr. Justine Hextall on behalf of The Harley Medical Group shares her thoughts of what you need this summer to keep your skin fresh and glowing:
To combat the effects of jet lag
"If you're travelling to a different time-zone, chances are that you will miss out on some sleep, in order to adjust to the new time. As you sleep, your body's cells regenerate, especially at skin level, so missing out on this quality rest can also affect the skin. Moisture levels can be decreased and pH levels can be will be lowered which is why your skin looks less youthful and has less of a glow when sleep deprived."
"Preparation is everything. Our skin really suffers when it is dehydrated so pre-treat it with plenty of soothing moisturiser and make sure you are hydrated." Manuka Doctor's Restoring Night Cream provides a boost of moisture for skin whilst working to firm, nourish and refine skin by nurturing natural collagen formation. (£24.99, Manukadoctor.co.uk)
To combat chlorine
We should all be aware of the sun in the summer. It's generally warmer and sunnier and like skin, our hair gets affected by the sun. Sun and water can be harmful, leading to faded colour, split ends and a brittle, dry texture. Hopping in and out of a chlorine pool can strip colour and treatments right out of the hair and cause it to look dull and dehydrated.
Viviscal is a great way to minimise the damage cause by seasonal factors. Viviscal contains the Marine Protein Amino Mar CTM, which is great for promoting and maintaining healthy hair growth. Scientifically formulated with the all the important nutrients needed for hair. Biotin (well known for its hair strengthening benefits but it also helps to cleanse dry, flaky scalps) and Zinc (improves the health, body and appearance of hair), which help to maintain normal healthy hair growth from within. (£49.99, Boots.co.uk)
To combat the effects of flying
"Flying is the perfect storm for causing skin problems." Says Dr. Justine Hextall. "We sit in cabins with high pressure re-circulated air that is very low in humidity causing extreme skin dryness. The oxygen circulation to our skin is reduced and the stress hormone cortisol levels are high reducing skin barrier function causing skin inflammation, redness and breakouts. Not to mention, the UV exposure to our skin increases significantly at 30,000 feet."
"Applying antioxidant serums and oils will help to reduce inflammation and mitigate against the free radical damage caused by UV exposure, pollution amongst other common daily stresses our skin experiences, so is essential for flying." Powered by Trilogy's unique trademarked formulation, Rosapene™, this Trilogy's Certified Organic Rosehip Oil Antioxidant + delivers intensive nourishment to replenish softness and elasticity while providing daily antioxidant protection for radiantly, healthy skin with a youthful glow. (£31.50, John Lewis.com)
To combat sweating
"Sweating aggravates outbreaks of spots and the combination of sun creams and cosmetics plus sweats can lead to pimples on the face and body. Gentle cleansing is a must to remove all impurities – you need your skin barrier to be as healthy as possible so that it can retain vital moisture. As a rule of thumb if your skin feels tight after washing it is likely the cleanser you are using has disrupted your skin barrier. Skin should feel calm and hydrated after washing, if you are reaching immediately for your moisturiser you may want consider a more gentle cleanser. I like DermaQuest Essential Daily Cleanser and Cetaphil gentle wash." (The Harley Medical Group, £30.50)
To combat the effects of the sun
"The effects of the sun can be seen as short term or acute effects and longer term damage. If we have too much sun our skin can become red, sore and once the inflammation has settled start to become dry and peel.  Holiday sun will leave us with a tan, but also often with dry, flaky skin and uneven pigmentation that may takes weeks to settle.
"The real problem though is the long term effects of the sun. It is estimated that around 80% of skin damage we see on the face, neck and hands is directly related to sun exposure. Chronic exposure to the sun's rays leads to skin sagging, wrinkles, uneven skin pigmentation and more subtly loss of effective skin barrier function. This is why skin often becomes dull, dry and often more sensitive as we age. While you can't undo damage caused by UV rays, you can protect your skin from further damage, which means applying a sun cream everyday – I know you've been told this before!"
To combat dehydration
"Dehydration is also a big skin concern in the summer. Too much sun and dehydration can leave your skin and lips rough. Focus on hydrating the body with 6-8 glasses of water daily. In addition, try green juices, coconut water, herbal teas and green tea. Green tea is packed with antioxidants known to protect the skin against sun damage and lower inflammation.
"Dehydrated skin tends to feel 'tight', can look quite dull and you might find your skin doesn't heal too well (blemishes can take a while to disappear). Avoid using harsh, drying cleansers and astringent toners as when the skin's fatty oils are removed the skin loses its protection and moisture is lost more easily. If you don't already, use a hydrating serum which contains hyaluronic acid like DermaQuest's Advance B5 Hydrating Serum." HarelyMedical.co.uk   £66)
For more beauty tips, see Seven Steps to Fake Tanning at Home