Love Your Gut
---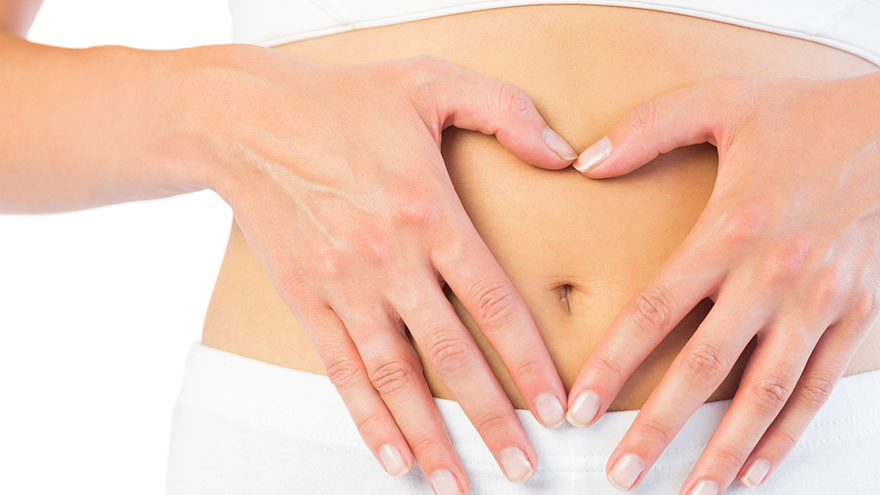 Pic: iStockphoto
The good news is that it isn't hard to love your gut! To get you started, Dr Joan Ransley and the experts at Love Your Gut have put together tips on how to give your gut the love and attention it deserves.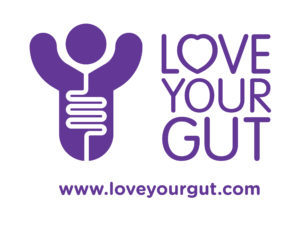 1 Get your Zzzs: A lack of sleep can impact on bowel function, appetite and body weight, so aim for eight hours sleep a night. Cutting out fatty foods, alcohol and caffeine before going to bed will help you nod off.
2 De-stress: In stressful situations, adrenaline pumps around the body and speeds up everything inside it – including how quickly food is passing through it. Making time to relax can help minimise the effects of stress. So, whether it's a walk, swim, or simply time to read a book, be sure to schedule time to relax.
3 A balanced diet: Make sure your diet has plenty of variety and includes carbohydrates, a range of protein rich foods, essential oils from nuts, seeds and oily fish, dairy and lean meat, as well as cereals and grains rich in fibre.
4 Drink up: Making sure you drink enough helps with digestion, ensures you are hydrated and may help prevent constipation. Don't ignore when you feel thirsty and take plenty of water with you if you're heading out in hot weather.
5 Get active: Exercise can really help improve your digestive health. Carrying excess weight can really affect the digestive system – putting pressure on the stomach, or squashing food mixed with stomach acid back into the gullet, which can cause heartburn.
 Dr Joan Ransley, Love Your Gut Ambassador says: The gut is an incredibly important organ and we should all take the time to look after it. Following these steps will help, but everyone is different and it is important to listen to your gut, to give it the love and care it deserves!
6 Five a Day: Rich in essential vitamins, minerals and fibre, ensuring you have five portions of fruit and vegetables a day can make a big difference to the health of your gut. Citrus fruits, berries, kiwi fruits, courgettes, squash, aubergines, tomatoes, cucumber and lettuce are foods that are often recommended for those with a sensitive gut.
7 Make time to enjoy food: Don't eat your meals on the run. Effective and comfortable digestion only takes place if you relax and allow yourself time to enjoy your food. Make meals an opportunity to relax with friends and eat slowly, savouring each mouthful.
8 Limit the alcohol: A glass of wine now and then is OK , but don't be tempted to drink on an empty stomach or overindulge. Drink sensibly, alcohol can irritate the lining of the stomach and too much can lead to gastrointestinal and liver disease.
9 Don't smoke: Smoking has harmful effects on all parts of the digestive system and increases risk of disease and disorders.
10 Eating breakfast: Evidence shows that people who eat a healthy breakfast tend to eat more dietary fibre, more vitamins and less fat. This may all help to stimulate the bowels to empty more regularly.
Recipes created by Dr Joan Ransley for Love Your Gut:
Fish Curry with Coconut and Kaffir Lime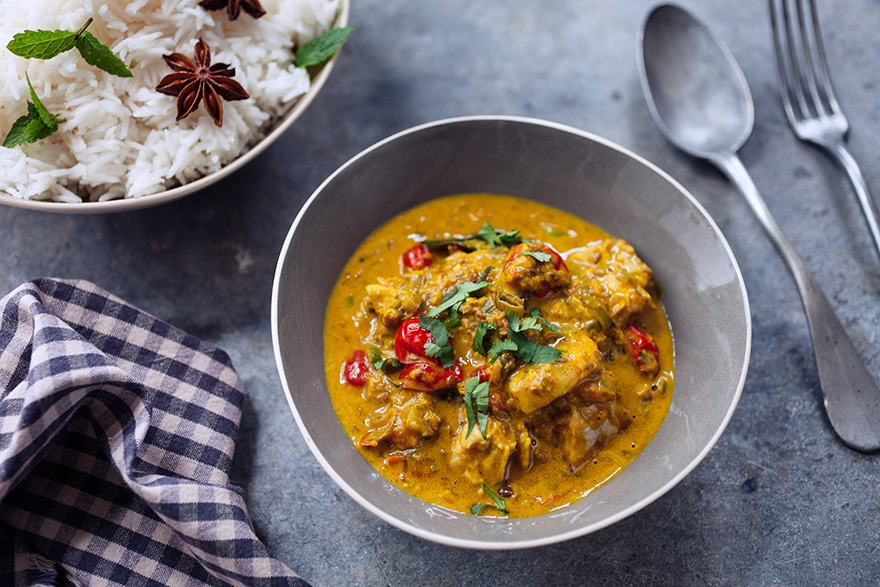 Ingredients:
A drizzle of vegetable oil – about 2 tbsp
1 clove of garlic, sliced
green parts of 4 young leeks/ or spring onions, finely chopped
¼ red pepper, de-seeded and very finely sliced
2 tsp whole coriander seeds, ground
1 tbsp whole cumin seeds, ground
1 tsp ground turmeric
2 walnut sized piece of fresh ginger peeled and finely grated
10 cherry tomatoes, roughly cut into quarters
2 kaffir lime leaves*
1 stick of lemongrass, very finely chopped*
165 mls coconut milk (a small can)
1 tbsp fresh lemon or lime juice
a dash of fish sauce (optional)
salt and pepper
400g white fish, cut into small chunks or a mix of white fish and prawns (or chicken breast can be substituted for fish)
To serve:
1 tbsp fresh coriander, chopped *if you do not have lemongrass or kaffir lime leaves you can leave them out. The curry will still taste good.
Method;
Drizzle the vegetable oil in a wok or large frying pan and gently fry the garlic slices until they begin to brown and then discard. Add the chopped green leek leaves to the garlic flavoured oil and sweat these until they are soft but not discoloured.
Add the ground coriander, cumin and turmeric and ginger to the pan and cook gently for a minute. Add the chopped tomatoes and the lemongrass, if using followed by the coconut milk and kaffir lime leaves .
Mix the ingredients together well and allow to simmer gently for about 10 minutes (during which time you can cook some Basmati rice which takes about 12 minutes to cook).
Taste the sauce and adjust the seasoning by adding a little lemon juice,  pinch of sugar, salt and pepper. Add a splash of fish sauce too if you want to add more flavour to the curry. If your curry needs a little more liquid add a little water. You are then ready to add fish or chicken to the sauce.
If using fish or prawns allow 6-8 minutes to cook at a simmer. Chicken will take about 12 minutes and make sure the simmer is lively as chicken needs to be cooked well for it to be safe to eat.
Serve your curry with rice, strewn with a little chopped  coriander and spices to decorate the rice.
Gluten Free Raspberry and Lime Yogurt Cake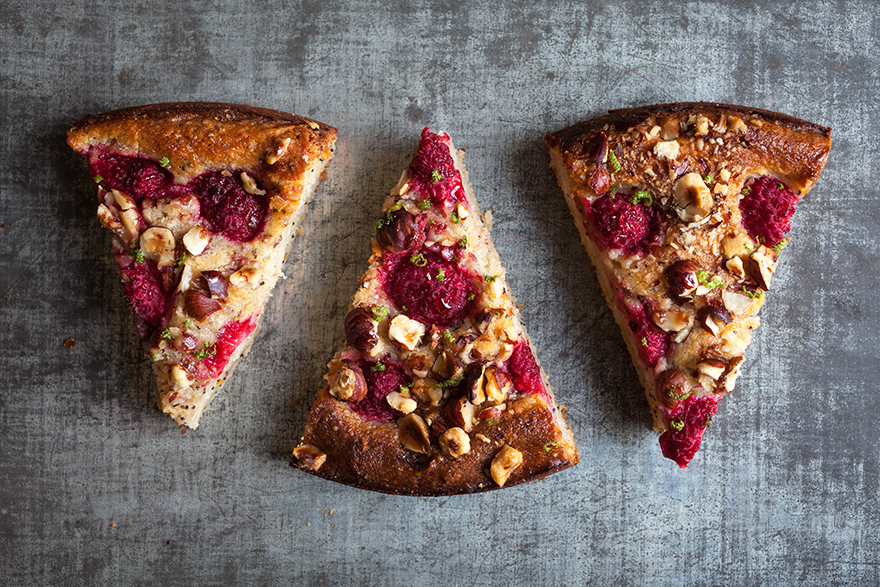 Ingredients:
125g soft unsalted butter/sunflower margarine, at room temperature
125g caster sugar
1 large egg, lightly beaten and at room temperature
50g buckwheat flour or plain flour
50g plain gluten free flour
1 tsp baking powder
50g ground almonds
2 tsp vanilla essence
4 tbsp greek yogurt
2 tsp poppy seeds
grated zest of a lime
150g raspberries
50g crushed hazelnuts or flaked almonds
2 tbsp maple syrup
Method:
Preheat the oven to 190C/375F/Gas mark 5. Butter and line a 20 – 22cm cake tin with silicone baking paper (you can use two smaller tins if you would like to make two cakes).
Beat the butter/sunflower margarine and caster sugar together until pale and fluffy. Gradually add the egg – beating it into the mixture until well incorporated.
Sieve the flour and the baking powder together and fold these into the butter, sugar and egg mixture together with the ground almonds. Add the vanilla essence, to the Greek yogurt and gradually fold this into the cake mixture together with the poppy seeds and lime zest. Finally stir in about a third of the raspberries into the cake mixture.
Spoon the mixture into the cake tin/s and arrange the raspberries and crushed hazel nuts around the top of the cake. Bake the cake/s in the oven for 40 – 50 minutes until a skewer inserted into the centre of the cake comes out clean.
Remove the cake from the tin and allow it to cool on a rack. Serve slices of cake with a dribble of maple syrup and some more raspberries if you like.
For more recipes and information . . .