Binky's Family Cheesecake
---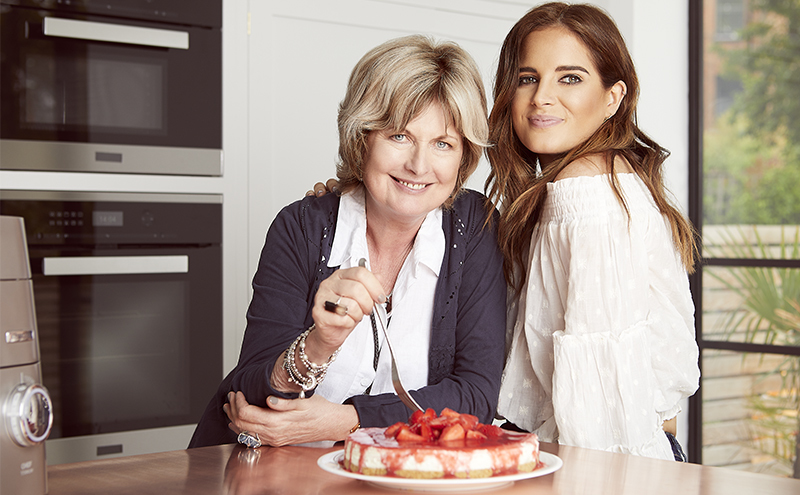 Made in Chelsea star Binky Felstead and her mother have teamed up to share their family recipe for the perfect cheesecake using their trusty Kenwood Chef food processor.
For the base
Butter and line a 23cm loose-bottomed tin with baking parchment. Fit the Kenwood food processor attachment with knife blade to the Kenwood Chef.
Put 250g digestive biscuits into the food processor attachment. Start the machine and increase the speed until the biscuits are crushed to crumbs.
Melt 100g of butter in a saucepan and add to biscuits in a mixing bowl, stirring until crumbs are completely coated. Tip this into the lined tin and press firmly down into the base to create an even layer.
Chill in the fridge for 1 hour to set.
For the filling
Slice the vanilla pod in half lengthways, leaving the tip intact, so the two half are still joined. Holding the tip of the pod, scrape out the seeds using the back of a kitchen knife.
Place the soft cheese, vanilla seeds and 100g icing sugar into the bowl. Using the K Beater turn the Kenwood Chef on and speed up until smooth. Pour in double cream and mix until completely combined.
Spoon the cream cheese mixture onto the biscuit base, from the edges to the centre, making sure there are no bubbles. Smooth the top with the spatula.
Leave to set in fridge overnight.
For the purée
Place 200g strawberries in the Kenwood Chef food processor attachment and knife blade with the remaining 25g icing sugar and 1tsp water. Process until smooth.
Sieve to remove strawberry seeds.
To serve
Bring the cheesecake to room temperature, about 30 minutes before serving.
Place the base on top of a can, gradually pulling the sides of the tin down. Moving the cake onto a serving plate, remove lining paper and base.
 Pour over the purée and pile remaining strawberries onto the cake to decorate. Serve and enjoy!
Watch Binky and her mum making the recipe…