Easy Buttermilk Chicken Burgers
---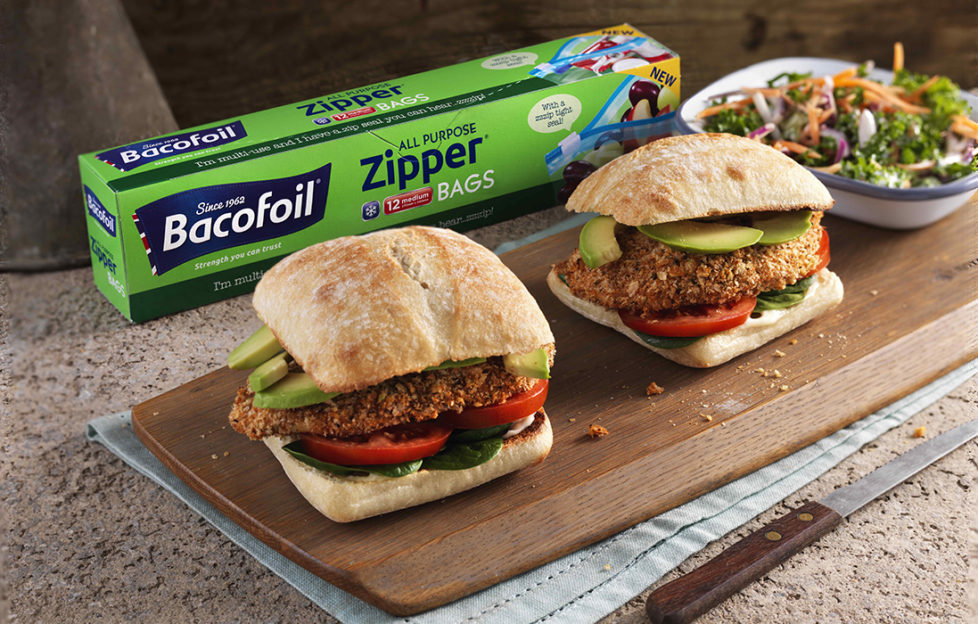 Marinating overnight in buttermilk makes the chicken tender and delicious. Very little oil is used in this easy recipe, making it healthier than fried chicken. We recommend serving as a burger, piled with avocado, salad, and kale-slaw on the side.
Makes: 4
Preparation Time: approx 10min plus marinating
Cooking Time: approx 40min
Cut chicken fillets in half horizontally to make 4 flat pieces. Add buttermilk to a medium Bacofoil® All Purpose Zipper® Bag. Place chicken in the bag, zip to seal and mix until chicken is coated. Place in the fridge upright, on the stand-alone base, to marinate for several hours or overnight.
Preheat oven to 170ºC fan, 190ºC, Gas 5. Place all dry ingredients in another clean Bacofoil® All Purpose Zipper® Bag, zip to seal and shake well to mix.
Transfer chicken pieces to the bag containing the crumbs, zip to seal and toss until all pieces are well coated.
Place chicken on a baking tray lined with Bacofoil® The Non-Stick Kitchen Foil. Cook in the oven for 25-30min, ensuring chicken is cooked through at the thickest part.
Split and lightly toast bread rolls. Slice avocado and squeeze over a little lemon juice. Mix mayonnaise with lemon zest and black pepper and spread a little on the base of each bun. Add salad leaves, tomato and a piece of buttermilk chicken. Top with avocado and the bun lid. Serve with coleslaw or kale-slaw on the side.
Tip: You can marinate and coat the chicken, then freeze in Bacofoil® All Purpose Zipper bags for a month. Defrost thoroughly before cooking.