What To Cook in Your Pressure Cooker? Beef Rendang In 40 Mins!
---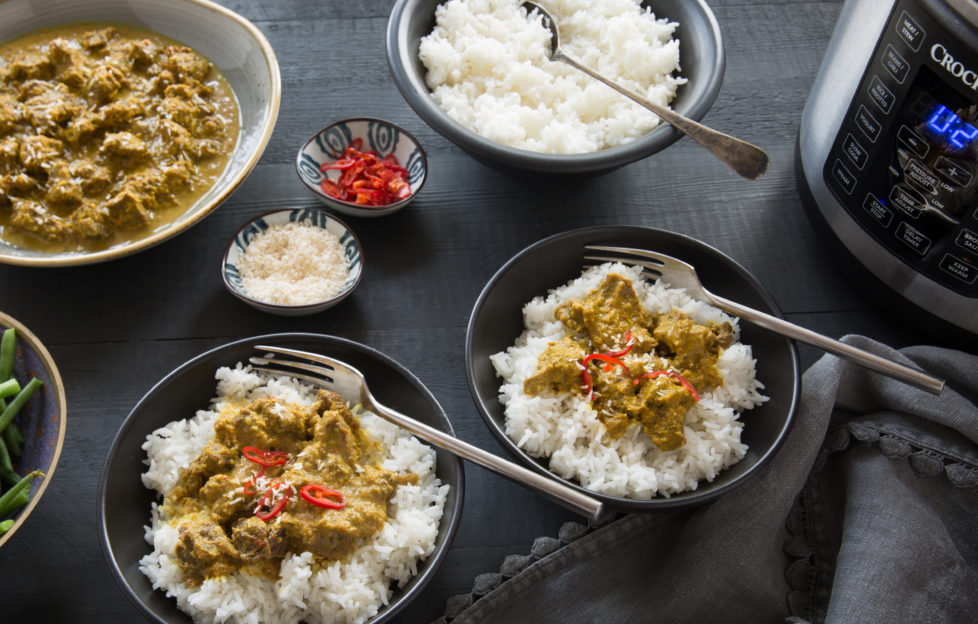 Beef Randang made in Crockpot
Everyone loves a slow cooker, but don't forget how wonderful a pressure cooker can be – you can cook your tea from scratch in less than an hour! Yummity Yum-Yum
Serves: 4-6
Cooking time: 30min
Preparation time: 10min
Place all ingredients for the paste into a food processor, blitz to a smooth paste.  Season the beef with salt and pepper. Set the Crock-Pot® (pressure cooker) to the brown/sauté setting for 8 minutes.
Add the ground nut / coconut oil, when hot fry the paste for 5min, stirring often. Add the beef and mix well so the beef is coated in the paste. Continue to cook for a further 3min. Switch the setting to the meat/stew function. Add the coconut milk, water and desiccated coconut. Place the lid on lock and turn the pressure valve to the seal position. Set the timer for 30min.
Now cook the jasmine rice according to packet instructions. Steam or boil the green beans and set aside. When the timer for the curry is finished, gradually push the valve to release the pressure.
Unlock the lid. Stir in the lime juice and coriander.
Serve the curry with the rice and greens, with scattering of chilli and desiccated coconut.