Turkey, Gammon & Sprout Pot Pie
---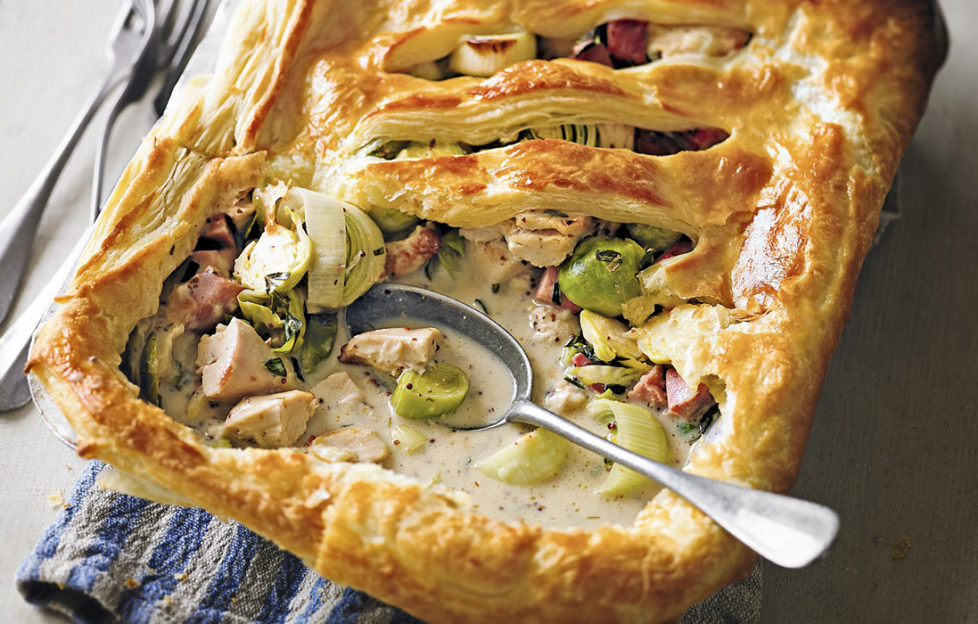 How do you make Christmas leftovers appealing? This tasty golden pie with mustard and herbs will tempt even jaded appetites, while using up what wasn't eaten on the 25th! And check out more leftovers recipes from Waitrose.
Preparation time: 30min + cooling
Cooking time: 50min
Serves: 8
Heat the butter in a large heavy-based casserole or saucepan. Add the gammon and turkey, cooking over a medium heat for 5-6min, until evenly browned. Add the leeks, cover and cook for 3min.
Uncover and stir in the flour. Cook for about 1min. Pour in the stock and bring to a brisk simmer, stirring and scraping the base of the pan, for about 4-6min until the mixture thickens.
Set aside to cool for 30min before stirring in the mustard and crème fraîche. Mix in the tarragon and sprouts and transfer to a large pie dish (at least 1.5 litres in size). Leave to cool.
Preheat the oven to 220˚C, gas mark 7. Roll the pastry on a floured work surface so that it's large enough to cover the pie dish with plenty overhanging.
Cut 1.5cm strips from the outside of the pastry. Brush the rim of your dish with egg, place the strips on top and brush these with more egg. Cut a couple of slits in the pastry sheet to let steam escape (or for a pie funnel) and lay on top of the pie. Crimp the edges, brush with more egg and decorate if you wish using the pastry trimmings.
Bake for 5min and then reduce the oven temperature to 200˚C, gas mark 6. Cook for a further 30-35min until golden and piping hot.