Haggis Bon Bons With Whisky Sauce
---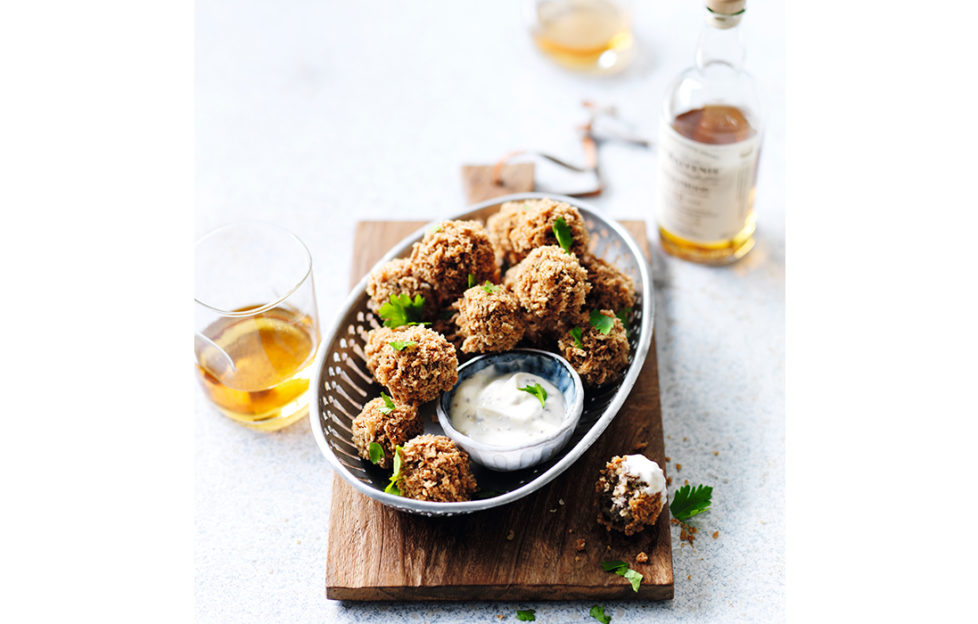 Celebrate Burns Night on January 25 with a modern haggis dish complete with whisky dipping sauce. This recipe also works well using vegetarian haggis
Makes: 24
Preparation time: 10min plus chilling
Cooking time: 15min
Remove the outer casing from the haggis, break up into 24 pieces and roll each piece into a small ball.
Place the flour and paprika in a shallow bowl, the egg in another shallow bowl and finally the breadcrumbs in a third bowl. Roll the haggis balls in the paprika flour, then in the beaten egg and finally in the breadcrumbs until evenly coated. Transfer to a baking tray and chill for 10min.
Meanwhile, stir together the mayonnaise, wholegrain mustard and whisky. Spoon into a serving bowl and set aside.
Pour vegetable oil into a medium saucepan to a depth of about 6cm. Heat until it reaches 170ºC or drop a small piece of bread in the oil – when it turns brown in about 30sec, the oil is ready.
Using a metal slotted spoon, lower the haggis bon bons, a few at a time, into the oil and cook for 2-3min until golden and crispy. Drain on kitchen paper and keep warm in a low oven while you finish cooking the remainder.