The Prodigal Daughter | Prue Leith
---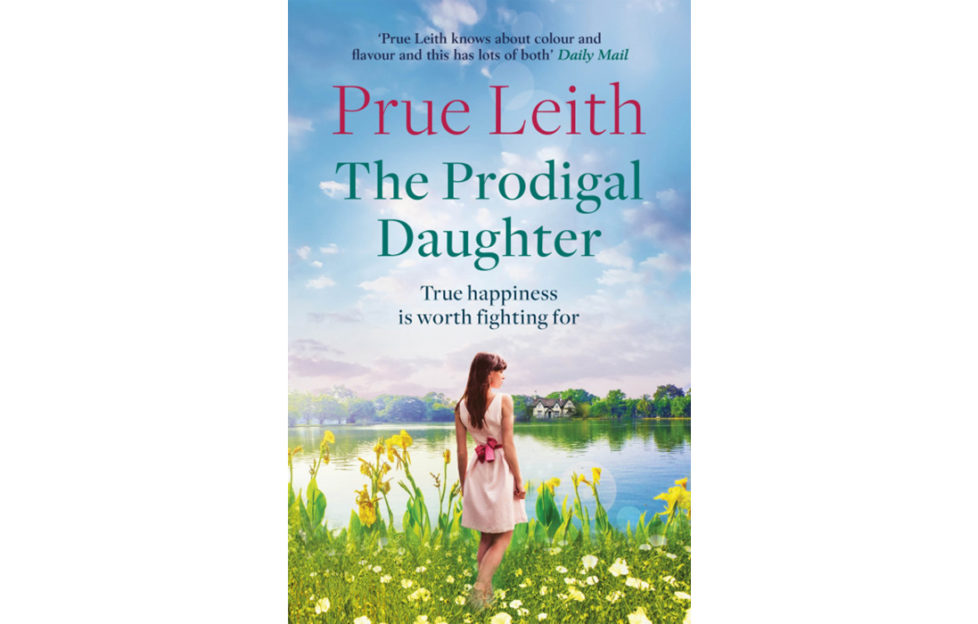 REVIEWED BY SARAH PROCTOR
A delicious mix of romance and cookery from the Queen of The Great British Bake Off
The story of runaway lovers Giovanni and Laura began in a previous book, The House At Chorlton. Now – in 1967 – they are a sophisticated, successful Italian restaurateur partnership and their daughter Angelica is taking centre stage. All skinny limbs and Biba boots, she is rebelling against her parents by… wanting to learn French cuisine. In Paris.
They resist, as loving, protective parents will – until she turns 18 and starts dating her charming, volatile, highly unsuitable first cousin Mario. Paris suddenly seems like a good way of putting some miles between them. Oddly, no one smells a rat when Mario promptly decides he is off to the south of France to make a living busking… and of course only gets as far as Paris!
Angelica, coping with homesickness and victimisation by the grumpy lecturer (whose idea of punishment is to demand she makes mayonnaise in a soup dish with a fork), falls into Mario's arms and before long he has persuaded her to marry him.
However between red tape and revolution brewing, things don't go entirely to plan and before long Mario becomes increasingly moody and difficult to cope with. Still, Angelica's cooking is improving in leaps and bounds.
Returning home to London, the family – including Mario's sensible brother Silvano, who looks after the company accounts and quietly carries a torch for Angelica – are dismayed at their marriage. However Angelica smooths things over by quickly making a name for herself in the family business. Then she spoils it somewhat by leaving to become the first woman to be employed as a sous chef at the Savoy. From there, a glittering TV career beckons as her relationship breaks down…
Prue's writing whisks us from romantic poverty in Montmartre to fabulous 1970s London fashions in décor and food – some details clearly drawing on her own extensive experience in the TV and high class catering industries. If you like Masterchef and Dragon's Den, you'll enjoy the occasional technical detail, disaster post-mortems and business expansion plans! You may also smile at the creativity required to launch a new enterprise while observing the rules of the three-day week…
Angelica finally leaves Mario
Meanwhile Laura attempts to reconcile Giovanni's conviction that only Angelica can take over their empire with their daughter's independent spirit. When Angelica finally leaves Mario following an incident involving a Maserati, his brother Silvano finally persuades him to seek treatment for his bipolar disorder. He then causes fresh upset by going to work for a rival ice cream producer with rather lower ethical standards than his aunt and uncle.
In a shift to the rural setting of Frampton Hall, another thorn in Angelica's flesh is Jane, the spoilt stepdaughter of her father's benevolent financial backer. Jane, still too big for her boots, is soon to step into her father's shoes… following a fatal incident from which Mario emerges an unlikely hero. Does Angelica still love him after all that has happened between them? And as she finally realises how fond she is of Silvano, he begins spending a great deal of time with a younger colleague…
There's certainly plenty going on in this book and while primarily a fascinating insight into the restaurant and hospitality business, the well sketched characters – with some good strong female roles – and the vivid flashes of period detail carry it along at a good pace. The darker characters, Mario and Jane, do cast long shadows and their motivations for not always doing the right thing are well worked out and credible.
As befits a saga, not all loose ends are tied up at the end and you will be eager for the next book in the Angelotti Chronicles series to follow the characters further!
The Prodigal Daughter by Prue Leith is published by Quercus in paperback, RRP £8.99, and available from Amazon.
You may also like these books: