Valentine's Jewelled Rosé Wine Jellies
---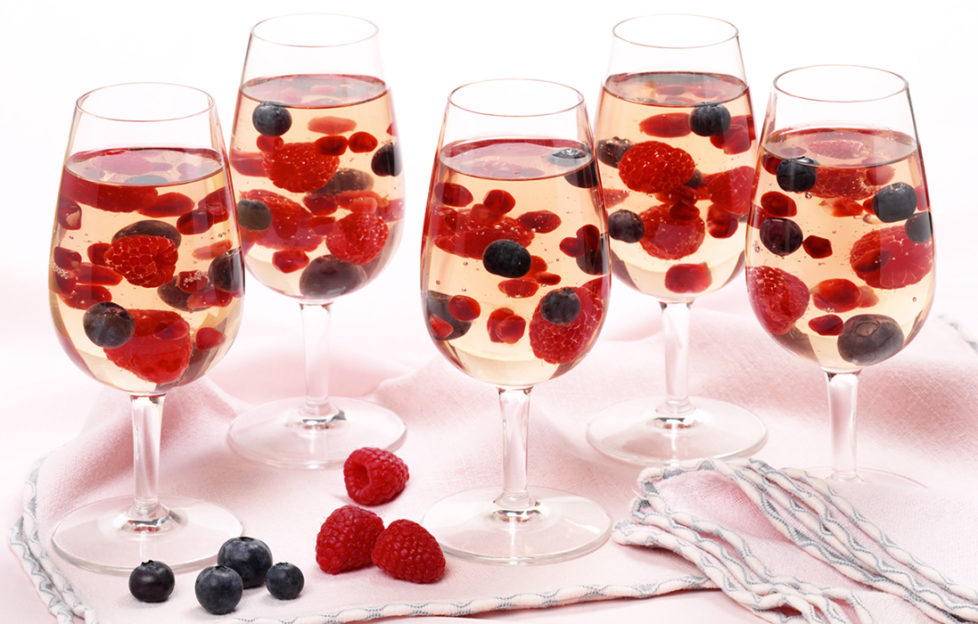 Serve these classy jellies after a dinner party or Valentine's Day meal for two – they're sure to impress!
Serves: 6, reduce ingredients to make for 2
Preparation: 1hr
Put 6 x fluted or tall dessert glasses on a tray – the capacity of each needs to be at least 200ml and put 1 or 2 pieces of fruit in the bottom of each. Cover the remaining fruit and keep in the fridge until required. Chill the glasses until required.
Put 3 sheets of Gelatine in a shallow dish and cover with cold water. Set aside to soften. Divide the sugar into 3 equal portions, and put one portion in a small saucepan. Add 100ml water and heat gently, stirring, until the sugar dissolves, then raise the heat until just below boiling. Remove from the heat, drain the gelatine, squeeze out the excess water and add to the hot liquid, stirring until melted. Cool for 10min then pour over 250ml wine and transfer to a jug.
Pour a little of the wine mixture over the fruit in the glasses until it just starts to float. Put back in the fridge and chill until set. Keep the jug of liquid jelly in a bowl of warm water to help prevent it setting.
Once the jelly layer has set, add 2 or 3 more pieces of fruit to each glass and pour over another  layer of jelly and leave to set. When you have used up the first batch of liquid jelly, prepare another batch as above – you will need to make 3 batches of jelly in total for 6 servings.
Continue layering up the glasses with fruit and jelly until you have reached the top of the glasses or to a level you prefer. Leave the jellies to chill for at least an hour to set completely before serving. Best served lightly chilled within 24 hours of making.