Braised Ox Cheeks a la Bordelaise
---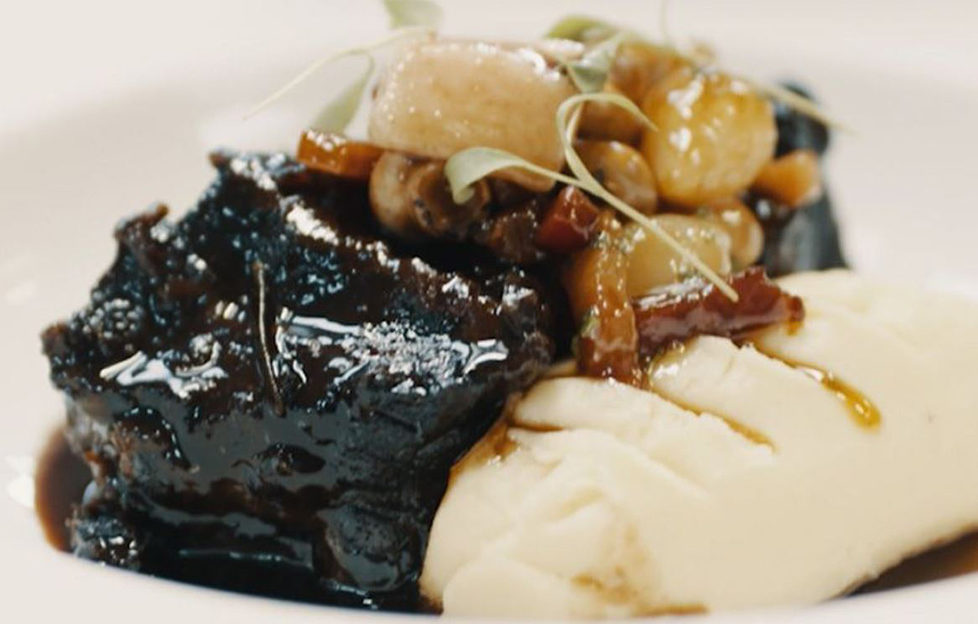 Try this ox cheek recipe – by Rikki Preston, head chef at The Honours Brasserie, Edinburgh – and be rewarded with restaurant quality results! You can find more delicious recipes, and order quality meat by post, here.
Serves 6
Marinading time: 24 hours
Preparation time: 20min
Cooking time: 3 hours
Chop all the vegetables into 6mm dice.
Marinade the diced ox cheeks for 24 hours with the chopped vegetables, garlic and red wine.
After 24 hours, remove the ox cheeks from the marinade, and pat dry.
Strain the vegetables from the liquid marinade. Put both aside.
Season the ox cheeks well, and sear in a hot pan with olive oil until browned all over. Remove from the pan and set aside.
To the same pan, add half the butter and sauté the vegetables from the marinade.
Pour the marinade over the sautéed vegetables, bring to the boil and reduce by half.
Add the stock and reduce by half again.
Add the ox cheeks and herbs to the stock and cover with foil. Braise in the oven for 2-3 hours at 200°C/ 180°C fan/ gas 6.
When the ox cheeks are tender, leave to cool in the stock and remove when cooled.
Strain the stock through a fine sieve and set aside for 10min to settle. Skim off any fat from the surface.
Reduce the stock until sauce consistency, and whisk in the remaining butter.
Add the cheeks back to the sauce and warm through. Serve with creamy mashed potatoes, and seasonal vegetables.