Chocolate Pancakes by Julie Dawn Cole   
---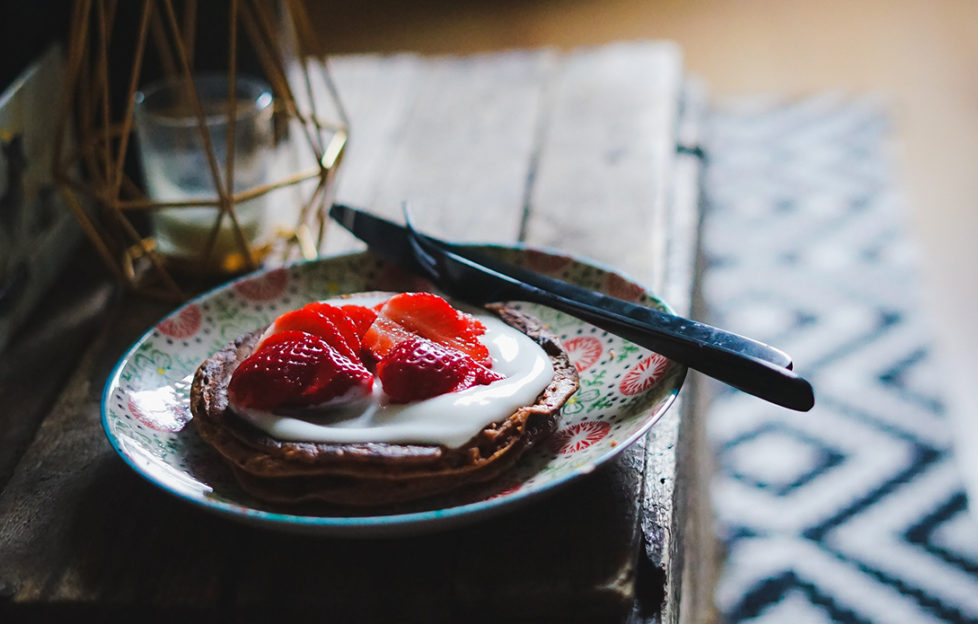 What better way to spend your Easter break than making this chocolate recipe from one of the original cast members of Willy Wonka & The Chocolate Factory.
Julie Dawn Cole, aka Verruca Salt, has given us a chocolate pancake recipe in support of a children's charity campaign – Harrison's Brunch. To take part in Harrison's Brunch and host your own brunch, please visit www.harrisonsfund.com.
Whisk dry ingredients together in a medium bowl. In a small bowl, mix wet ingredients together until combined. Add wet ingredients to dry ingredients and mix until just combined. Set mix aside to rest for 10min.
Preheat a non-stick griddle to 190°C, Gas Mark 5 and cook pancakes in batches. Keep warm on a cookie sheet lined with a cooling rack in a 120°C, Gas Mark 2 oven until ready to serve.
Experiment with flavour combinations by topping with your favourite fruit, chocolate sauce, yogurt, cream and sprinkles.
The recipe is from the Harrison's Brunch campaign, encouraging everyone to host brunches to raise money for seriously ill children. Harrison's Fund was set up in 2012 up by Alex and Donna Smith, in response to their son Harrison being diagnosed with Duchenne, a type of muscular dystrophy. Its aim is to raise money to fund the world's best researchers, who are working to find a cure for the disease. The charity is currently funding 16 research projects in the US and the UK.
Duchenne is a fatal neuromuscular condition caused by the lack of a protein called dystrophin which results in progressive muscle weakness. One in 3,500 boys is born with Duchenne muscular dystrophy in the United Kingdom each year and there are currently around 2,500 boys and young men with Duchenne. Their average lifespan is just 20 years. Harrison's Fund is different from many other Duchenne charities out there because it focuses entirely on trying to find a cure for the disease rather than on palliative care.