Welsh Lamb Meatballs with Grana Padano Cheese & Yogurt
---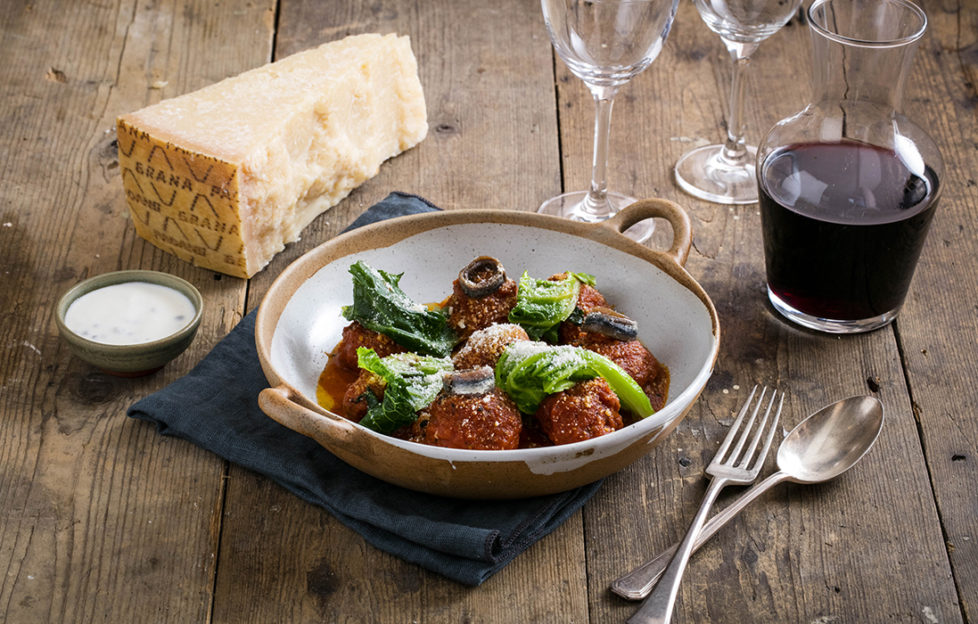 This wonderful classic dish has been recreated by chef Francesco Mazzei, with authentic ingredients such as spicy Calabrian sausage and anchovies for a real explosion of flavours! Once you have all the ingredients, the method is surprisingly simple too…
Serves 6
Start by making the tomato sauce. Heat the oil in a large sauté pan over a gentle heat. Add the onion and garlic and cook very gently for about 10min until soft, but don't let the onion and garlic brown. Then add the tomatoes and tomato puree and season. Stir, then leave to simmer for a further 20min.
To make the meatballs, combine all the meatball ingredients together in a mixing bowl. Then make the individual balls which should be around 30-40g each and place them in the simmering tomato sauce to cook. Then add the n`duja and vinegar and cook for 15min.
While this is happening blanch the Swiss chard leaves in boiling salted water for 30secs.
Plate up and add anchovies and the Swiss chard leaves on the top, then sprinkle with grated Grana Padano Riserva. Serve with yogurt and capers on the side, adding to taste.