Irish Peppercorn Studded Burgers, Slaw & Wedges
---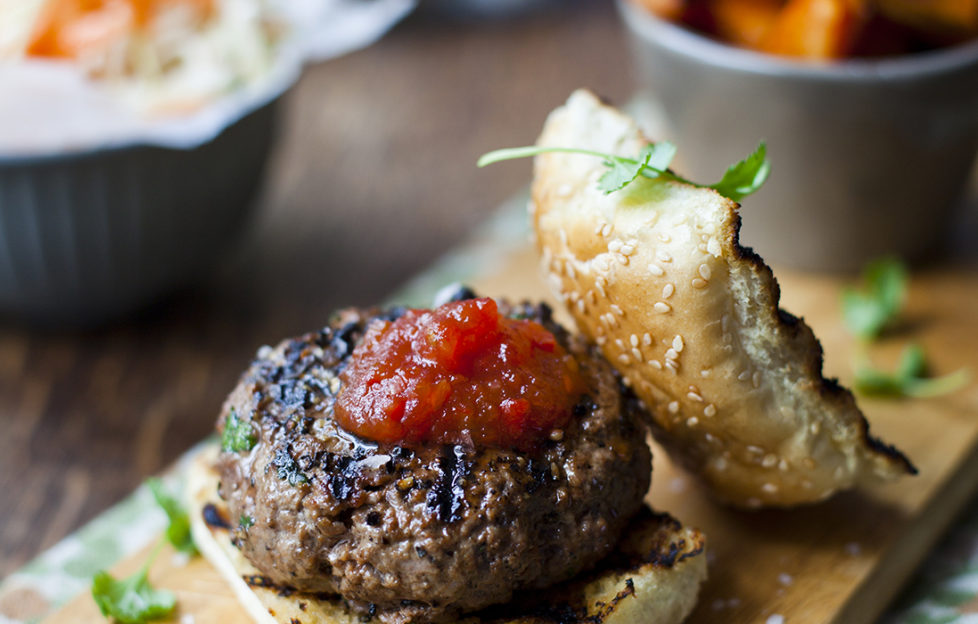 Get in the summer groove with these tasty, peppery pan-fried Irish beef burgers and zesty, healthy accompaniments!
Serves 4
Preparation time: 35min plus 1 hour chilling
Cooking time: 30min
Preheat the oven to 200°C, Gas Mark 6. Peel the sweet potatoes and cut into wedges, then place on a baking sheet and drizzle with the olive oil. Toss until evenly coated, then season with salt and roast for about 30min until cooked through and lightly golden.
Place the minced Irish beef in a bowl with the garlic, tomato puree, Worcestershire sauce and parsley. Season with salt and pepper and mix until well combined. Divide the mixture into four and shape into patties. Put the cracked black peppercorns on a plate and press the burgers down on to them. Cover loosely with clingfilm and chill for at least 1 hour to allow the mixture to firm up.
Preheat a non-stick frying pan over a medium heat and cook the burgers for about 4min on each side for medium, or until cooked to your liking.
Meanwhile, make the tricolour slaw. Mix the cabbage and carrot in a bowl. Add the lime zest, juice, vinegar, sugar and salt, stirring to combine. Roughly chop the coriander leaves and add to the slaw.
Toast the burger buns and smear on the onion relish or tomato chutney, then add the salad leaves and top with the Irish beef burger patties. Add a small mound of the tricolour slaw and top with the remaining burger halves. Arrange on warmed plates with the sweet potato wedges, and serve immediately with the tricolour slaw.