Vegan Freezer Tiramisu
---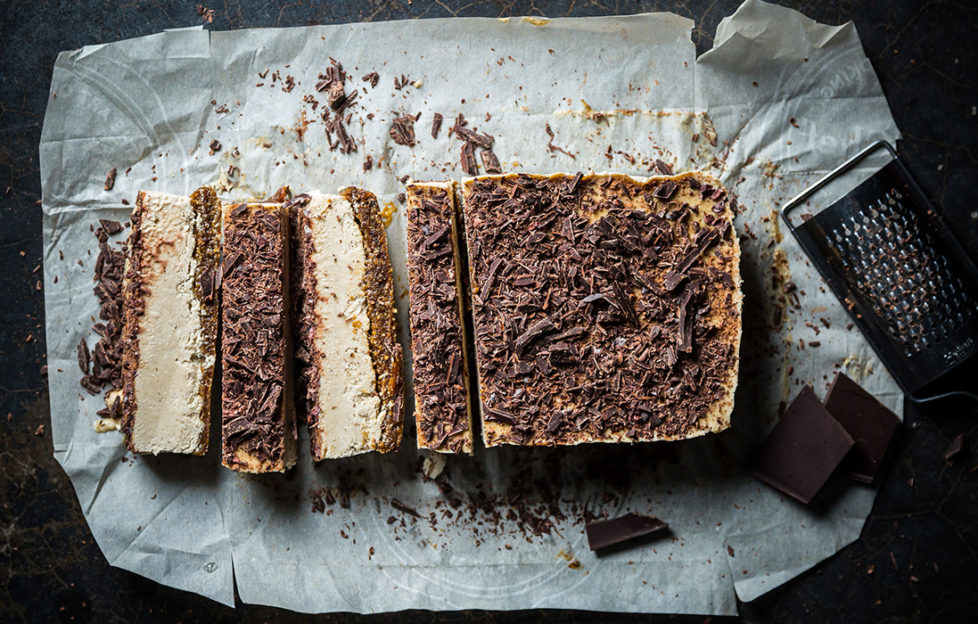 Craving that luscious combination of coffee and cream? This vegan tiramisu is a fresh spin on the Italian classic. With only two delicious layers, it can be made ahead, ready to whip out on demand!
Preparation time: 20min+20min soaking
Freezing time: 4hrs
Serves: 8
For the crust: In a food processor, grind the walnuts or oats, salt and coffee until they resemble a coarse flour. Add the dates and process until they are smooth and the mixture forms a ball. You may need to add 1-2tsp water to help the mixture blend more easily.
Line a 23cm (9-inch) spring form cake tin or loaf tin with parchment paper. Press the crust into the bottom of the tin and press down evenly to give a smooth layer. Place in the freezer until the filling is ready.
For the filling: Soak 75g cashews and the coconut in boiling hot water for 20min. Drain water and add cashews and coconut to a high-speed blender.
Add the remaining filling ingredients to the blender and blend until completely smooth. Taste and adjust the flavours as desired.
Pour the filling on top of the frozen crust. Place back in the freezer for 4 hours or overnight.
To serve: Dust with cocoa powder and sprinkle with cacao nibs or sprinkles.
Serve the vegan tiramisu frozen, or slightly softened from the fridge.
This recipe is devised by the team at Vega. High in protein, with 25g per serving, Vega powder is a plant-based blend of pea, flaxseed and hemp. It contains a protein-digesting enzyme from pineapple and is low in sugars.
You'll find Vega powder in Holland & Barrett, Whole Foods Market and Planet Organic stores, as well as Amazon. You can simply blend through morning oats, shake in a smoothie or use in baking. You can also follow the team on Instagram, @vegateam_uk