Beef Wellington With Donald Russell Steak
---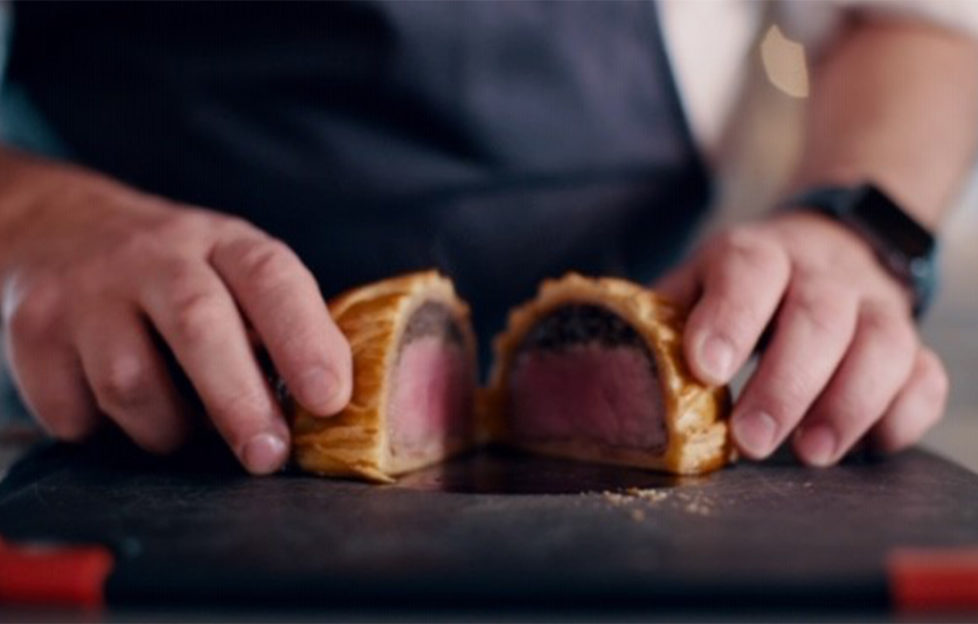 Beef up your dinner party! Chewton Glen's award-winning executive chef Luke Matthews elevates Beef Wellington to at-home fine dining. Using perfectly reared and butchered Donald Russell fillet steak, Luke's restaurant recipe wraps this classic luxurious cut in truffled mushroom duxelles, with Parma ham and light pastry and finished with a lattice. 
Preparation time: 25min + cooling
Cooking time: 25min
Serves 2
Preheat the oven to 195°C. Heat the oil in a frying pan.
Season the beef and brown quickly on all sides with two sprigs of thyme, chopped garlic and a knob of butter.
Remove fillet, thyme and garlic from the pan and reserve on a plate in the fridge. Using the same pan add the shallots and sauté in the butter until soft. Add the mushrooms with the remaining thyme, then pour in the Madeira and reduce until evaporated and the mushrooms are well cooked and dry.
Add the grated garlic and cook for a further 1min. Next add the truffle oil, season with salt and pepper and reserve in the fridge.
Once the steak and mushroom mixture has cooled, dry the steak of any resting juices. Brush the steak all over with the mustard.
Lay out two sheets of cling film on top of each other on a table and lay the Parma ham over this.
Spread the mushroom mixture evenly over the top of the beef, then place the steak in the centre of the ham. Wrap the ham around the whole steak, then wrap with the cling film to form a nice shape and return to the fridge to set.
Cut out three sheets of puff pastry, then remove cling film and place the beef in the centre of the pastry. Brush egg wash around. Place the other pastry sheet on top, press down lightly and wash with the egg.
Use a lattice cutter to score the remaining sheet of pastry, spread apart and lay over the Wellington. Using a reversed pastry cutter, press down to seal the all the pastry together.
Place in the fridge and allow to set.
Remove and reshape the beef, making sure there is no gathering of the pastry, and cut out.
Glaze the pastry with the egg wash and bake at 195°C for 22min, until the pastry is golden brown. The steak will now have cooked up to medium rare.
Leave to rest for 2min before carving in half with a serrated knife. Serve with red wine sauce.