DJ BBQ's Plant-Based Chilli Dogs
---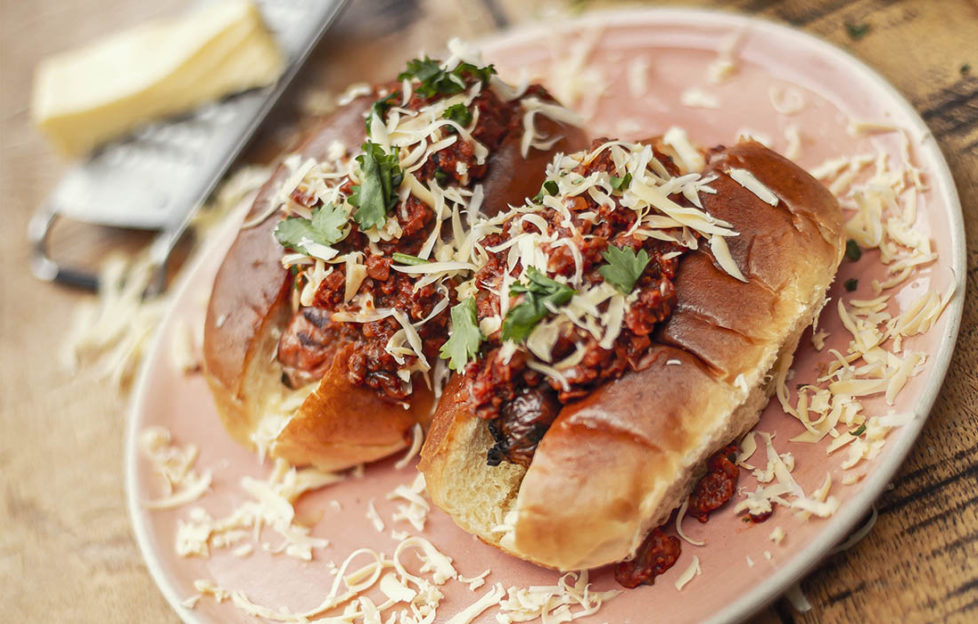 Put a veggie spin on a carnivores' classic with The Meatless Farm Co's plant-based mince and sausages…
Over BBQ season, British plant-based start-up The Meatless Farm Co has partnered with flame-grill fanatic Christian Stevenson. Under his alias, DJ BBQ he has become a cult icon developing original barbecue recipes and new DIY cooking methods.
Makes: 6
Total Time: 30-70min
Place a cast-iron casserole pan on the BBQ (if you're using a hob instead, place the pan on a medium-high heat) and add a good drizzle of oil. When it's heated, fry the plant-based mince for 8-10min and set aside.
Finely chop the onions and fry for about 5min in the pan, or until soft. Meanwhile, finely chop the coriander, chilli and garlic. Add it all to the pan to fry for a further 2min then add all the spices, turn up whatever tune you're listening to, and mix everything together.
Add the cooked mince and give it a good stir. Then add the chopped tomatoes and a splash of soy sauce (to add umami) and stir.
Cover the pan and simmer for 20min-1 hr (chilli is best cooked low and slow), stirring occasionally and adding a bit more water if it's drying out too quickly.
While the chilli is cooking, place the sausages on the grill and  cook for 8-10min, placing the BBQ lid down and turning occasionally.
Place the cooked sausages in the buns. Season the chili to taste and cover the sausages. Sprinkle cheese and extra coriander or try a dollop of soured cream.