Fourth of July Peanut Butter Cookie Pie  
---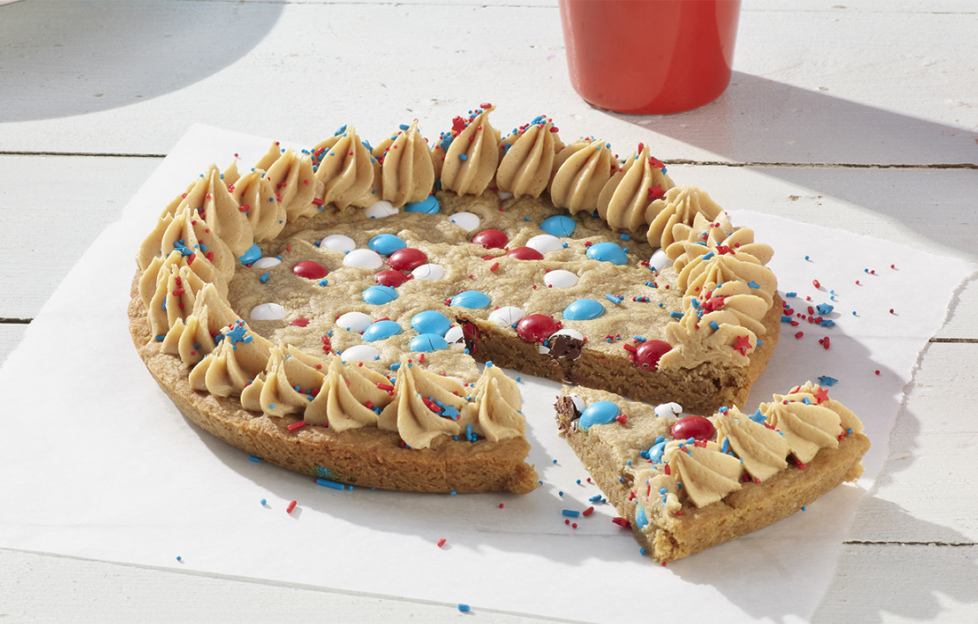 Celebrate with our friends across the pond with a 4th of July cookie pie made with delicious peanut butter…
Heat oven to 175°C, Gas Mark 3-4. Spray a 23cm springform cake tin or tart pan (with a removable bottom) with a light oil spray.
In small bowl, mix flour, baking powder and salt; set aside.
In large bowl, beat brown sugar, softened butter and peanut butter with electric mixer on medium speed until light and fluffy. Beat in egg and vanilla until blended. Stir in flour mixture until just blended. Spread batter evenly in cake tin. Sprinkle chocolate drops on top; press lightly into batter.
Bake for 16-19min or until the centre just wobbles slightly and edges are light brown. Cool completely, about 3hr or until chocolate is set.
In medium bowl, beat frosting ingredients with an electric mixer until light and fluffy (exclude sprinkles), adding more milk if necessary. Pipe or spread frosting on edges of cooled pie. Decorate with sprinkles as desired.
Cut into wedges. Store covered in airtight container at room temperature.
SKIPPY® Peanut Butter (RRP £2.40 per 340g jar) is available in Smooth and Extra Crunchy varieties, which are currently available in major supermarkets including Sainsbury's, Morrisons, Costco, International section of Tesco and Ocado.
For more information and recipes visit www.peanutbutter.uk.com