Sticky Pork Chops
---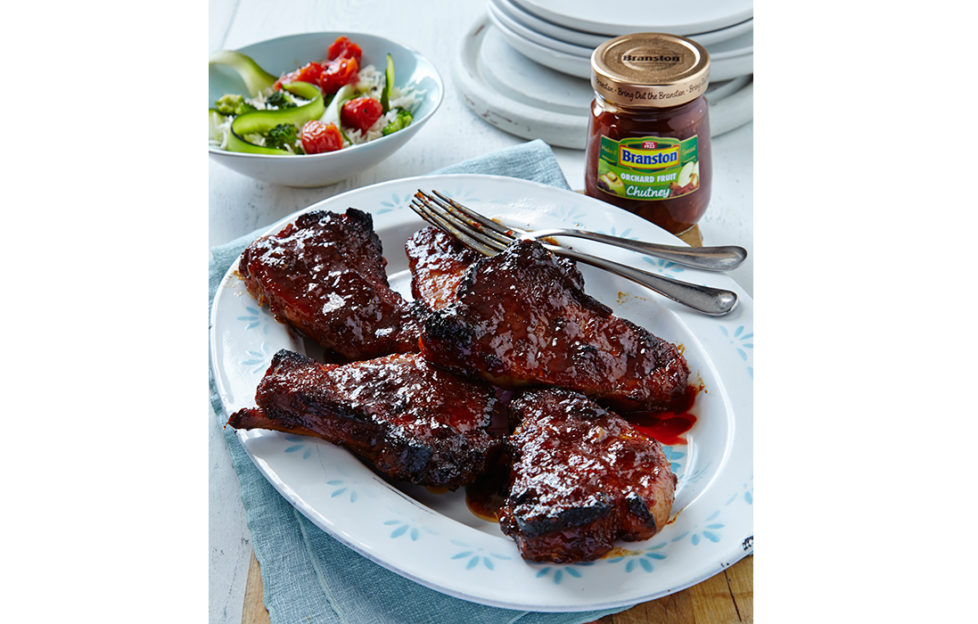 In this recipe the Branston Orchard Fruit Chutney and the honey complements the pork, giving it a sweet flavour to balance the ginger and chilli. Also great barbecued!
In a shallow ovenproof dish, combine the garlic, butter, Branston Orchard Fruit Chutney, chilli flakes, honey, ginger, oil and sherry. Add the pork chops and coat completely. Cover with cling film and chill for 30min.

Preheat the oven to 190°C, Fan Oven 170°C, Gas Mark 5. Roast the pork chops for 30-35min, until sticky and charred, adding the tomatoes 5-10min before the end of cooking.
In the meantime, place the broccoli in a small saucepan or jug. Cover with boiling water and stand, off the heat, draining and refreshing with cold water after 5min. Put the rice in another saucepan and cover with cold water. Bring to the boil, then cover and simmer for 10-12min, until fluffy. Rinse with boiling water, and then add the courgette and broccoli. Dress with lemon zest and juice, and black pepper, and then serve alongside the sticky chops and tomatoes.