Tasty Lentil & Mushroom Wellington With GF Crust
---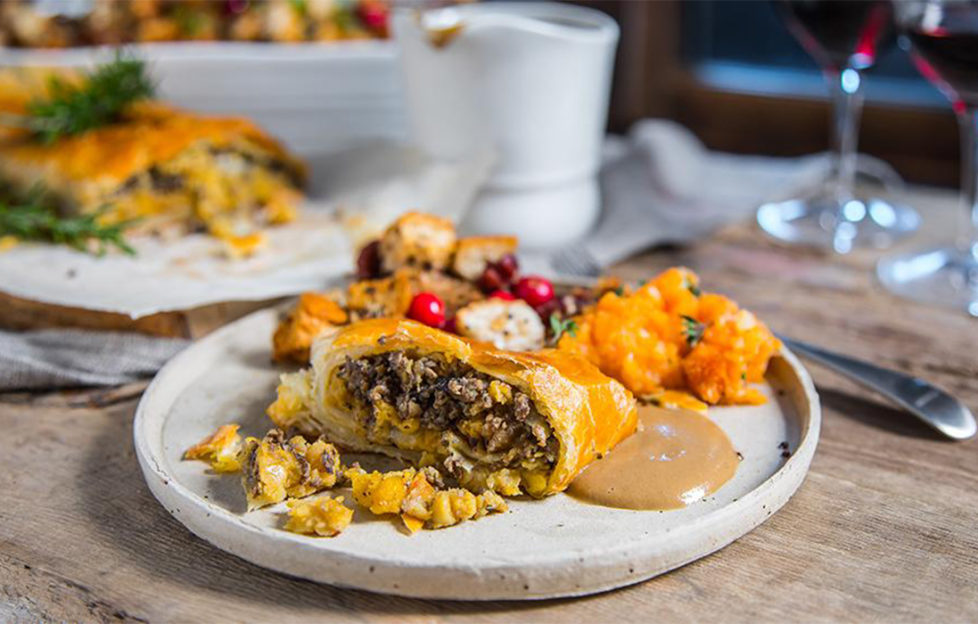 The perfect vegan main dish. Crumbly pastry surrounds a delicious mushroom and lentil filling. Serve a slice of lentil Wellington with sweet potato mash and your favourite greens!
In a medium pan, heat olive oil and sauté onion over a medium-high heat for 5min. Add sage, celery seeds, lentils, vegetable stock and salt. Boil, lower to a simmer, cover and cook for 15min. Cool and refrigerate.
In a food processor, pulse mushrooms and chestnuts until coarsely chopped. Add mixture to a dry pan over a medium-high heat. Cook until most moisture is gone. Season with salt and thyme and once cool, refrigerate.
Preheat oven to 200ºC/180ºC fan/gas 6. Line a baking tray with baking paper. Split pastry in half (tips below). Roll out a 25cm x 36cm rectangle on baking paper, using flour to avoid sticking.
Spread half the mustard onto the centre of the pastry. Top with half the mushroom mixture, then half the lentil mixture. Mould lentils and mushrooms into a log shape.
Fold top and bottom ends of the pastry up over the log, then fold sides over the top.
If using gluten-free pie crust, wrap baking paper around the pastry and press lightly to mend any crumbly areas. Move baking paper package onto baking tray and gently remove paper.
Using a knife, make a light mark the length of the pastry and diagonal cuts on either side. Be sure not to pierce through when marking the top.
Repeat steps 4-7 with remaining ingredients to make 2 logs. Bake for 30min until golden.
Gluten-Free Pie Crust
Pulse walnuts, GF flour and GF oats in a food processor until a fine flour forms.
Add sea salt and coconut oil. Pulse until combined.
Add cold water and pulse until combined, adding more water 1tbsp at a time if needed to bring dough together.
Form dough into a disc, wrap in cling film and refrigerate until ready to use.
Rolling Gluten-Free Pie Crust
Roll pastry into a 25cm x 36cm rectangle on baking paper, using plenty of GF flour to avoid sticking.
Cut lengthwise, leaving one strip wider than the other.
Spread Lentil Wellington filling on the narrower strip.
Using baking paper to move the wider strip, lay it on top of the filling and tuck under.