Grana Padano Summer Salad
---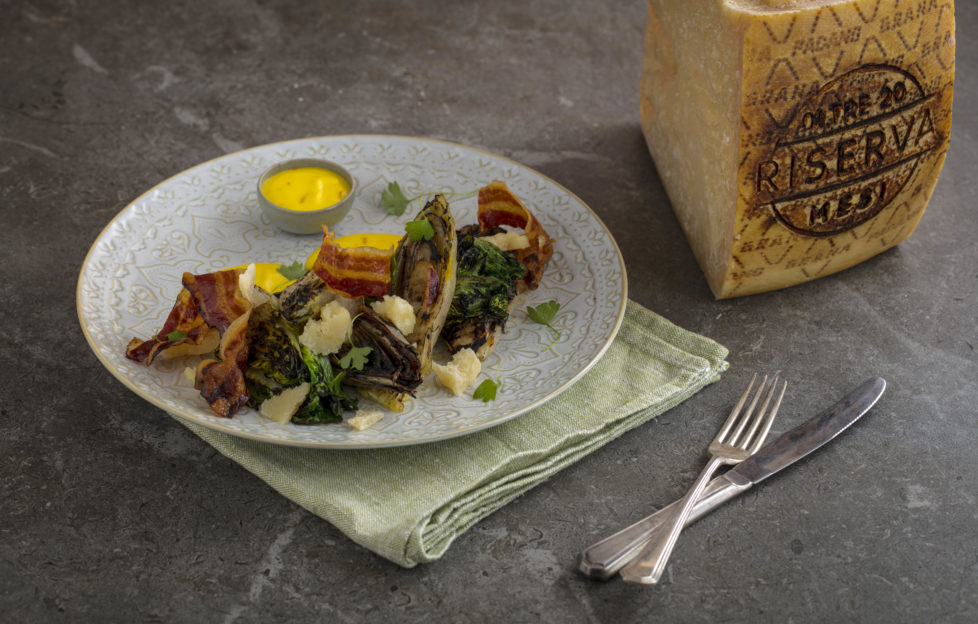 This delicious creation by Francesco Mazzei combines grilled baby gem lettuce, Grana Padano cheese and crispy pancetta. It's full of the flavours of Mediterranean sunshine!
Preparation Time: 15min
Cooking Time: 41min
Serves 4
Place the pancetta on a tray and cook in a pre-heated oven at 150C for 40min.
Next, make the dressing by combining the mayonnaise, vinegar, mustard, Grana Padano Riserva and saffron powder. Whisk until blended and bright yellow, for about 30secs.
Put the lettuce and chicory in a bowl, drizzle with a little of the olive oil, then season with salt and pepper.
Place a griddle pan on a high heat. Griddle the lettuce and chicory for 30secs-1min per side or until slightly charred.
Assemble the salad by placing the baby gem lettuce and chicory on a plate. Pile on the crispy pancetta and Grana Padano Riserva flakes, and drizzle the dressing and oil over the top.