Carrot Cake Swiss Roll
---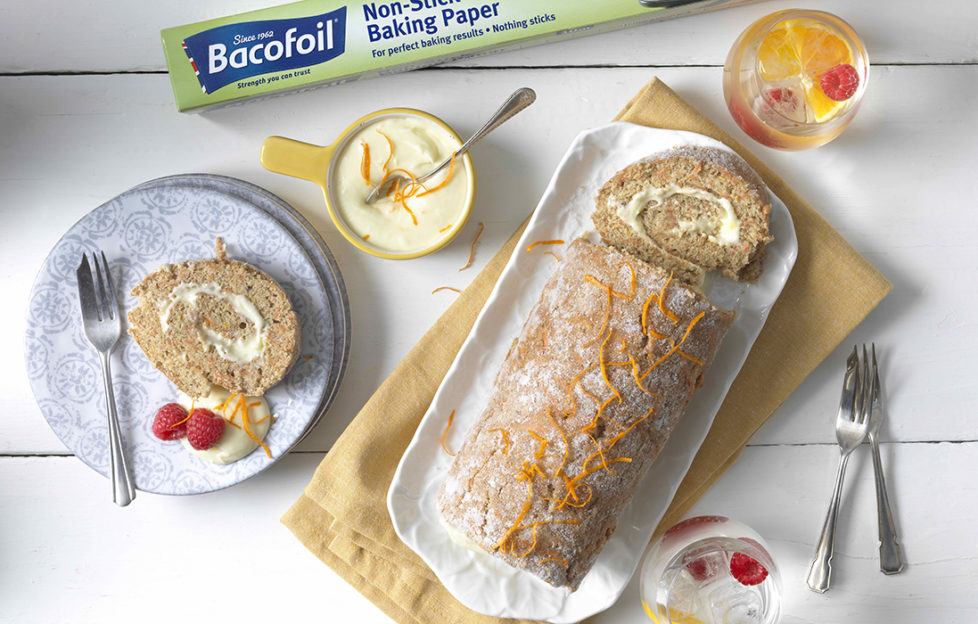 Delight your friends and family with this delectable take on the traditional carrot cake. Hints of zesty orange and an indulgent creamy frosting make this bake the ultimate dessert
Serves: 8
Preparation time: 30min, plus cooling time
Cooking time: 15min
Preheat the oven to 180ºC, Fan Oven 160ºC, Gas Mark 4. Line the swiss roll tin with Bacofoil® Non-Stick Baking Paper (this will ensure the swiss roll won't stick).
Grate the carrot and weigh it before spreading onto a piece of kitchen paper to absorb any excess moisture.
Whisk the eggs and sugars for about 5min until light and frothy and doubled in volume. With a large metal spoon or a spatula, fold in the vanilla extract, oil and zest from half the orange.
Mix the flour, baking powder, ground spices, salt and pecan nuts together in a separate bowl then add half of this to the egg and sugar mixture. Fold in gently. Add the rest of the dry ingredients and the carrots and fold in to combine.
Pour into the lined tin and spread gently with a spatula until even. Bake for 15min.
Meanwhile, place a clean tea towel on the worktop. Place a large piece of Bacofoil® Non-Stick Baking Paper on top and sprinkle the extra caster sugar evenly over the paper
As soon as the cake is cooked, using oven gloves or a cloth, tip it carefully but quickly onto the sugared Bacofoil® Non-Stick Baking Paper with one of the short ends towards you. Remove the baking tin. Carefully roll up the cake, including the Non-Stick Baking Paper. Leave it rolled up and wrapped in the tea towel until cool (about an hour).
Meanwhile, make the filling. Beat together the cream cheese, butter, icing sugar and most of the remaining orange zest until smooth. Gradually add the orange juice until the frosting has a fairly soft spreading consistency. Chill until required.
When the cake is cool, carefully unroll but leave on the Bacofoil® Non-Stick Baking Paper and towel. Spread over the frosting over the cake then roll up again and simply peel off the Non-Stick Baking Paper. Transfer to a serving plate and sprinkle with a little more sugar and the rest of the orange zest. Chill before slicing.