Chicken Meatballs With Oriental Greens, Lime & Ginger
---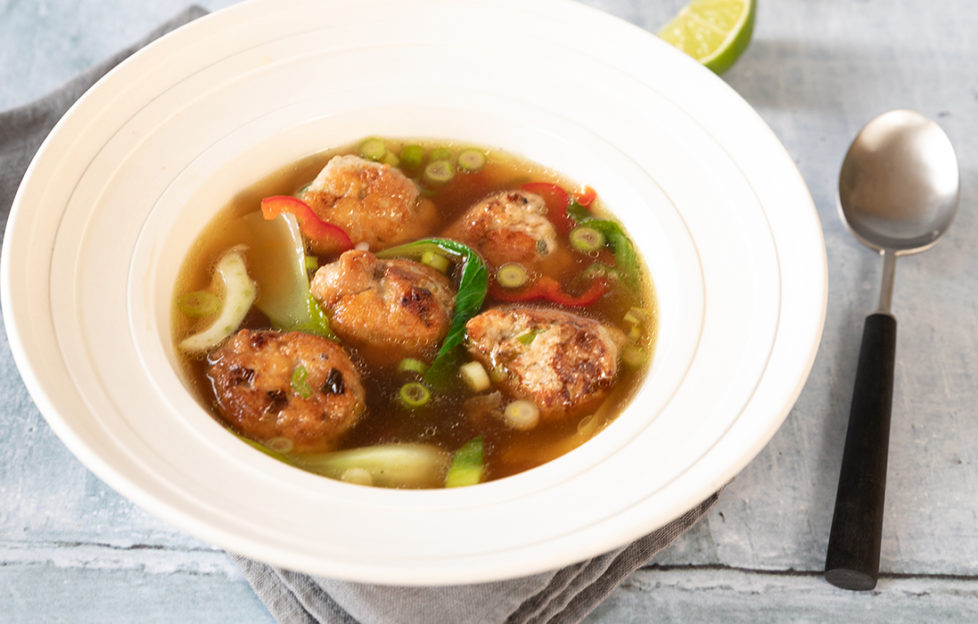 For Love Your Gut Week, September 16-22, Love Your Gut has partnered with Dr Joan Ransley to create gut-friendly recipes including these delicious chicken meatballs.
Ginger is widely used as a spice and an ingredient in traditional herbal medicine. Clinical studies show the root can help relieve gastrointestinal discomfort, nausea and vomiting. Bok choi is a dark green vegetable containing dietary fibre and polyphenols, beneficial for the gut.
Preparation time: 15min
Cooking time: 20min
Serves 4
Mix together minced chicken, garlic, grated ginger, soy sauce and half the spring onions. Take walnut sized amounts of the mixture, shape into balls and place them neatly on a plate.
If you have time, cover the chicken balls with cling film and chill them in the fridge for 30min before cooking. This makes them easier to handle.
Heat oil in a wok or medium sized saucepan. Cook the chicken balls in two batches, turning them to make sure they are lightly browned all over.
Transfer the chicken balls to a plate using a slotted spoon. There is no need to wash the pan at this point as the residue from cooking the chicken will add flavour to the dish.
Pour the stock into the wok/saucepan and bring to a simmer. Add the browned chicken balls and ginger slices and cook for 3min.
Add the bok choi, remaining spring onions and chilli (if using) and cook for another 5min. The meatballs should be cooked through and the bok choi tender.
Add the lime juice a little at a time, tasting as you go. Season to taste. Serve the chicken meatballs with steamed rice or noodles.
Cook's tips
If you can't find minced chicken, use skinless chicken thighs and mince them in a food processor.
The minced chicken is easier to roll into balls if you wet your hands.