Capital Crime Writers! Q&A with Mark Edwards
---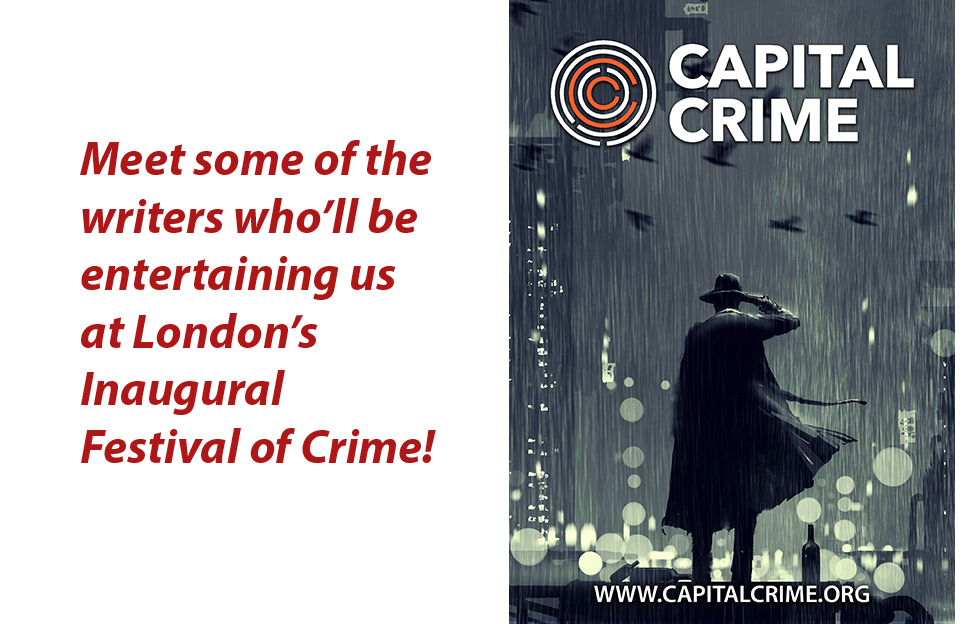 BY KAREN BYROM
There's an exciting event coming to London next weekend! From September 26 – 28, 2019, big name crime and thriller writers will gather together at London's Grand Connaught Rooms for over two days of an amazing programme of events in the city's first ever Capital Crime Festival!
Fans will thrill to the likes of Ann Cleeves, Mark Billingham, Martina Cole and Robert Harris as they discuss their craft, their influences and the past and future of great thriller writing!
For a full list of the writers who'll be there, a programme of events, and ticket information, visit Capital Crime's site.
Meanwhile, meet Mark Edwards, master of the suspenseful psychological thriller and No. 1 best-seller, who will be appearing at the Festival. His latest book Here To Stay will make you look at your in-laws in a whole different light …
What drew you to crime/thriller noir?
I started out wanting to write horror after being a big Stephen King fan in my teens, but I quickly discovered I was more interested in writing psychological horror than anything supernatural.
That morphed into psychological thrillers though I still use some horror tropes: increasing dread, a creepy atmosphere and the hint that there might be something paranormal going on.
Which writers have influenced you?
The aforementioned Stephen King, because I've always loved how he puts normal people into terrifying situations. And I learned a lot from writers like Val McDermid and Peter James about how to make people keep turning the page.
What crime book/thriller noir do you wish you'd written?
There are lots, but one that springs to mind is Into the Darkest Corner by Elizabeth Haynes. I think it's the perfect psychological thriller.
Who's your favourite fictional detective hero?
I'm a big fan of Mo Hayder's Jack Caffrey series. They are so relentlessly dark and powerful and she really knows how to make poor Caffrey suffer. The Treatment and Wolf are probably the two best in the series. Brilliantly bleak.
And your favourite criminal?
It has to be Villanelle from Killing Eve. She's the perfect baddie. The screen, or page, lights up when she's around. That's partly thanks to Jodie Comer's performance but she's a fully 3-dimensional character in the books too.
Choose quickly! Agatha Christie or Arthur Conan Doyle? 
I have an embarrassing confession: I've never read any of either. I feel like they are both so deeply embedded in British culture, like the Beatles or Shakespeare, that I never felt any urge to seek them out.
If you were a master criminal what would you be?
It would have to be a glamorous fraudster like Patricia Highsmith's Tom Ripley. Like him, I'm drawn to the idea of living among beautiful people in glamorous places. And maybe some of those beautiful people deserve to have the wool pulled over their eyes.
How would you get away with it …?
People always ask me how such a nice, normal person is able to come up with such dark stories. So in my real life of crime I would use my nice guy persona to hide what was really going on and win people's trust. (I'm scaring myself writing this.)
Do your own plots give you nightmares when you're sleeping?
No but I do often lie awake at night wondering how on earth I'm going to untie the hideous knot I've created in my story.
"Blurb" your latest novel in no more than three sentences.
After a whirlwind romance, Elliot marries Gemma and she moves in to his beautiful south London home. Then she asks if her parents and sister can come to stay 'just for a couple of weeks'. He happily agrees – but lives to regret it when he discovers his new in-laws are the family from hell.
HERE TO STAY by Mark Edwards is just published by Thomas & Mercer in hardback, RRP £20.  He is appearing at Capital Crime on 27th September with Lisa Jewell. For tickets, click here