Honey Ginger Beets With Steak & Satay Dressing
---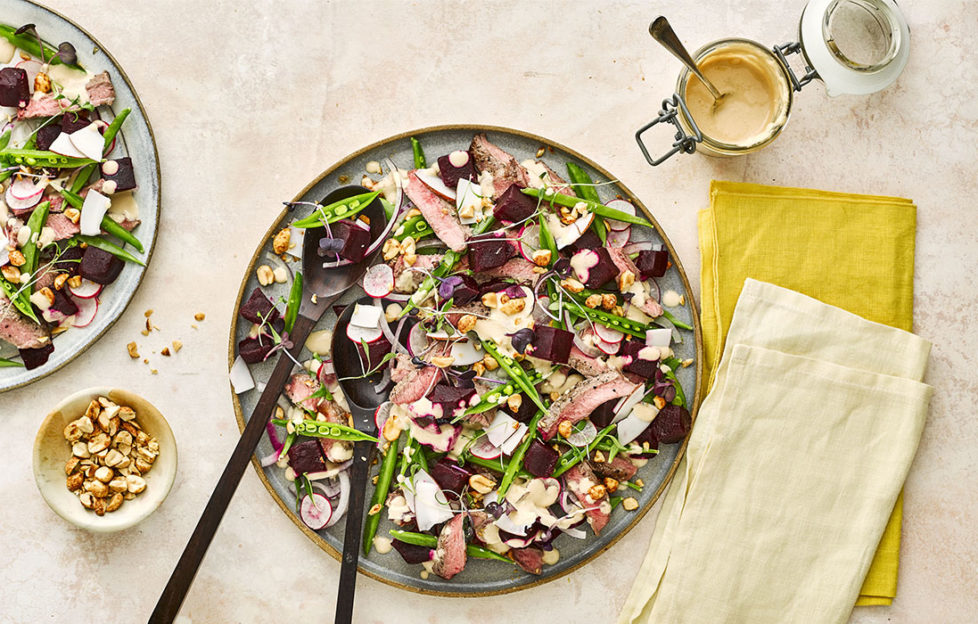 Elegant, contemporary and simple to assemble, this is restaurant quality food at home!
To add a touch of effortless chic to your mealtimes, snap up the Love Beets range from the chilled, fresh produce aisle of Tesco stores, £1.25 each.
Serves: 2
Preparation time: 15min
Cooking time: 10min
Add the peanuts, coconut milk, lime juice and honey to a high-speed blender and blitz until smooth. Season to taste. Loosen with a little water if necessary (it should be a thick consistency but able to drizzle).
Season the steaks and rub with oil on both sides.
Set a frying pan over a medium-high heat. Add the steaks and cook for 2min on each side for medium, turning every minute. For flatter, thinner steaks allow only 1min per side. Set the steaks aside to rest for 10min.
Slice the sugar snaps lengthways, thinly slice the onion, radish and coconut and add to a bowl with the micro greens and toss gently to combine.
Slice the steak and layer on a plate with the salad and beetroot pieces. Spoon over the dressing, scatter with remaining peanuts and serve.