Za'atar Welsh Lamb Tacos
---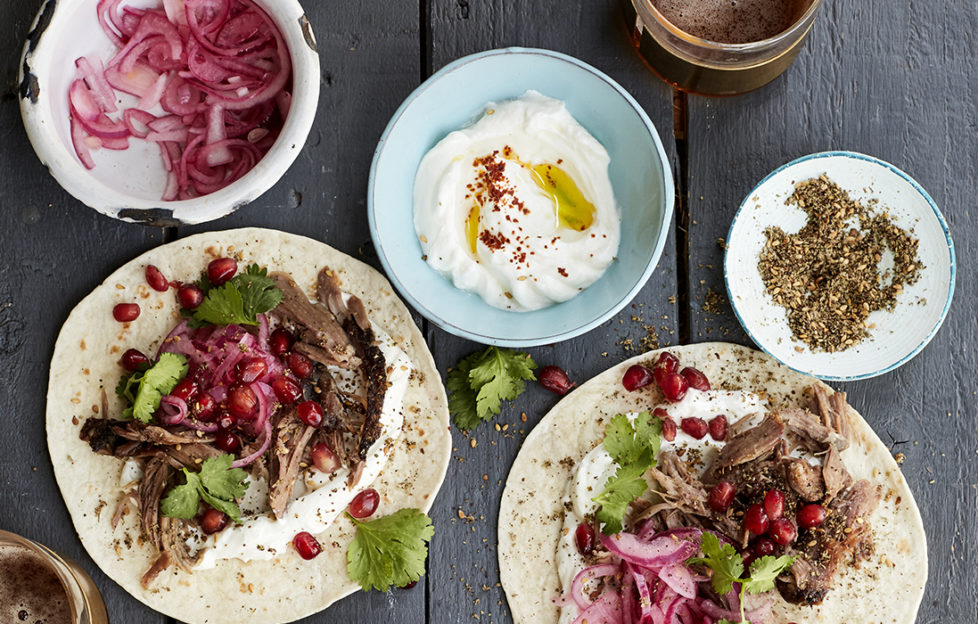 Chef sensation, best-selling author, TV presenter and food/travel writer John Gregory-Smith reveals a delicious new way to cook Welsh Lamb…
Preparation time: 25min
Cooking time: 3½-4 hours
Serves 4-6
Preheat oven to 230C/220C fan. Rub the oil all over the lamb and then encrust it with 2tbsp of the za'atar and plenty of salt. Place into a roasting dish. Pour in 100ml water and cover with foil. Pop the meat into the oven and immediately reduce the heat to 160C.
Cook for 3½-4 hours, or until you can pull the meat apart with two forks. Remove from the oven and leave to rest for 10min.
Place lamb onto a chopping board and remove and discard the skin. Pull meat off the bone and shred with two forks.
Skim the fat from the roasting juices and return meat to the pan. Mix well and check the seasoning, adding salt to taste.
Meanwhile, put the red onions into a bowl and add the lemon juice. Add a good pinch of salt and mix well. Leave to macerate for 10min, mixing half way through, until the onions go a beautiful light pink colour.
Serve the cooked meat at the table, so that everyone can assemble their own lamb tacos with the onions, yogurt, coriander and pomegranate seeds.