12 Ways To Feel Better If You're Struggling With Anxiety
---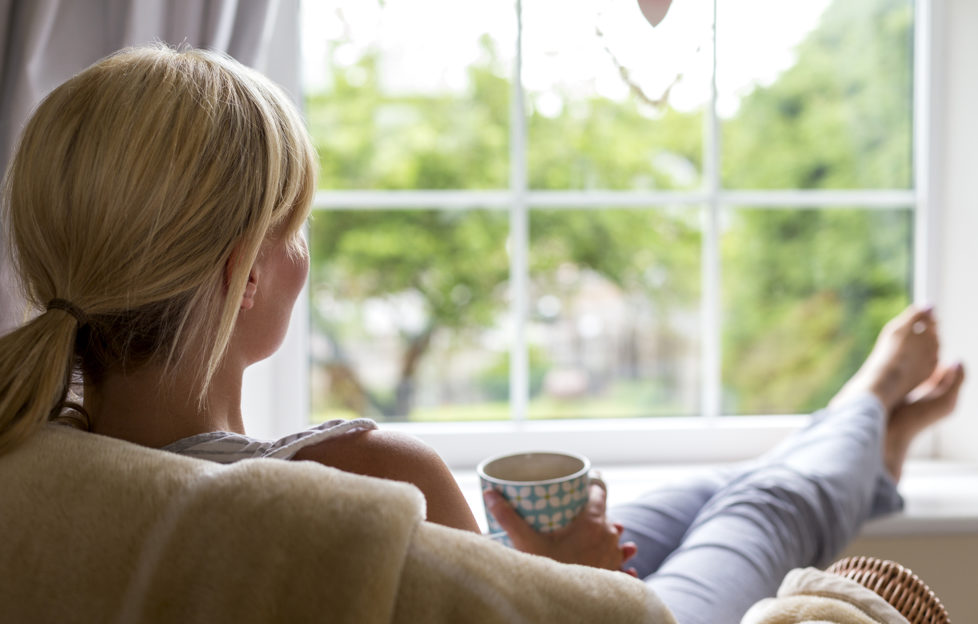 Pic: iStockphoto
According to new research commissioned by the wellness experts at Healthspan, 40% of people believe they suffer from anxiety – a condition which can affect health, happiness and daily life. "We live in a stressful world – and one that makes us increasingly anxious, which is an unshakeable feeling of unease, worry or fear," explains clinical psychologist Dr Jen Bateman.
Anxiety can affect anyone, at any time. Often the result of long-term stress, left unchecked, anxiety can lead to physical and mental illness. "Thankfully, there are ways to tackle anxiety," continues Dr Bateman. "However, as anxiety affects everyone differently, you may need to try a few potential remedies before finding the best for you."
1 Play 'What If?'
If you're anxious about something, ask yourself:
What if this actually happens?
And if it does, what would be the worst case scenario?
How would you cope?
By answering these questions, you'll regain control of your worries and should be able to put them to the back of your mind.
2 Destress with CBD Oil
According to a report by the World Health Organisation, CBD oil may help relieve some of the symptoms of anxiety. "CBD oil, which is the legal, medical form of marijuana, lifts mood and promotes general feelings of well-being," says medical nutritionist Dr Sarah Brewer. "It also helps reduce social discomfort, muscle tension, restlessness, insomnia and fatigue and is currently being investigated as a treatment for anxiety-related conditions such as obsessive compulsive disorder and panic attacks."
Try Healthspan High Strength CBD Oil, £15.95, www.healthspan.co.uk
3 Take More Exercise
Regular exercise is just as good for our minds as our bodies. Being active, no matter what kind of exercise it is, naturally reduces anxiety levels and improves mood, especially if you're outside.
4 Breathe Deeply
"When we're anxious, we tend to take short, shallow breaths," says psychologist Dr Meg Arroll. "Combat this by breathing deeply. Place one hand on your tummy and the other on your chest. Breathe in through your nose so your tummy lifts and then exhale through your mouth, letting your tummy dip back down."
5 Harness Flower Power
Many people find that herbal remedies such as Passion Flower, Rhodiola and Avena Sativa, which is extract of oat leaves, help reduce feelings of anxiety and stress. "I often recommend A.Vogel AvenaCalm (£10.50, www.avogel.co.uk), a licensed herbal medicine containing Avena Sativa that calms and nourishes the nervous system," reveals nutritional therapist Alison Cullen.
6 Take A Technology Break
Mobile phones, laptops and smart TVs keep us connected, informed and entertained but they also prevent our brains switching off, which can increase anxiety. Give your brain a rest by switching off your phone, laptop and TV at mealtimes and for at least an hour before bedtime – and don't check emails, texts or social media until after breakfast.
7 Just Say No
"Putting yourself first and saying no to the demands of others is a much-overlooked way of reducing anxiety," stresses Dr Bateman. "Your time, energy and mood are precious. Treat them as such."
8 Sleep Well
The herbal remedy Valerian can soothe away anxieties while also helping you get a decent night's sleep, which can be difficult when your mind's in overdrive. Try A.Vogel Dormeasan®  Valerian & Hops, £4.50, www.avogel.co.uk. Magnesium deficiency is believed to be linked to poor quality sleep. However, stress drains the body's natural levels of magnesium, so top up by eating magnesium-rich foods such as pulses, brown rice, spinach and almonds. And, for a sleep-inducing night time soak, sprinkle magnesium bath salts into a warm bath.
9 Use Your Nose!
"Essential oils work through a variety of ways – smell, orally and cutaneous," says Dr Gill Jenkins an adviser to Puressentiel. "Scent is incredibly potent, though, because smell is the only sense which is linked directly to the part of our brain that activates our most fundamental behavioural and emotional responses.
"True Lavender essential oil is a key essential oil to help people with anxiety," continues Dr Gill Jenkins. "Recent trials demonstrated that True lavender oil reduces anxiety and so could be useful in challenging scenarios like  before wisdom tooth extraction, before surgery and during the menopause. Check out Puressentiel's Rest & Relax Air Spray which has 12 essential oils including True Lavender."
Try Puressentiel Rest and Relax Air Spray, £16.99, https://uk.puressentiel.com.
10 Give Your Tummy Some TLC
Some people find that an upset stomach is an unmissable sign that they're anxious. There are a number of products on the market to help such as  Healthspan's  new GastriSoothe. It is the first triple action product that contains aloe vera that has anti-inflammatory properties that may help to reduce gastrointestinal inflammation. Available in handy travel size 10ml sachets, it should be taken after meals and  can be found at Healthspan or via Superdrug.
Anxiety can lead to range of physical symptoms including an upset stomach.  Natural silicic acid (a soluble form of silicon) can help to reduce tummy symptoms. Despite its name, it is not acidic, but highly soothing.. Colloidal silicic acid is used to treat a wide range of gastrointestinal disorders, including nausea, stomach pains, diarrhoea and symptoms associated with irritable bowel syndrome – especially where symptoms are worsened by stress. Try Silicolgel (£8.29, 200ml, A.Vogel, Boots, silicol.co.uk)
11 Eat Well
"Good nutrition is especially important at times of stress," says Dr Sarah Brewer. "Enjoy lots of antioxidant-rich foods such as fresh fruit and vegetables, as well as healthy proteins like oily fish, nuts and seeds. And, as a nutritional safety net, take a multivitamin during times of stress."
Try Healthspan MultiVitality 50 Plus (£6.45, www.healthspan.co.uk).
12 Embrace a slower pace of life
Move down a gear – or two!  "Consciously decide before you leave home that you're not going to rush about," advises Dr Bateman. "Trying to do too much in too little time generally only winds you up – and most people find they get just as much done when they go slowly as when they rush."