Bramley Apple & Beetroot Potato Cakes With Dill Yogurt
---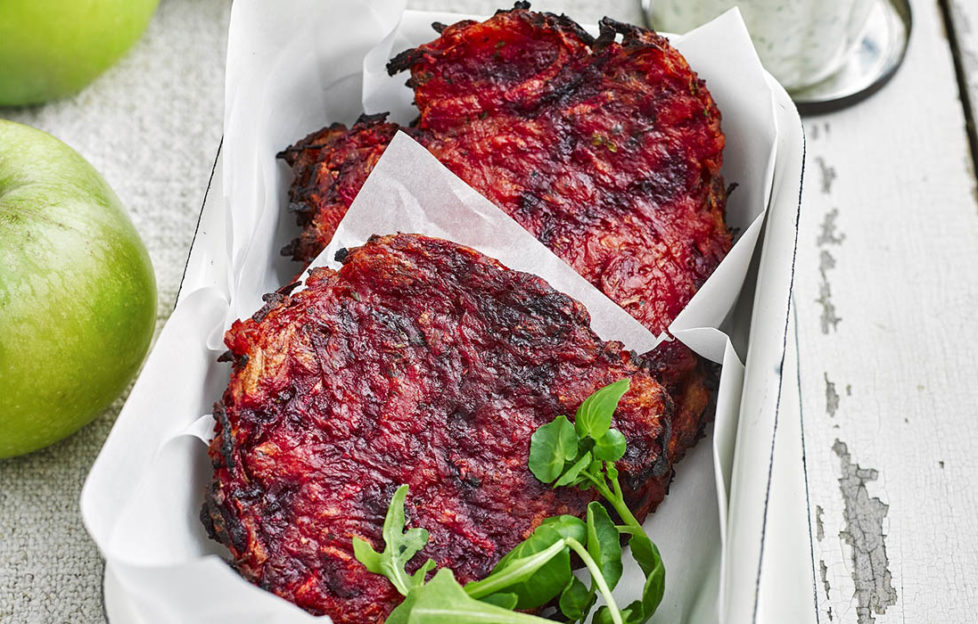 If you can manage not to scoff these tasty, nutritious potato cakes immediately, they can be frozen for a simple snack throughout the week. Alternatively you could serve with a poached egg or some flaked, smoked mackerel for a delicious weekend brunch.
Preparation Time: 15min
Cooking Time: 40min
Serves: 4
Preheat oven to 180°C.
Cook the potatoes whole in a pan of boiling water for 10min. Drain and leave to cool a little.
Grate the potatoes into a mixing bowl and add the remaining potato cakes ingredients. Season with salt and pepper.
Line two baking trays with parchment and drizzle each with a little oil. Make 12 small balls of the potato cakes mixture, place in the oven and cook for 20-30min. Half way through cooking time, squash each mound down into a flat disc and flip over.
Mix together the dill yogurt ingredients. Season to taste with salt, pepper and a little extra lemon juice if needed.
Serve hot or cold.