Macaroni Cheese With Pumpkin For Hallowe'en
---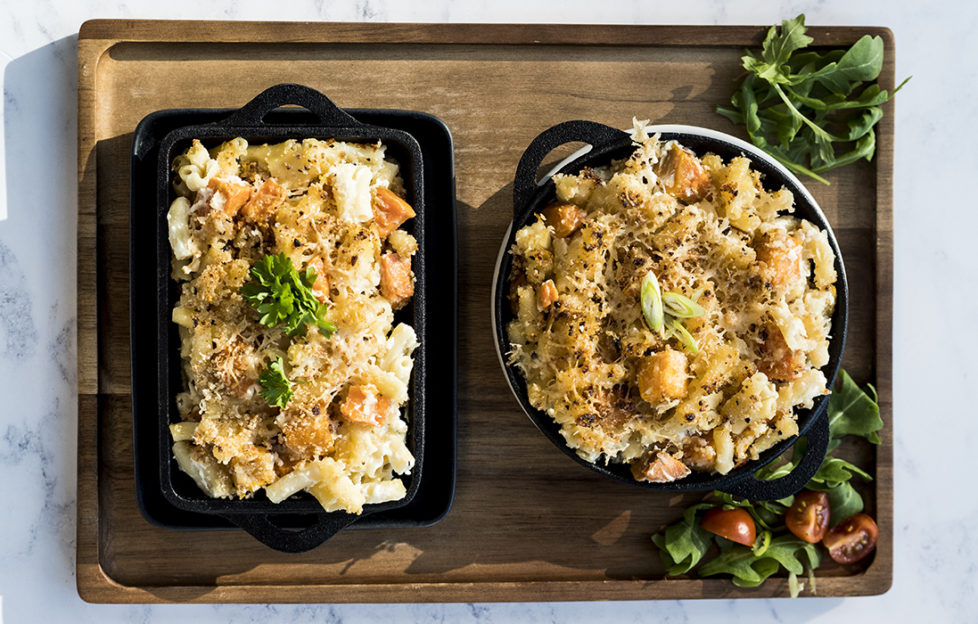 A staggering 15 million pumpkins are thrown away each year, despite every part of the fruit (yes, fruit!) including the seeds being edible.
To prove food waste can be a thing of the past, Panasonic has partnered with Love Food Hate Waste to showcase how you can create some faBOOlous recipes with your leftover Hallowe'en pumpkins. Using the Panasonic combination microwave, families can enjoy fresh, healthy and hearty Hallowe'en-inspired meals at the touch of a button.
Preparation Time: 15min
Cooking Time: 20-25min
Serves: 4
Kitchen Appliance: Panasonic Inverter Combi Microwave
NN-CD87KSBPQ
Put the macaroni in 550ml boiling water, cover, place on base of oven and cook on HIGH MICROWAVE for 10-12min or until soft. Alternatively cook on the hob according to packet instructions. Drain.
Place the butter in a jug on the base of the oven and melt on HIGH MICROWAVE for 30-40 secs, or in a saucepan over medium heat.
Stir in the flour and mustard powder to make a roux. Gradually whisk in the milk until well combined, and season. Cook on HIGH MICROWAVE for 2min, stir and cook for a further 3min. Repeat until the sauce is smooth and glossy and coats the back of the spoon. Alternatively, cook stirring constantly over a medium heat on the hob.
Mash 1/3 of the pumpkin and Cheddar into the sauce. Stir in the drained macaroni with the remaining pumpkin. Tip into a large microwave or ovenproof dish.
Scatter with the Parmesan and breadcrumbs.
Place on the wire shelf and cook on CONVECTION 230C+GRILL 3+LOW MICROWAVE for 10-12min, or in a preheated oven until the top is golden brown.