Delicious Turkey Leftovers Ideas From Paul Kelly
---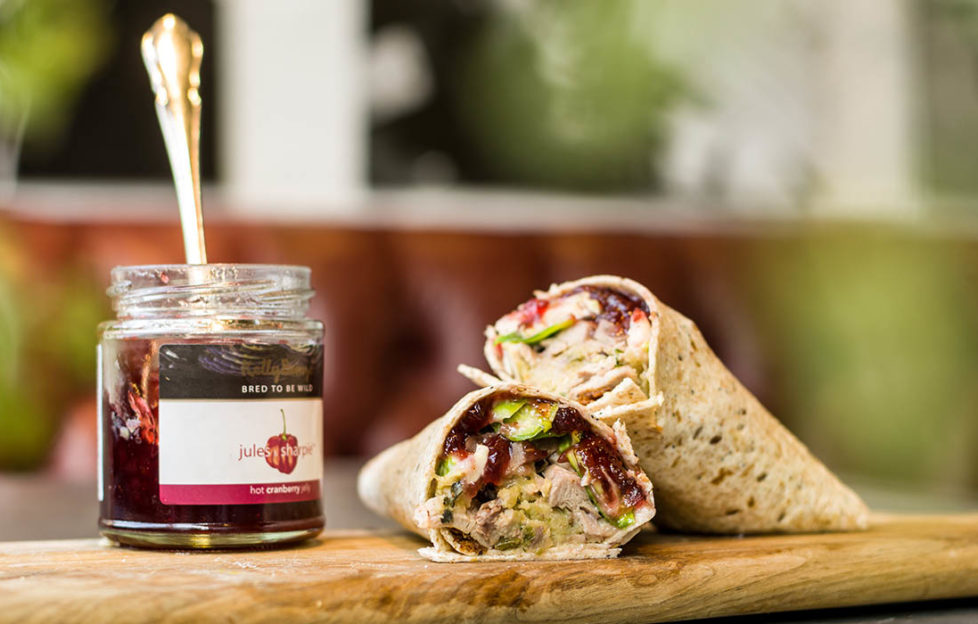 Pic: Daniel Bridge
We always over-cater at Christmas, and that means leftovers! So who better than Paul Kelly of KellyBronze Free Range Turkeys to suggest some delicious options for Boxing Day lunch?
Paul Kelly's Boxing Day Turkey Wrap
Preheat oven to 180C. Lay the cooked turkey skin flat in a baking tray and cook in the oven for 10min or until crispy.
Grab a wrap and spread the mayonnaise and cranberry sauce in the centre. Add the Brussels sprouts, turkey, stuffing and – once crisped – the delicious turkey crackling.
Fold over one side of the wrap, followed by the bottom and finally roll over until the filling is fully enclosed. Slice in half and enjoy!
Paul Kelly's Turkey Croque Madame
Preheat oven to 180C.
For the béchamel sauce, add butter and thyme leaves to a saucepan on a low heat. When the butter has melted, stir in the flour and leave to cook for 2min. Then add milk and whisk until smooth (no lumps!) Increase the heat and simmer for a few min until the sauce has thickened.
Remove pan from the heat and add the mustard and Wensleydale cheese. Return to the heat for 30secs until cheese has melted.
Slice bread into six 1.5cm thick slices. Spread cranberry sauce onto three slices, then add the béchamel sauce and grate on some Gruyere cheese. Add the turkey, some more Gruyere and then sandwich together with the remaining slices.
On the top of the sandwich, add a little more béchamel, a sprinkle of Gruyere and bake in the oven until the cheese has melted and is golden brown.
Meanwhile, grab a frying pan and add a knob of butter. Fry three eggs until the whites are cooked but the yolks are still runny.
Remove the sandwiches from the oven when golden brown, and place one egg on top of each. Eat and enjoy!