Salmon, Walnut & Avocado Grain Bowls
---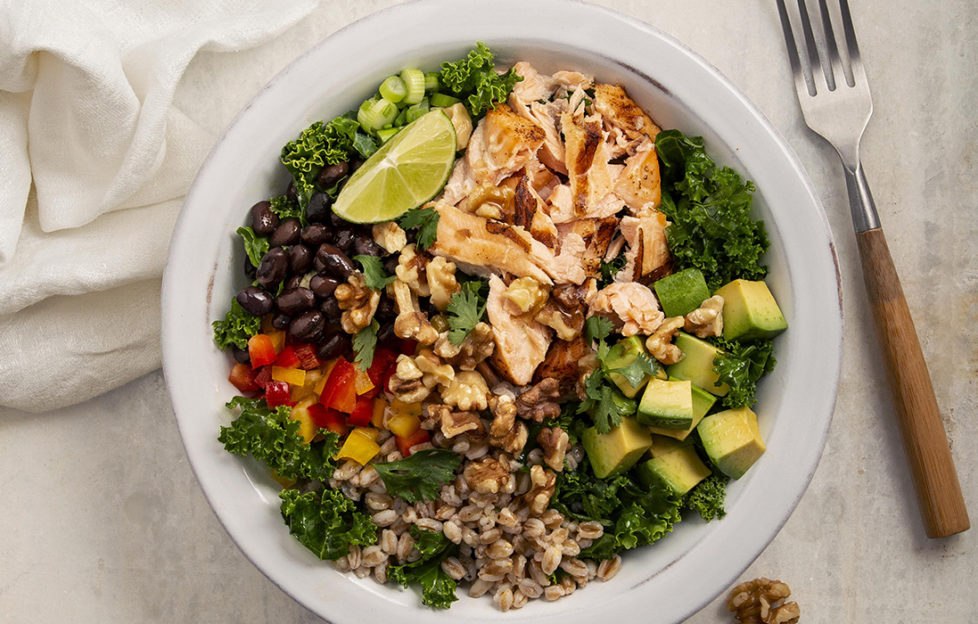 Kale, rice and toasted California Walnuts are the base for this healthy bowl. Toss with a chipotle lime vinaigrette and top with salmon, avocado, beans, peppers and coriander.
Eating a handful of California Walnuts a day (30g) can help maintain normal blood cholesterol levels. They can also help reduce the risk of cardiovascular disease. Award-winning dietitian Sian Porter and heart health charity HEART UK have both given this recipe the 'heart healthy' seal of approval!
Preparation Time: 20min
Cooking Time: 6-8min
Serves: 6 
Whisk together all vinaigrette ingredients in a small bowl. Cover and refrigerate until ready to serve. (May be prepared several days ahead.)
Cook salmon in a well-oiled frying pan over medium-high heat for 3-4min on each side until just cooked through. Remove from the pan and take off the skin. Let the fish cool, then cut into 1.5cm pieces.
Mix kale and brown rice together in a large bowl and toss with vinaigrette. Place equal amounts on one side of 4 large salad bowls.
Place equal amounts of California Walnuts, salmon, black beans, peppers, avocado and onion on the other side of the bowl.
Garnish with coriander and additional walnuts.