Scotch Lamb And Tzatziki Pitta
---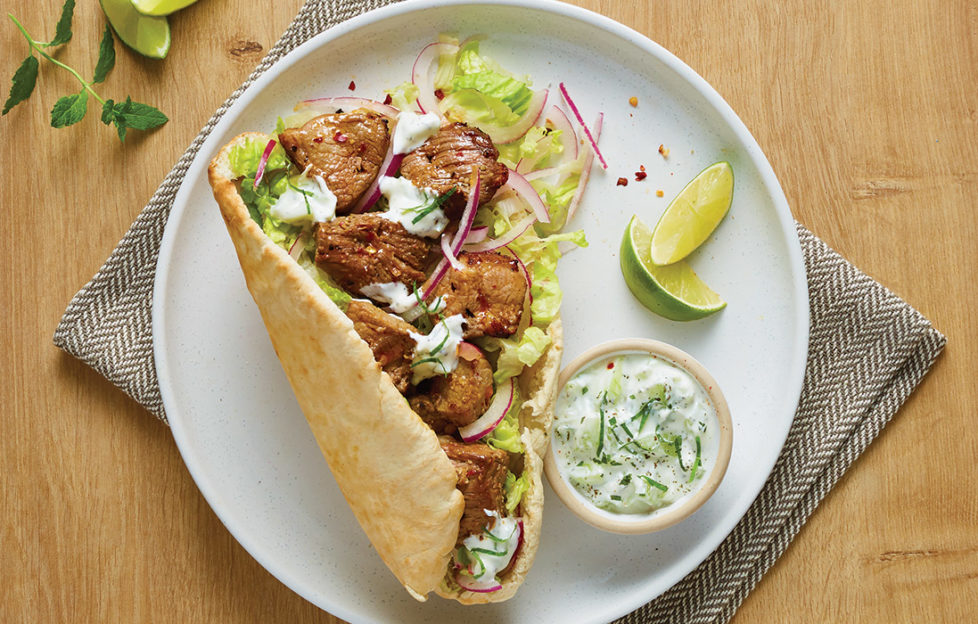 Once you've assembled all the fruit and spices you need to flavour and tenderise the lamb, this dish is so quick and easy!
Preparation Time: 10min
Cooking Time: 15min
Serves: 4
Chop the lamb steaks into chunks and put into a bowl.
Squeeze the juice from the orange and the lime and pour over the lamb, along with the soy sauce.
Sprinkle over the chilli, cumin, garlic and ginger. Mix well.
Allow to marinate for 10min, or longer if you have time.
Remove the lamb from the marinade and divide between the skewers.
Grill or barbecue for 15min, turning as you cook.
Meanwhile make the tzatziki. Peel the cucumber, cut in half and with a teaspoon, scoop out the seeds. Chop into 5mm dice.
In a bowl, mix the dried mint, cucumber and yogurt well.
Grill pittas until toasted. Split in half, dividing lettuce and red onion between the pittas.
Top with the lamb, squeeze over the lemon juice and serve alongside the tzatziki.
Unique dining experience launches in Scotland
Scotland's most scenic and smallest dining experience has launched in the Perthshire hills.
Diners are transported high into the hills in a cosy converted 1962 Land Rover. There they enjoy a menu showcasing Scotland's natural larder, served with a backdrop of rural Scotland.
Launched by Scotch Lamb PGI (protected geographical indication) and Comrie-based caterer Bonnie Mountain, the pop-up experience is located on Glen Artney farm, part of the Drummond Estate near Comrie.
Sustainable sourcing
The set menu is created by Bonnie Mountain owners Bonnie Colman and James Robb. It features local suppliers from a 10-mile radius, and tells a story of sustainable sourcing and natural production methods.
Dishes include Scotch Lamb from David Comrie and Sons, seasonal vegetables from Tomnah'a at Comrie Croft, sourdough bread from Wild Hearth Bakery, cheese from Strathearn Cheese Company and honey from Perado Apiaries.
The Land Rover was kitted out in interior décor from Be Coorie in Comrie,  a new shop showcasing a range of items from local artisans, and is parked atop the hill overlooking the valley below.
A limited number of bookings are available in spring via Scotch Kitchen social media channels.